Content writing for ecommerce at first seems like a difficult task. Still, content is one of the key factors that make users come to interact with your brand.
Doing business on digital platforms is essential, especially in the trade segment. Global Web Index data shows that nearly 6 in 10 working-age internet users (58.4%) purchase a product or service online each week.
With high numbers of users buying online, customer experience should be a top business priority today. Customers cannot touch, hold, or try your product when buying online. They're counting on you to give them enough information about the item and its benefits that they'll feel confident buying it.
Effective, engaging content convinces customers to enter their credit card information and click the "complete purchase" button. But how to achieve engaging content writing for ecommerce that sells?
In this article, we will guide you on content writing for ecommerce and give you examples and practical advice to improve the quality of your webshop.
How do I write e-commerce content?
You're not alone if you're stuck wondering how much content you need or how often keywords should be mentioned. The good news is that this is not such a difficult task if you look at our tips.
People first, Google second
Put your customers first and write for them, not for Google search.
Search engines are interested in delivering quality search results to real people. If your copy doesn't give a good user experience that converts and encourages users to take action, the number of page visitors to your website is irrelevant.
Whenever you can, talk about how you can help the user, and you will improve their experience on your site.
Teach people something new
The guiding thought when creating quality content should be – what is one new thing I can teach my reader?
Interesting is not enough anymore. You have to be educational and provide value to the reader. Based on its title and the first few lines, it has to be clear how visitors will profit from reading a blog post.
Your customers have to know why your product is better than the competition's, so give them the information they need to make a decision you want.
Let people know what they will gain by investing their time in your blog, and people will appreciate it.
The power of visuals
Illustrations are ideal because your target audience can see exactly what you're talking about.
If you are talking about a more complex and tedious topic, include as many images in the blog post as possible to break the monotony and bring a little liveliness to the text. Remember the good old saying, a picture is worth 1000 words.
Tell an interesting story
A story's structure can help shoppers connect with your business deeper, leading to repeat purchases. This is because people enjoy a good story. It's in our nature.
But, when it comes to content writing for e-commerce, ask yourself, what kinds of stories can you tell?
This is the simple formula that can be used for practically any product or service:
The shopper is the protagonist of the story. (The main character.)
They've got a problem to deal with. (The conflict.)
They've been attempting to resolve this for a long time. (The rising action.)
There is now a solution. (This is the climax.)
And they'll be happy for the rest of their lives. (This is the resolution.)
You can also use various storytelling techniques and formulas in your e-commerce copywriting.
Focus on benefits
Product features are pretty dull. For example, your electric robot cleaner has a lithium-ion battery, three types of thistles, or unique pulse technology won't matter to most people. And most people are not sure what that implies. They only want to know how those qualities will help them live better lives.
Look at how Apple describes its products. They don't just discuss the specifications.
The copy discusses the feeling of satisfaction because it offers a high-quality product at an affordable price. It only focuses on benefits, which is the smart way to communicate product value.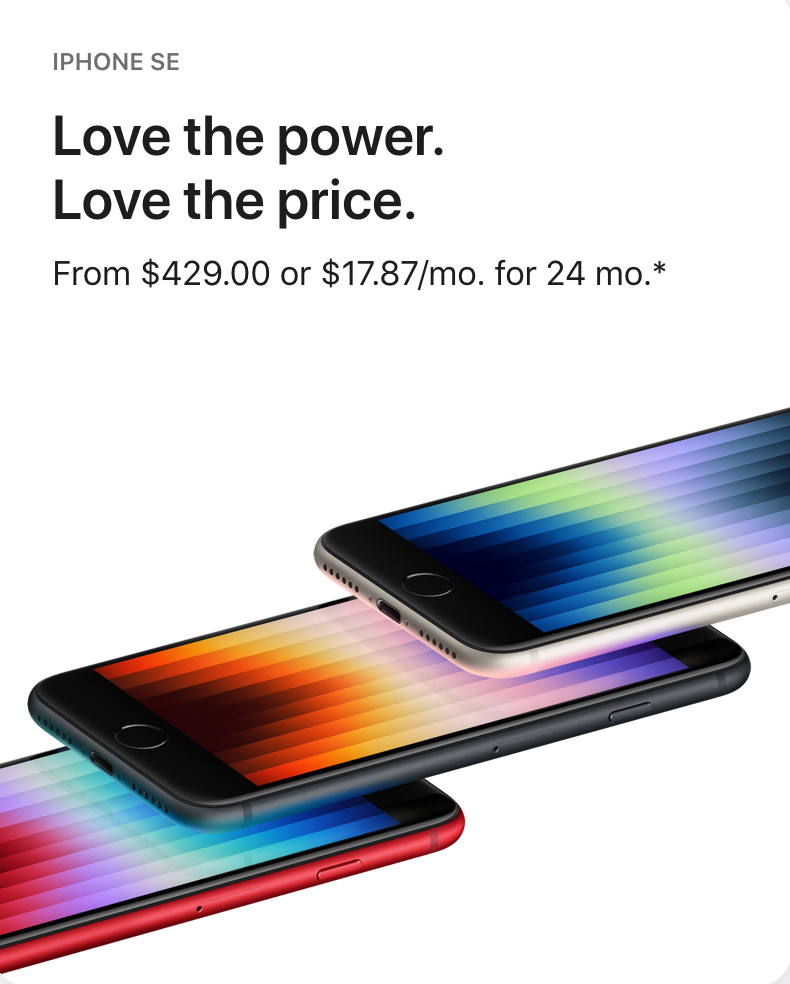 Incorporate keywords into the copy
While your primary target for copywriting should always be actual customers, you're also writing copy for another group: search engines.
With each page, you have the option of targeting specific keywords that can help you rank higher in Google search results and attract more organic traffic.
For some basic research, you can use Google Ads Keyword Planner and tools like Ahrefs, Ubersuggest, or Semrush. To attract more visits from search engines, you may want to connect your e-commerce website with a strong content marketing plan, such as a blog.
Use Call to Action phrases
Surely you want shoppers to take action. Add action words and CTA buttons. This is any phrase you use to ask visitors to accomplish anything on the page, to take action – buy the product or service (for example, "Buy Now").
To make visitors feel more involved with the text, start phrases with verbs that ask them to take action and engage more with your webshop.
Here is some copy you can use for CTA buttons, especially on your product pages.
Buy now.
Start today.
Try out now.
Complete my purchase.
Treat yourself today.
Grab it now.
Get this look.
Buy now and enjoy (add user benefit)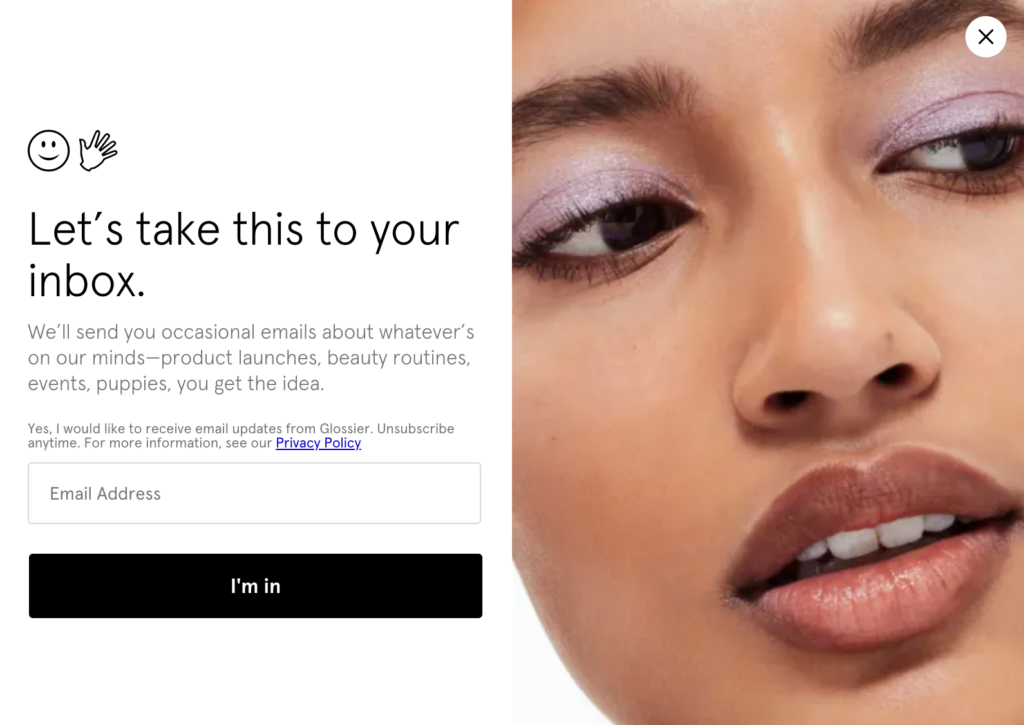 Glossier has nailed its marketing image, featuring realistic photos of people with various skin types. Their website is simple, with enough open space to highlight the models' and cosmetic artists' work.
When you start scrolling down their site, their CTA shows as an overlay. While many people might click away from the pop-up, Glossier's choice of words makes you want to stay. "Let's take this to your email," for example, is a brilliant method of getting them to sign up for your newsletter. If you want to participate, you just have to click on CTA "I'm in," and you're done.
General content for eCommerce should have a few main categories:
Brand descriptions
General descriptions of product categories
Detailed descriptions of each product separately
Contact information, and descriptions of branches if you have them
Business conditions and rules: Terms of Service, Refund Policy, Shipping Policy, Privacy policy, Accessibility Policy, ADA policy
The minimum information you need to create for each product is:
Title (extremely important for the whole user experience (UX) and SEO – search engine optimization)
Excerpt (also important for SEO)
Featured image (important for both UX and social media sharing)
The main product description
High-quality content is crucial for improving search ranks and, as a result, increasing sales. Don't skimp on product descriptions; they could be the only way to persuade your visitors to buy from you.
Pro tips for content writing for ecommerce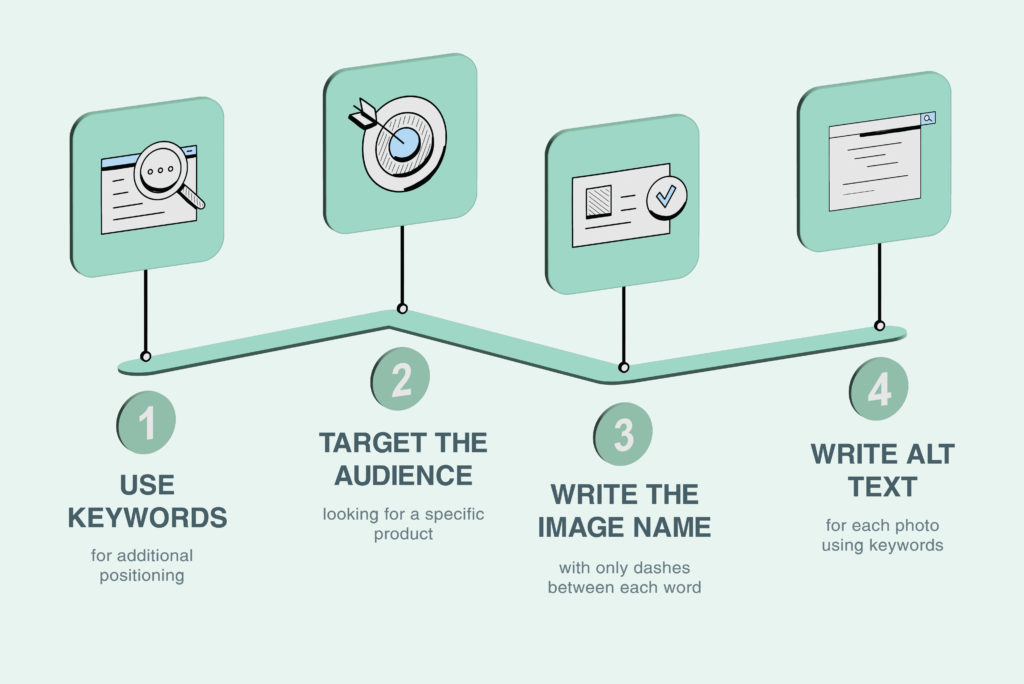 Use keywords for additional positioning. For example: Men hoodies black, white women's hoodies, cotton T-shirt hoodies, etc. Focus on keyword optimization for 3-5 word queries.
Target the audience looking for a specific product, dimensions, size, and color. For example: "product name and size" or "product name and color".
Write the image name as follows: white-women-t-shirt-short-sleeved (only dashes between each word)
Write alt text for each photo using keywords. For example: "Black Man Hoodie Originals"
The content on the page should be SEO optimized in one of the following forms:
Blog posts that will answer the queries that people are looking for (e.g. Is synthetics a good material?, What print technique is best?, How to find out the quality of a t-shirt print?)
A short story about your business, brand, and ideas
User reviews
Customer support – highlight all the benefits of delivery and return policy
Add schema markup to the website to help Google better understand the page's content and increase CTR (Click-through rate).
Create a Google Business Profile. Google Business profile is a free tool to represent your business through Google search and Google Maps. This is important to help users find and contact you.
Benefits of content writing for ecommerce
A good content writer has to be an SEO expert and will ensure that every piece of material is interesting, educational, valuable, and effective, meaning custom-made for the user in the sense that it is conversion-focused.
Here are some benefits of content writing for ecommerce websites:
Informes customers
In its most basic form, e-commerce copywriting is all about informing customers about the most crucial aspects of your products. You can choose which information to highlight for customers, when to present it, and how much detail they require.
More sales
The words you use to promote your online business and products directly impact your profits. This is why so many small businesses invest in conversion optimization. Instead of paying to bring more visitors to your website, you can persuade more of them to become your trustful customers and buy your products or services.
Defines your brand
Every customer's interaction with your online store contributes to the brand's definition for them. Your copy is a big part of that. Create memorable experiences that visitors will remember by using high-quality copywriting and a consistent tone.
Improves site's SEO
If you want to compete with different online stores (Amazon, Shopify), your e-commerce site must rank higher in search engines. To outperform your competitors and be the first choice of your customers, incorporate specific keywords and SEO copywriting when writing content for your e-commerce website.
Engage your audience for long-lasting success
When it comes to getting the most out of eCommerce content creation, you'll have to play the long game and put in the effort.
To create a consistent experience, all of your product descriptions and blog entries should use the same writing style, tone of voice, and layout.
Keep an eye out for customer feedback and strive to tailor your writing to the needs of your audience. This way you'll find the perfect balance between sales-oriented and user-friendly content.
Do you want to improve your content but don't know how to do it? Or do you urgently need a web store? We have the ideal solution for you! Contact us and make your content one to remember!