Want to get 1000 followers on TikTok but don't know how? You've come to the right place.
The best way to get the first 1000 followers on TikTok varies depending on your content, approach, and niche.
Some tips to help you grow your followers include creating interesting, engaging content, using hashtags to reach a wider audience, and engaging with other users on the platform.
How to use TikTok, get 1000 followers, and how to organically grow your TikTok profile? Let's discover everything you need to know about reaching your followers.
TikTok fun facts
The app has been downloaded over 2 billion times
TikTok users spend 45 minutes on the app on average
TikTok users open the app 8 times every day on average
The app gained more users in one month than Instagram in any 2019 quarter
TikTok installs are up 96% year-over-year
TikTok's monthly engagement rate is over 70%
Over 63% of monthly TikTok users are between the age of 10 and 29
Females on TikTok outnumber males by nearly 2:1 in the U.S.
How to use TikTok for business and get 1000 followers: A Step-by-Step Guide
To gain 1000 TikTok followers, you should establish a profile that appeals to your viewers' interests. The more likes and comments you get on your posts, the more likely others will follow you.
Except for good lighting and a camera, a high-quality profile photo that reflects your brand, and posting a short and striking profile description, let's see what more it takes to get more TikTok followers step by step!
Step 1: Set up a TikTok business account
Download and open the TikTok app from the Apple App Store or Google Play store.
Create a personal account (you can use your registered email or social media account)
Tap on Profile ("Me" page) and go to the hamburger menu in the upper right corner.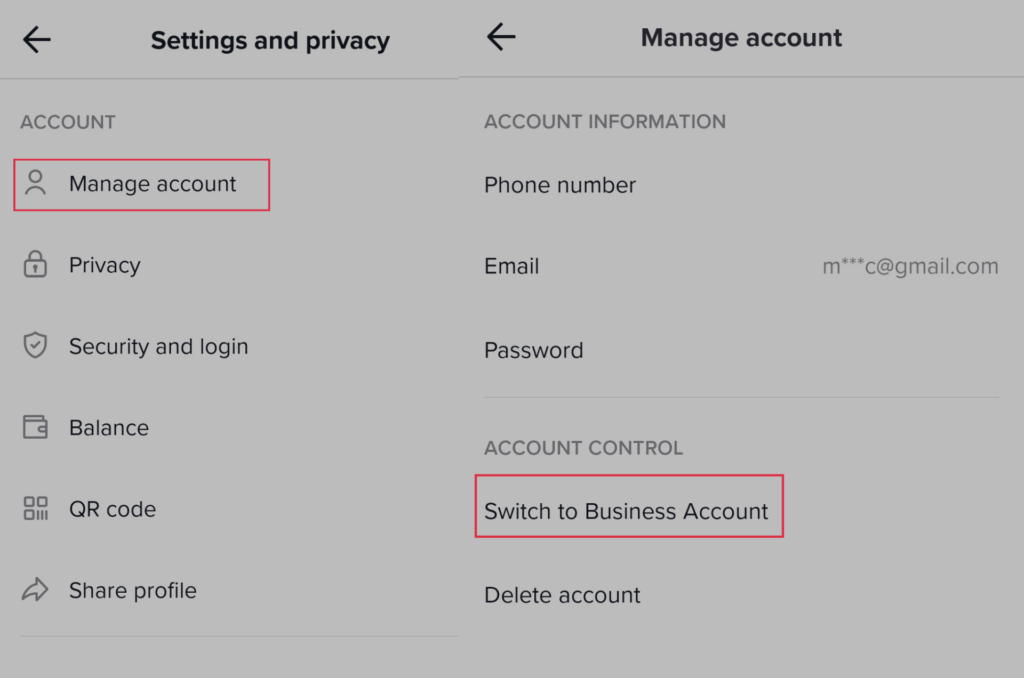 Go to the "Settings and privacy" option.
Then click "Manage account" and select "Switch to Business Account."
Choose the category that best fits your business to receive customized content, events, and solutions.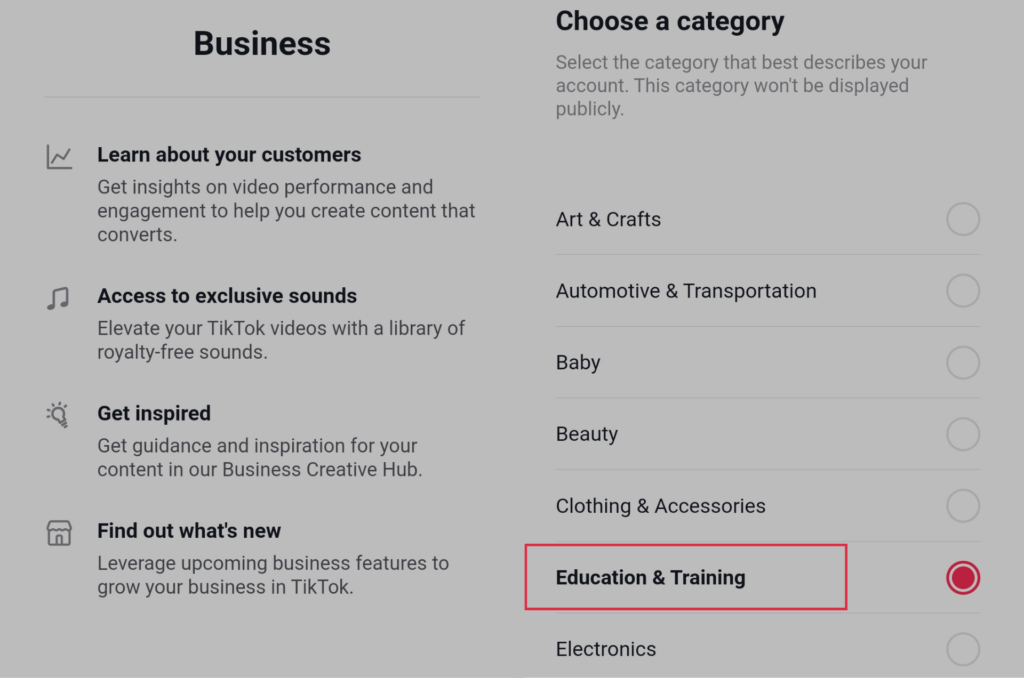 Step 2: Discover TikTok app
• Spend some time on the app (watch videos on the For You page, try out the effects, tools, etc.)
• Learn how the TikTok algorithm works and how you can beat it.
Follow these guidelines regularly and you'll be on your way to an increasing follower count:
Step 3: Identify your target audience
With over 1 billion active users, TikTok is one of the biggest social networks worldwide. With that in mind, there's a good chance your market is on TikTok.
Identifying your target audience is one of the most important things that affect your growth. TikTok users cover multiple demographics, locations, and niches like other social media platforms.
Before creating a TikTok marketing or TikTok influencer strategy, it's important to find out what your target audience is doing on the TikTok platform and explore what kind of content they like. After identifying your target audience, you'll need to generate content tailored to them.
Make a description that attracts.
A good description will lead people to engage – liking videos, commenting, or sharing. It has to be a call to action where you will either ask your audience a question to encourage them to comment or give a statement that people can't ignore.
Use hashtags correctly.
Hashtags are widely used on social media and they can have a big impact on your content. They help you find the content you are interested in.
When you utilize a combination of branded, trending, business-specific, and generic hashtags on TikTok, you may help build your TikTok audience.
The question is, how to know which hashtag to use? Be specific with hashtags. Choose those with many views but are most relevant to your search term. The good formula is to write 2 trending hashtags and 2 hashtags where you'll describe what the video is about.
If you don't know which hashtags to use, here are some hashtags that will help you reach more people: #foryoupage, #fypage, #tiktok, #fyp, etc.
Step 5: Leverage trends
TikTok is all about the trends. And without following trends, you can't go far on TikTok.
TikTok trends are one of the best ways to show your brand's personality and set your brand apart from your competitors. New trends can help you increase your TikTok followers.
Of course, not every trend is here to follow, but choose the one you want to join in and make sure that they're the trends your target audience is also participating in.
How to recognize the trend? For example, if you see the sounds or effects that repeat on the homepage, it is a trend you should follow and try.
Step 6: Educate your followers
When creating content, the most important thing is to attract attention.
While your goal is to get the first 1000 TikTok followers, it's essential to approach your content creation to educate and entertain your target audience to make real connections.
The best TikTok video is instructive and entertaining for both brands and influencers. Use TikTok to create valuable, engaging, and informative material for your audience.
Creating interesting TikTok videos to communicate information about your products or services that can make your audience's lives easier is a fantastic concept.
Step 7: Post at the right time
Making sure you post on TikTok at the right, optimal moment (when your target audience is most likely to be online) is one of the best techniques to gain more TikTok followers. To automate this procedure, learn about TikTok scheduling tools and test it.
According to Influencer Marketing Hub and the results from over 100,000 posts that were analyzed to find the best engagement rates, this is the best time to post on TokTok (EST time):
Monday: 6 AM, 10 AM, 10 PM
Tuesday: 2 AM, 4 AM, *9 AM
Wednesday: 7 AM, 8 AM, 11 PM
Thursday: 9 AM, *12 AM, 7 PM
Friday: *5 AM, 1 PM, 3 PM
Saturday: 11 AM, 7 PM, 8 PM
Sunday: 7 AM, 8 AM, 4 PM
Times marked with * offer exceptionally high levels of engagement.
Step 8: Make duets and create challenges
Do you know what is "cross-pollination"? It is a term used in social media for using one social media account to share a message with a new or more extensive group of followers on another account.
Engage with other TikTok creators and make duets. Brands often do this. By sharing your content with another TikTok account, you're gaining access to more followers.
TikTok Duet allows you to use other people's videos on your own, giving people an opportunity to engage with your content differently.
Since your goal is to reach as many people as possible, making duets and creating challenges is a great way to engage more with your audience, and encourage them to take the desired action.
Step 9: Use user-generated content
User-generated content (short UGC) is content created by actual users. UGC is a great marketing tool because people trust real people.
It can help boost followers, increase trust in your brand, and generate more engagement with your audience. To create user-generated content, try creating your own challenges.
Tips&tricks to get first 1000 followers on TikTok
Customize your profile information.
Use a good video file and editor.
Be passionate, unique, and dedicated.
Make specific, short videos.
Post videos at the right time.
Be regular, active, and respond to comments.
TikTok marketing examples to inspire your brand
The Washington Post
The Washington Post was one of the brands that adopted TikTok quite early. This newspaper giant uses its account and comedic approach to the latest breaking news. This way, it displays how brands can succeed on TikTok by talking directly to its specific audience — young viewers who want to laugh.
If your brand is in publishing or similar industries, testing out a video strategy that shows off your lighter side could be an exciting experiment. It can help you gain attention from newer audiences.
Fortnite's user-generated content
Fortnite plays a good game on TikTok. Their launch campaign was genius – they invited TikTok users to their Emote Royale Contest to challenge people to create dances that could then be turned into official emotes on Fortnite game characters. The hashtag #EmoteRoyaleContest has been used over 250 million times.
Bentley Motors
Bentley Motors started its official TikTok account in December 2021 and already has almost 300,000 followers. They're partnering with creative and unique creators to make quality and engaging content in various ways.
Netflix's TikTok challenges
On TikTok, Netflix challenges have more than 105.7B views and counting.
Netflix's strategy mainly consists of working with content creators, getting them to produce branded creatives and share them on their TikTok profiles. They use hashtags like #netflixchallenge, #netflixmovies, and #netflixandchill.
For example, their #TribesChallenge, which called on users to show their allegiance to the series' four tribes in a creative way, achieved a whopping 2.2 billion views drawing enormous success for the brand.
Get more TikTok followers
Now that you know what to do on TikTok and which content to create and post, it is time to apply it to your TikTok account.
A lot of factors affect the growth of TikTok profiles. One of the most important is your audience and their location. Because if you fail to reach an audience, it's hard to achieve any growth.
However, you'll need more than just the proper time of day to produce content if you want to expand your audience. You must identify and communicate your unique selling point, create more content, and use partnerships and hashtags.
TikTok is a powerful tool that can help you increase brand awareness, generate leads, and boost sales.
Be persistent on your creative TikTok journey and apply these tips consistently to be on your way to a growing follower count in no time.
Or simply reach out to us and let our social media specialists create an engaging content strategy #foryou! Take advantage of the opportunity to connect with a new audience.