A trend known as tech employee burnout is becoming more noticeable in tech industry due to expected high levels of productivity, long work hours, multitasking and constant exposure to computers and new technologies.
This article is an overview of not just our activities, projects and actions we do in order to create a positive and unique work atmosphere but also a peek into our attitude and company culture.
Putting all efforts into each other
We often like to say our mantra: We put all our efforts into your product. So we can grow together is a professional lifestyle more than just a mantra but lately we've been putting a lot of effort into implementing this action and belief into more spheres than just our professional lives.
What does that mean?
As much as we care for our clients and dedicate ourselves to them, taking care of our team members has one of the highest ranks on our list of priorities. Not only that satisfied and happy employees are the company's best brand ambassadors but good company culture, valued and appreciated by all team members reflects positively on work atmosphere, performance and overall business results. That is why we put all our efforts into each other, so we can all grow together.
This means going a step further from offering regular work benefits. The IT industry offers a lot of business and career opportunities today and the decline in this uptrend is not on the horizon. This implies a lot of different market trends and technology advancements that can sometimes put extra pressure on the people working in IT.
The tech industry and its war for talents
The tech industry has its challenges on both ends – for employers the market currently represents a war for talents. How do you win that war? Well, you have a portfolio of unique and challenging projects, are offering various office perks and benefits and creating a culture that attracts and retains new talents. If it doesn't sound easy, that's because it isn't.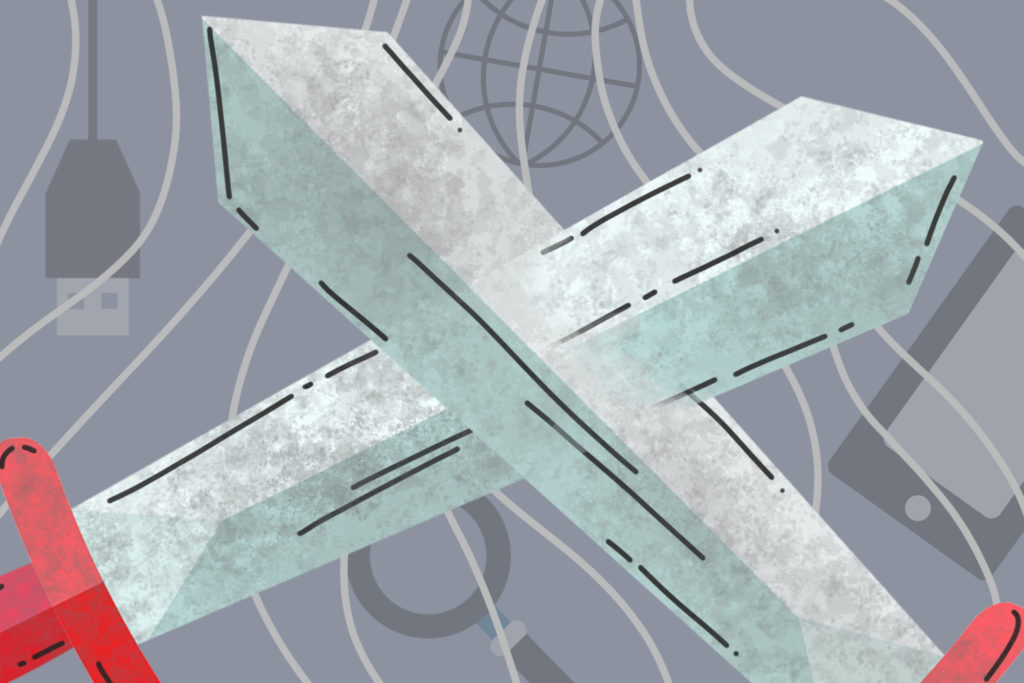 Now on the other hand, employees working at IT companies seem to be in a pretty good position in comparison to other industries on the market. Having a job in IT usually implies above the standard income, education, team buildings and benefits such as free parking space, paid gym membership and infamous office pool tables. What we usually consider as obligatory in an IT company is, unfortunately, a lot more than someone who's not working in IT can even imagine expecting from their job.
Is burnout common in tech?
However, working in IT is not all milk and honey and employees are often under a lot of stress. Recent HR researches show that stress levels that cause employee burnout are a growing problem and the IT industry is no exception. In some segments this trend is more noticeable in IT due to expected high levels of productivity, long work hours, multitasking and constant exposure to computers and new technologies.
If you add to this list top stress factors such as poor leadership and bad company culture, no opportunity for growth, bad direction and work overload you have yourself a little cocktail of toxic work environment that leads to burnout and dissatisfaction.
Long story short, people's wellbeing is suffering and motivational levels are down which all ultimately leads to employees leaving the company.
How do techs deal with burnout?
So how can we all deal with this?
Well, pretty obviously most of the responsibility lies on the employers – they are the ones who have the control to set the direction and tone of the company, to determine activities, design internal processes and decide what will or won't be done in creating a quality and transparent company culture. And many employers, especially those in IT industries, seem to be doing just that – implementing various benefits programs designed to encourage productivity, motivation, work-life balance and increase overall employee satisfaction.
However, a lot of that sometimes seems to be more talk than action and if you scratch under the surface a whole bunch of dissatisfaction and frustration comes out. Some researches have shown that, while companies offer various office perks, salary bonuses and different financial benefits, employee dissatisfaction comes from lack of transparency, communication, internal organisation and poor management. In many cases, employees are working long hours, don't have many advancement opportunities and feel unheard which affects the quality of both their professional and private lives, and ultimately leads to an increase in stress levels.
How can IT be stressful?
We can probably handle all of the factors stated above with some good management choices and internal reorganisation but tech employee burnout is a rising problem and is becoming a serious issue, one that we cannot solve with just a couple of good office perks.
A recent research by Blind, an anonymous platform for professionals, surveyed around 11,000 employees at 30 of the biggest tech companies about their job satisfaction and work – life balance and found out that over 50% of employees feel burnt out.
Wondering why burnout in tech industry is even a trend with all those perks and benefits programs?
Technology's constant growth requires constant adaptability, understanding, speed and efficiency and many people feel lost in this lively growing process. The pressure is not only high on the employees though – companies also have to adapt fast, be in trend and are under a lot of innovative and entrepreneurship pressure which is why they sometimes forget to take a step back and check how their employees are truly feeling.
How to prevent employee burnout?
There is no simple solution to this problem and probably never will be. While tech industry and the market in general are changing daily, the most important thing is to listen. Listen to what people who are creating the company culture and are a part of it, have to say because their voices can direct the company in one way or the other.
Like any other, our company's goal is to grow but we realised very early on that we cannot do that without having stability and satisfaction on our own doorstep.
What does that mean?
Number of different things we are figuring out along the way really, but all combined together in efforts of creating a pleasant, positive and desirable company culture for all of us at Async Labs.
Employees satisfaction and strategic relationship meetings
That is why we value transparency, honest communication and feedback more than anything and take them as our pillar stones of growth and success. Feedback is taken seriously in Async Labs on both ends – our employees are expected to be transparent with us as much as we are with them and we make that possible with our regular employee satisfaction surveys and 1:1 meetings.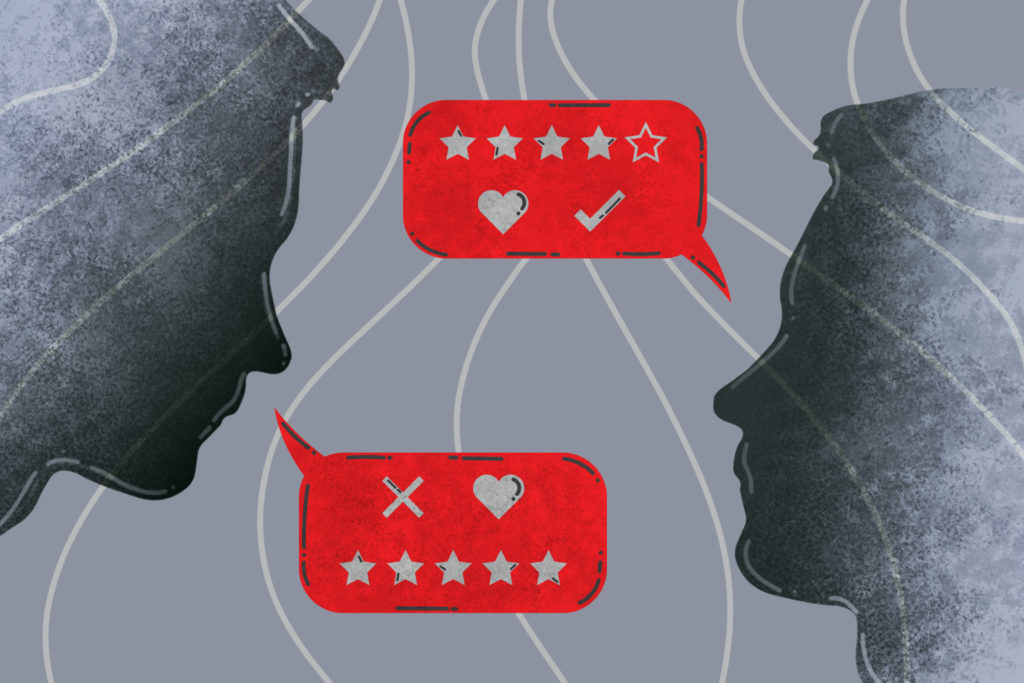 Both held periodically every couple of months, they serve as a sort of check up point to examine how our employees feel about their lives and roles in Async Labs and what we can do to be a better company. Surveys give us an insight into specific segments of work people are or are not satisfied with while 1:1 meetings provide a deeper insight into employees expectation, motivation and possible frustrations.
Both equally valuable, they are used to analyse the current situation within the company and determine which steps and activities should be implemented or excluded in order to improve the overall company life.
Feedback is always valuable
Every employee in Async Labs is cherry picked both to fit the company culture and requirements of a specific position. On the other hand, a lot of attention is focused on people who weren't hired but participated in the selection process by providing them with detailed feedback, for developers the so-called Code Review.
Even though this might seem like an empty investment that takes precious time and effort, we disagree. This is done because we want to maintain a relationship with all of our potential employees and provide them with a deeper understanding of our expectations.
Precisely because of this practice, a number of our current employees got the idea of what they have to work on and eventually got their jobs while applying to Async Labs for the second or third time.
Beyond fun and finances
While honest communication can prove a company wants to create a good work environment and long term desirable company culture, the decision and actions being made based on that communication are what prove the company is actively doing so.
Fresh fruit, free coffee, sports rooms and team buildings are all awesome perks but taking care of employees' wellbeing goes beyond offering fun and finances. Enabling employees to take a break, relax and destress all count as very important but also often neglected benefits that can improve satisfaction, motivation and overall, make one's job more enjoyable.
Things like flexible work hours, work-from-home opportunities, extra vacations days and gym memberships are all great well-being benefits but we consider them more as lifestyle choices Async Labs encourages. Other than just having an option of using a certain perk, our goal is to encourage people to make an addition to their daily routine that can make them fulfilled and more satisfied in general.
Group workouts
One of the most popular benefits at Async Labs, proven by the total number of 395 individual sessions in 2021, are group workouts organised just for our employees 3 times a week, after 5PM.
Our goal was to encourage people to take more care of their health by implementing a regular workout routine, more dynamic and fun than just working out alone.
Since the gym is just a floor below our office, a lot of us decided to at least try it out while many go just for fun and hanging out.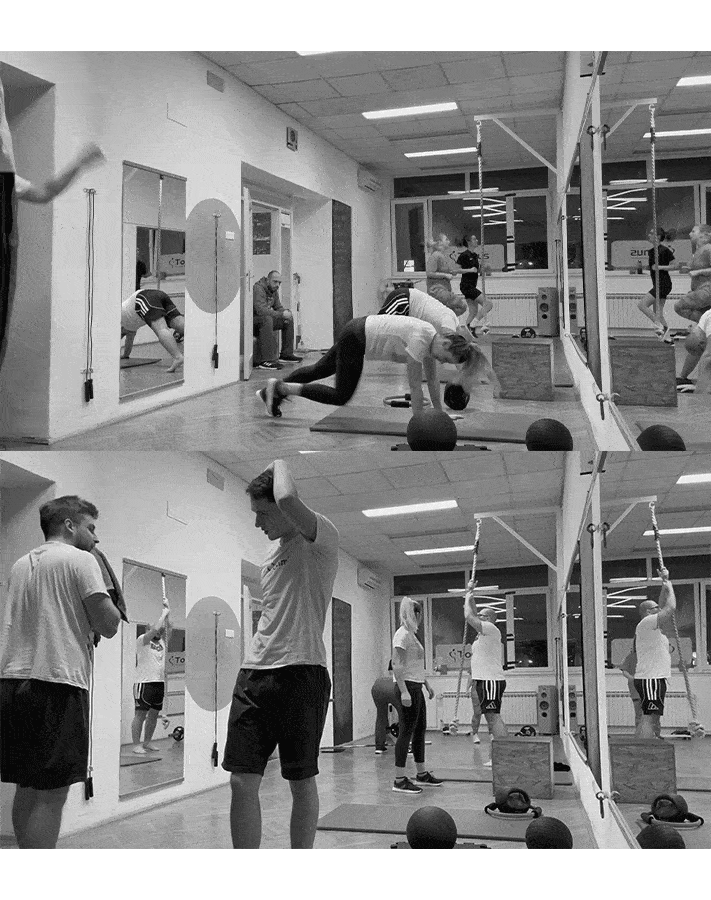 There was also a special treat for the first 10 people who collected 30 attendances on our group workouts – a workout bag, hand towels and thermos bottle all with our logo on them as well as lots of healthy treats. Simply put, we went out of these sports gift bags pretty quickly.
Avoiding tech employee burnout with extra rest days
No matter how much you may enjoy your job, all of us need a break sometimes to recharge. That is why we enable all of our employees, including students and those who haven't been at the company for long, vacation days.
While no one at Async Labs works on days like Christmas Eve and New Year's Eve, there are also opportunities to win extra vacation or free days at our internal events. For example, at our very own office masquerades party, the best mask, voted by all team members, was granted with a day off from work.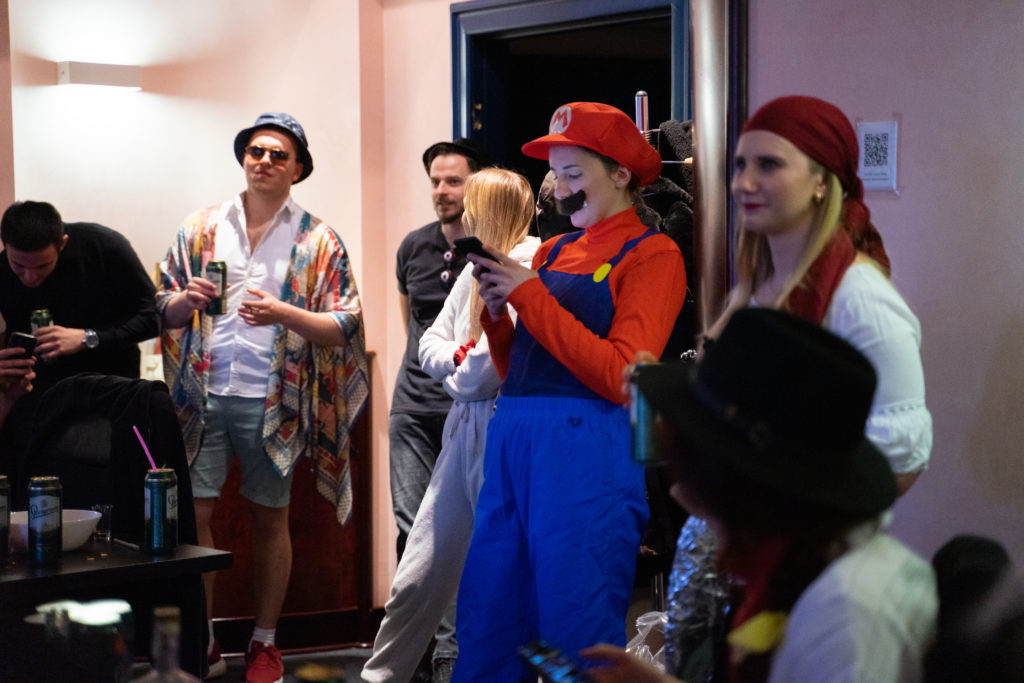 Good health is good sense
We all know our health is the most important thing and unfortunately we all take it for granted sometimes. We neglect and even forget to do regular check ups and to take care of ourselves.
With the goal of improving our way of life and adding some positive daily routines, we decided to fully finance health insurance for people of Async Labs.
Among others this includes regular yearly check ups, specialist examinations and emergency safety and cover ups.
Adding motivation – Freelancing with Async
Overtime and long work hours unfortunately represent a standard in many companies. Very often employees are not compensated for working more than 8 hours, because many consider staying long at work and putting in extra effort as a proof of dedication and professionalism.
This is one of the main reasons for dissatisfaction, lack of motivation and work burnout.
No matter how much we try, tasks and projects that cannot fit into 8 hours of work per day are inevitable. Very often these tasks fall into the "It would be awesome if we have it, but it's not that urgent" category. This means they are put behind because no one has time for them but could contribute a lot to the company. That is why we came up with the idea of a system that will help us get on hand with work overload and enable employees to earn extra income.
Async side jobs is practically a list of various tasks from all departments. Each task has an estimated price and time length, a deadline and a task owner. A person can assign themselves to solve a certain task in their spare time. Once that task is solved and evaluated they've earned the right to some extra cash. This will be paid out in form of a bonus with their regular monthly pay check.
Besides financial benefits, the idea behind this is to provide an opportunity for people to try working on things they are interested in and that are outside of their everyday scope of work.
For example, a task that is almost always active is writing blogs and content for our website.
This gives an opportunity to developers and designers to express their expert opinion about their work, projects or market trends in the form of blog posts.
Knowledge Sharing Hacks
Our internal training program called SyncLab, consists of several components. Probably the most interesting one to single out is the Best Knowledge Hacker. This initiative rewards the person with the highest ratings on her or his best internal trainings with an annual bonus of 50% of their net salary.
There is also an educational budget that grows with work experience in Async Labs, external trainings for the entire company on various different topics and Async library which we are continuously loading with books in the field of development, management and soft skills.
We are still learning and working on creating a genuine and positive company culture along the way.
As strong believers in good relationships and transparent communication, we are constantly finding ways on how to improve working experience and our goal is to make every team member feel as an equally important part of our growing Async Labs community.