Instagram interactions: Here is how to see liked posts on Instagram.
You might want to revisit previously liked posts on Instagram for numerous reasons. It could include helpful information like important announcements, events or schedules, or you are searching for a funny post you once liked and wish to find it again.
If so, we have a guide for you. This article will show you how to see the posts you liked on Instagram. We'll also show you how to see someone else's liked posts on Instagram. Let's check it out! 
How to see the posts you liked on Instagram?
Did you know that Instagram lets you see the last 300 posts you liked?
Let's get started! The first step is to open your Instagram app, go to your profile and access the account settings.
​​The only way to access posts (photos and videos) you previously liked is through the Instagram app. There is no option to check it on the desktop version.
To do this, follow the next steps that work both for Android and iOS.
To see all the posts you've liked on Instagram, go to your profile page.
You'll see a three-lined icon on the screen's top right corner. Tap on it. This will open up a menu with a list of options.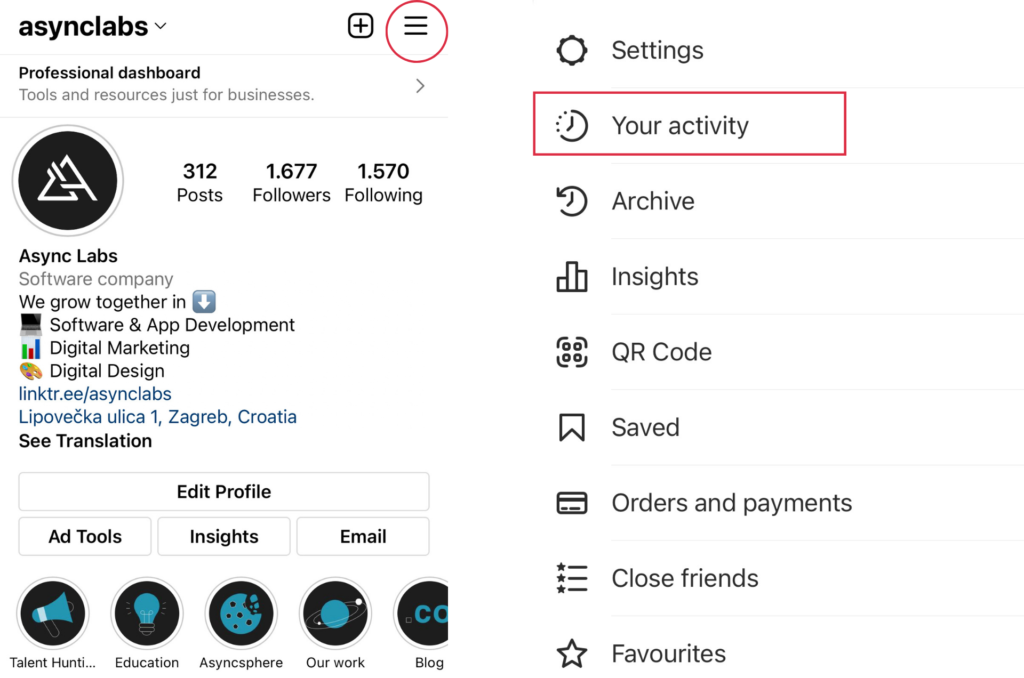 Then click on "Your activity" and go to "Interactions". You should now see a list of the following options: Comments, Likes, and Story replies.
Tap on Likes, and there you go – you'll be able to see recent photos and videos you've liked. (like = tapping the heart button or double-tapping the post).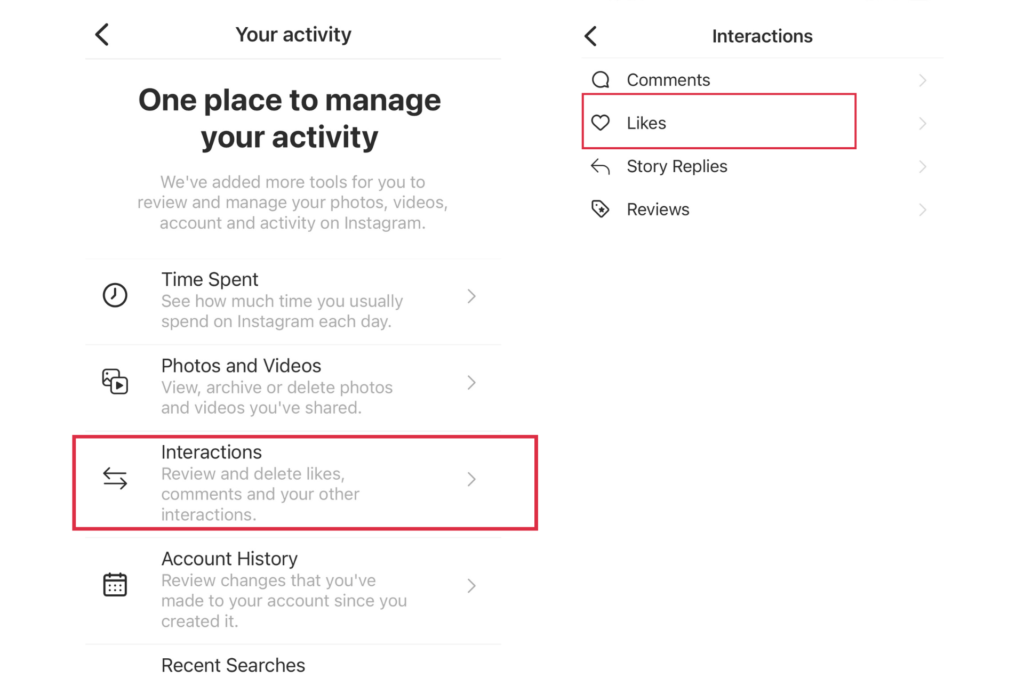 Voilà! You've just learned how to see liked posts on Instagram. Now you don't have to save the post you like; you can check it in Your Activity settings under the Like option.
You can also unlike posts on the same page. Tap the "Select" button in the upper right corner, then mark the posts you want to unlike. At the bottom, it'll say "Unlike" with the number of photos you've selected. Tap this when you've selected all of the photos.
Friendly reminder: If you leave a comment on a photo or video but don't like it, you can find it in the section "Interactions", along with the "Likes" option.
How to see someone else's liked posts on Instagram?
What are the ways to find out what other people like on Instagram?
Until 2019, Instagram used to have a "following activity" feed where you could see the real-time activity of the people you followed, such as likes and comments. Since the 'following activity' feed is no longer existent, there is no longer a way to track other people's likes on Instagram.
The only way to find out if someone has liked a specific post is to investigate its like activity. If you want to see what posts someone has liked on Instagram, you have to go to the post itself and press others (*as shown on the photo below) to see everyone who has liked it.
In the past, Instagram used to have the "Following" tab. It was the feature that allowed you to see who liked what photo. Since this option is no longer available, there are still ways to see who likes what photo on the app.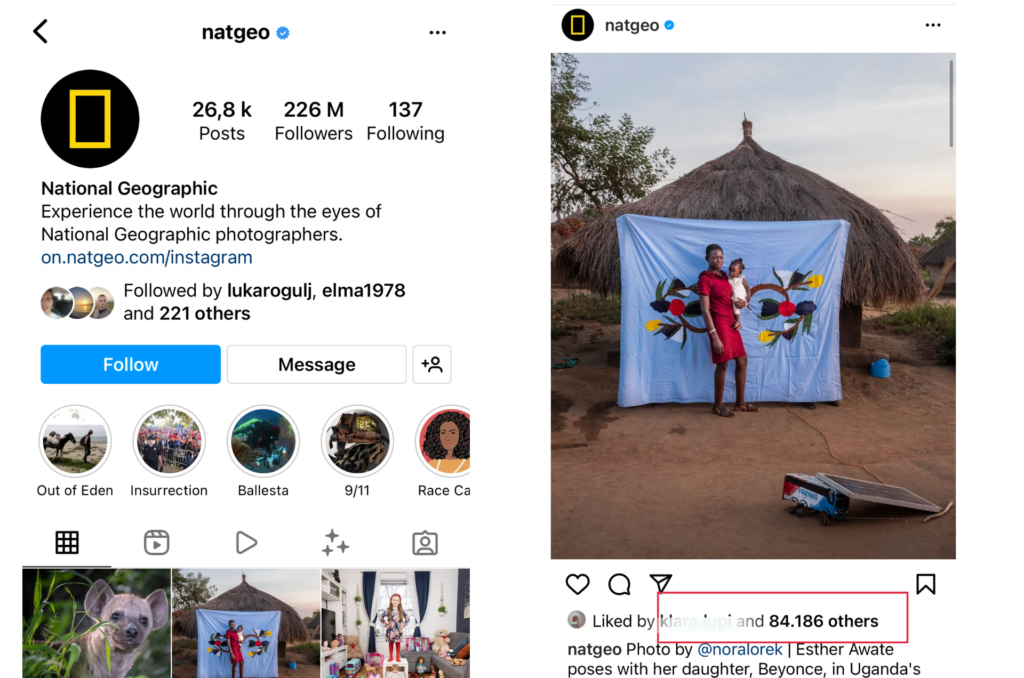 There are online services that will let you see the recent activity of any public account, but if you don't want to sign up, there are other ways.
For example, you can use Snoopreport. With this tool, you can check anyone's activity on Instagram and see what they like, their comments, and who they follow. Snoopreport pricing starts at $4.99 per user per month and doesn't offer a free trial unless you are a data science student or researcher.
When you want to see what other Instagram users you follow like, you must go to their profile and scroll through the images, looking for this person's username in the likes. If you follow the person, their username should show up toward the top of the list of the photo's likes when you click on it. If a specific user disabled activity status, you may be unable to do this.
How can I see what I liked on Instagram Desktop 2022?
If you are using Instagram on your PC, you can only post videos and pictures, but you won't be able to post stories. However, you can see what the people you follow post, including Instagram stories.
Although you can like other people's posts via Instagram desktop, you cannot view and check the posts you've already liked. If you access Instagram through a browser, this feature is unavailable. Also, if you're wondering if you can see previous comments you've made, the answer is no.
On a positive note, if you use Instagram App for desktop, you can view other people's likes the same way you check it via a mobile app.
If these tips were helpful, feel free to share them around! Check our blog posts for more social media content and digital marketing topics.