The IT recruitment process, as selection processes in general, has been a popular topic in the past couple of years. It seems that the attitude towards recruiting has somewhat improved in general. There is a lot of public talk about the duration of selection processes, feedback and general transparency, mostly regarding pay, benefits, working conditions and so on.
These matters have been on the top list of priorities of many HR and employer branding experts. On the other hand, in a time where employees are becoming the ones choosing their employers and not vice versa, the importance of the qualitative selection process is becoming more acknowledged.
Long recruitment processes
So what are critical elements of a qualitative recruitment process? How about IT recruitment, are there any differences considering the industry?
There are some elements in the recruitment process, that probably any job seeker would appreciate. Some include proper job and position descriptions, transparency and open communication, in time responsiveness and timely and proper feedback, no matter the outcome. A lot of companies adopted these elements into their recruitment processes and all in all, they are becoming an indisputable part of it.
In general however, the hiring process itself can be even longer than a month in some cases. Even worse is that there are still companies today that don't provide final feedback. They basically keep you hanging on, literally forever, while you're holding on to your last shred of hope.
Feedback as simple politeness
People invest time and energy into trying to become a part of your team, and in most cases put effort into solving a selection task as part of your hiring process. Letting them know they didn't pass to the next round, is simply a question of decency.
Now sending a simple "thank you and good luck in the future" email is one thing, but ever thought about sending feedback on the selection task the candidate solved? As in a technical one, written and explained in detail?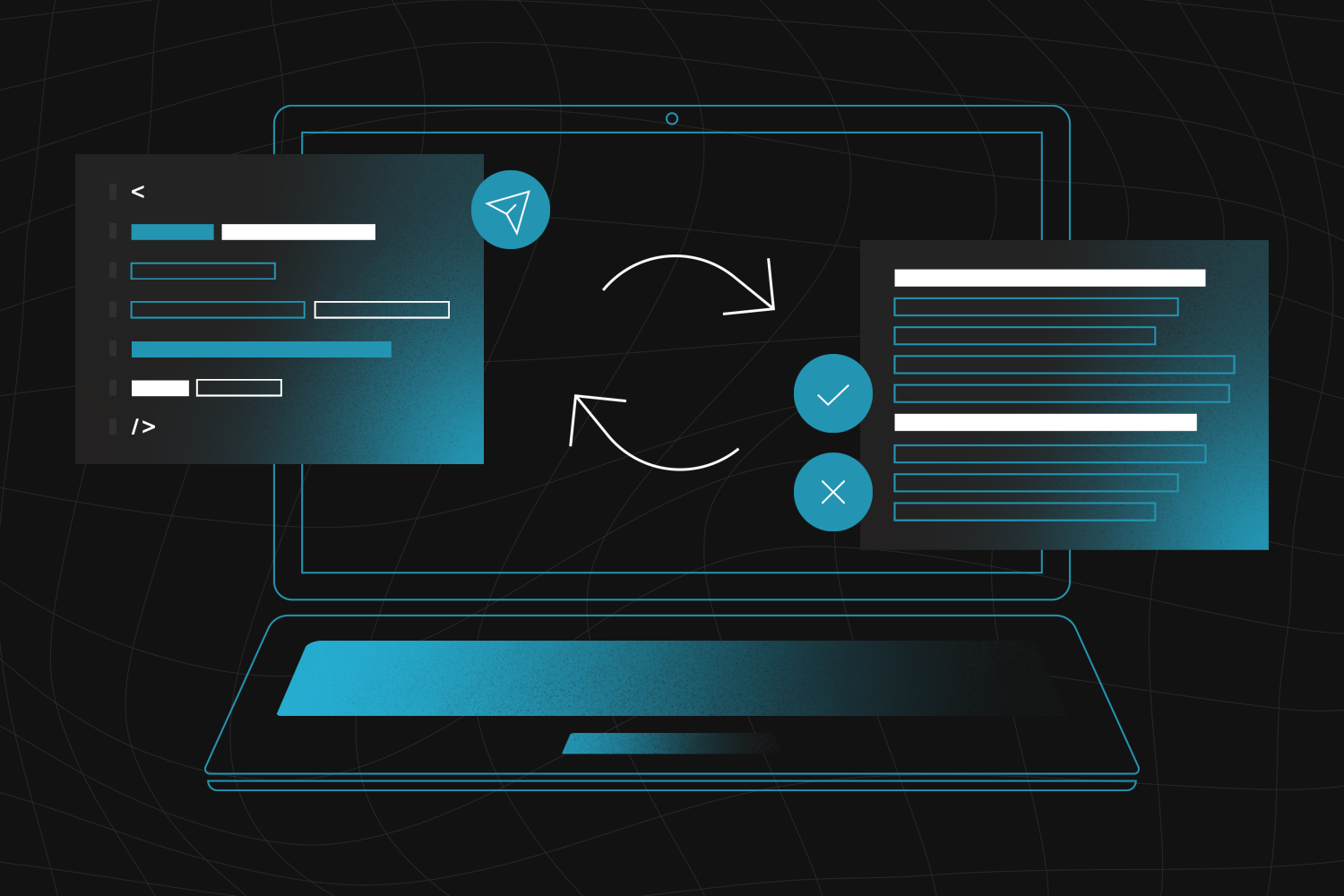 It is interesting to question who might be more shocked by this idea – employers who would now need to invest even more time and resources in the recruitment process, or employees who are used to the simplicity of "Thank you, but no thank you" types of emails…
What is a Code Review?
In IT recruitment, a written detailed technical feedback to a candidate's task is also considered a Technical Code Review.
Code Review is a common term in the world of IT. In general, it is a methodological assessment or analysis of a code, conducted to find bugs with the goal of improving the code itself. In a way, Code Review serves as a quality assurance, or better, quality control between developers. They are encouraged to use it as often as possible in order to improve their skills and gain new knowledge.
Specifically in IT recruitment, Code Reviews can be used in two ways:
As a technical evaluation of a task that was sent to a candidate as part of a selection process.
As a task itself. Candidate is required to code review a certain code that was sent to them as part of a selection task.
A second chance to first impressions
While first impressions are important, they can sometimes vary. There are cases when people seem very competent and motivated at first but later turn out not so much.
That's why, in many cases, selection tasks are a crucial part of the process. In general, at Async Labs we are more about motivation, team players and culture other than pure technical skills because those can always be learned. So in the end, experience has shown that the best practice is to combine these two – technical skills, ability to work as a team player and impression on attitude, motivation and whether or not a person might be a culture fit or not.
For us, Code Reviewing in selection is not to test if the solution the candidate delivers works, but more how will the candidate potentially act within the team.

Vilim Stubičan, Head of Development
Why should you send Code Reviews in IT recruitment?
At Async Labs, technical feedback or code reviews have been an important part of our selection process for quite some time now. Transparency and no BS (communication) are taken very seriously at Async Labs and we are trying to implement that belief in every internal and external process we can.
This means that we provide technical feedback on candidate's tasks whether they passed to the next round of selection or not, for all departments. While Code Review is a development term, the principle is the same for any job position.
Our Head of Development, Vilim, has been on the IT scene for many years now. His impression is that not many companies have good and transparent selection processes and even fewer have the practice of sending out technical reviews to all candidates:
It's not hard to imagine why. The process itself takes a lot of time and resources and with all your daily and weekly work and deadlines, it's hard to escape the mindset of why to invest extra time and effort into candidates we won't hire anyway. A good thank you and goodbye email will suffice, right? But the thing is, by providing candidates with feedback and instructions on what to work on, you actually might hire them in the long run.
Investment in knowledge pays the best interest
…said Benjamin Franklin once upon time, and we could not agree more!
Our primary goal for providing detailed technical feedback and guidelines for growth, for all candidates regardless of the outcome of selection, is to encourage them to work on their skills with our help and possibly apply again in a couple of months. Async Labs' vision is putting all efforts into our clients and employees, so we can all grow together. Mentorship and guidance are big parts of that and we try to implement it even before someone officially becomes a member of the team.
The feeling of rejection is subdued because it is more of an incentive and encouragement to work on themselves than a negative feedback, which results in higher motivation to thrive and apply again.

Vilim Stubičan, Head of Development
A lot of candidates are positively surprised when they receive a documented feedback on their technical solution even if they haven't passed to the next round of selection. Some of our current employees were hired after their second or third selection process. Now they are one of the the ones doing code reviews for candidates and their colleagues.
Our Frontend Developer Luka has been at Async Labs for more than a year now and has experienced the selection process with code reviewing first hand:
The code review from Async Labs was very thorough and outlined both code mistakes and virtues. Every shortcoming of the technical task was backed up with helpful advice and documentation which helped me master the specific part. Code review was a great continuation of the learning experience after the technical task, which was also one by itself.

Luka Roštan, Frontend Developer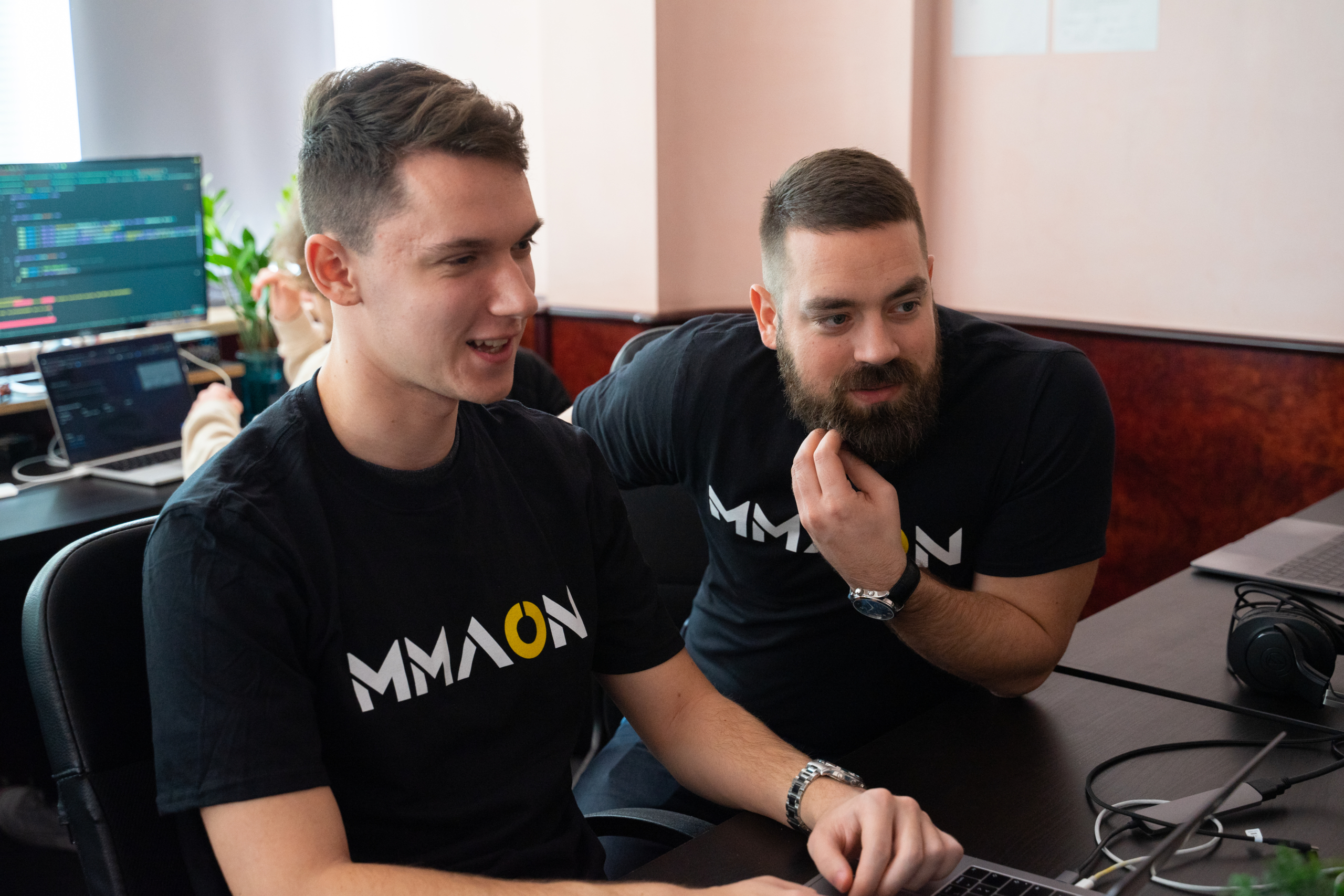 Recruitment process at Async Labs
All applications are analysed in detail based on CVs. Information taken into notice is such regarding experience, motivation, goals, hobbies, technical and soft skills, etc. Next is the standardised selection process at Async Labs, consisted of 4 main steps:
Introductory call with the CEO
Selection task
Technical feedback interview
Final meeting and offer
The third step is the one where technical feedback is sent to all candidates who got to step 2. If they passed to step 3 of the process, that means discussing the task and feedback in and, usually online, interview.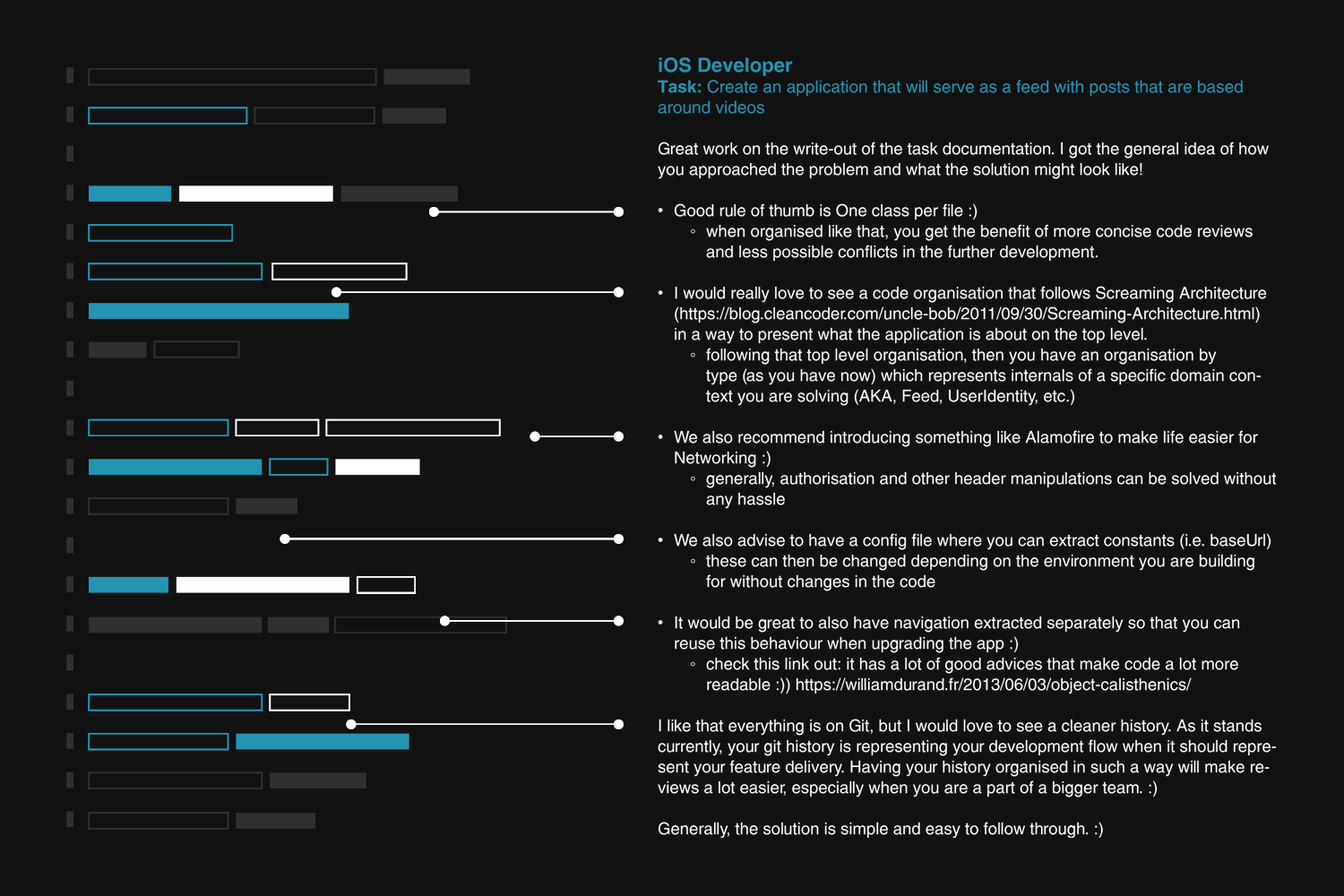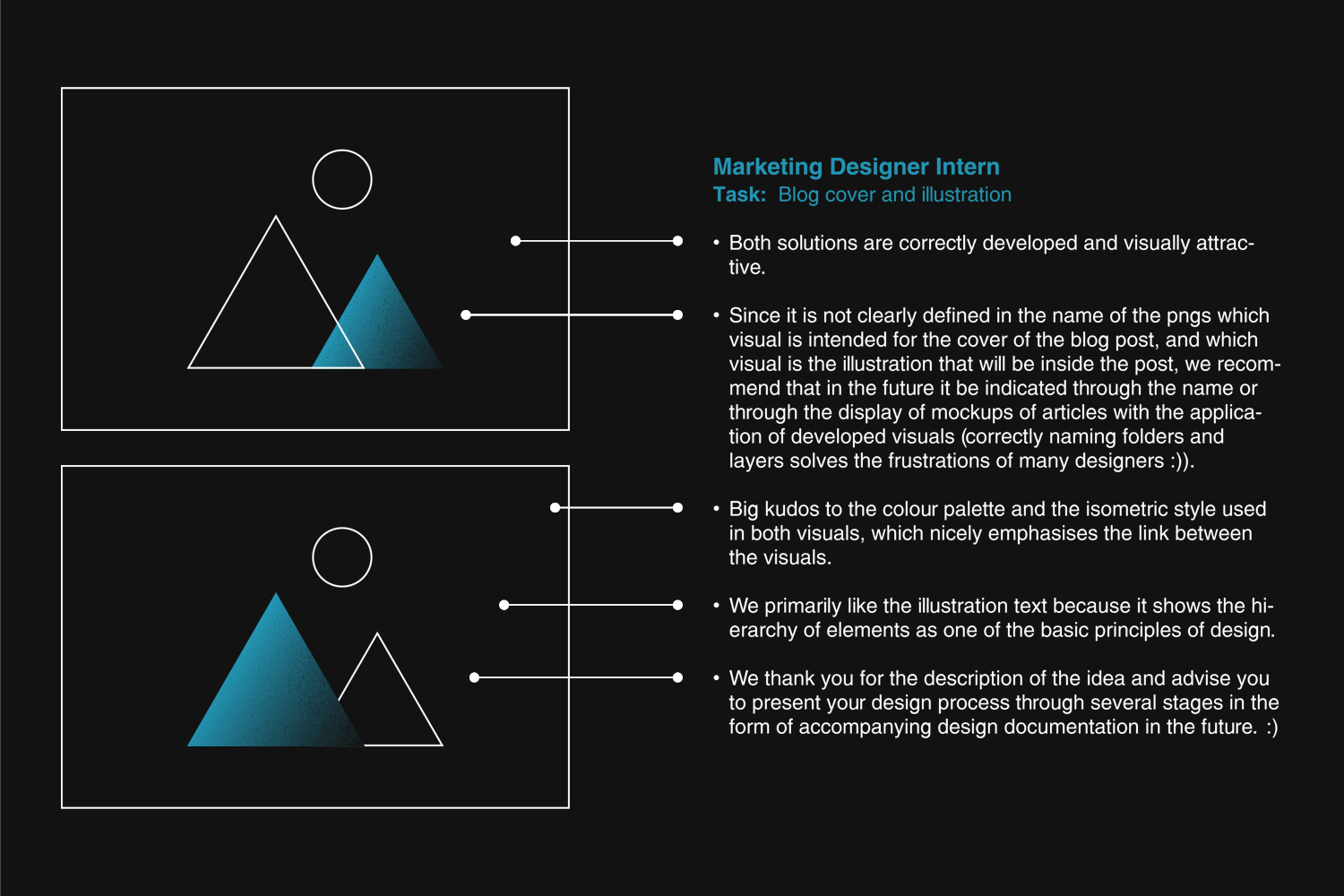 Let's get real
Communicating feedback, especially when it's not all that positive, is not always easy. Honest and transparent communication and no hidden agenda are very much nourished at Async Labs. Because of that, we try to present any flaw or deficiency as an opportunity for improvement and growth.
On the other hand, we encourage candidates to ask questions, give their opinion and insights on the matter. No matter how established our current processes may be, we are always open to new ideas and suggestions.
We are currently working on systemizing the whole process and including more people in it. Among other benefits, code reviewing is a chance for any team member to learn more and advance in their career. This is often one of the first steps to seniority growth as well as a path towards mentorship.
This is a good opportunity for self reflection and knowledge sharing and we want our team to make the most of it. On one hand you are mentoring someone, and on the other, you are transferring the company's knowledge and experience on the market.

Vilim Stubičan, Head of Development
What are your thoughts on providing technical feedback to all candidates, no matter their result? Is it just a waste of time or can it be useful for all parties? What about IT recruitment, is it any different for this specific industry?
Let us know what you think at hello@asynclabs.co or our social media channels.
Also, be sure to check out our open positions!