Do you administer your own or someone else's page and always like and reply to your followers as a Business Page? Here's how you should change your perspective and start replying quickly from your personal account.
Replying to comments is essential to expand reach and engagement on social media and develop a stronger brand voice. To do so, you are probably often posting and commenting as your Facebook Page, a.k.a. a business profile.
A person's response, instead of a brand, helps a business seem real and authentic. This approach is sometimes a good way to put a "face" behind a reply.
But if you are managing someone else's Facebook page, then make sure you always respond or like the post as a business page. In situations like this, it is very unprofessional to answer from your private profile.
You want to convey a more professional approach and let the community know that you are a brand they can trust.
If someone is complaining about a particular issue on your page, it would be better to reply from your business account with the page's logo.
In this blog post, we will show you how to switch between accounts and to comment as yourself or a Page itself on a Facebook company page you are managing. You will also learn how to do this from a desktop computer and a mobile phone (Android and iPhone).
How to comment as myself on a Facebook page 2020?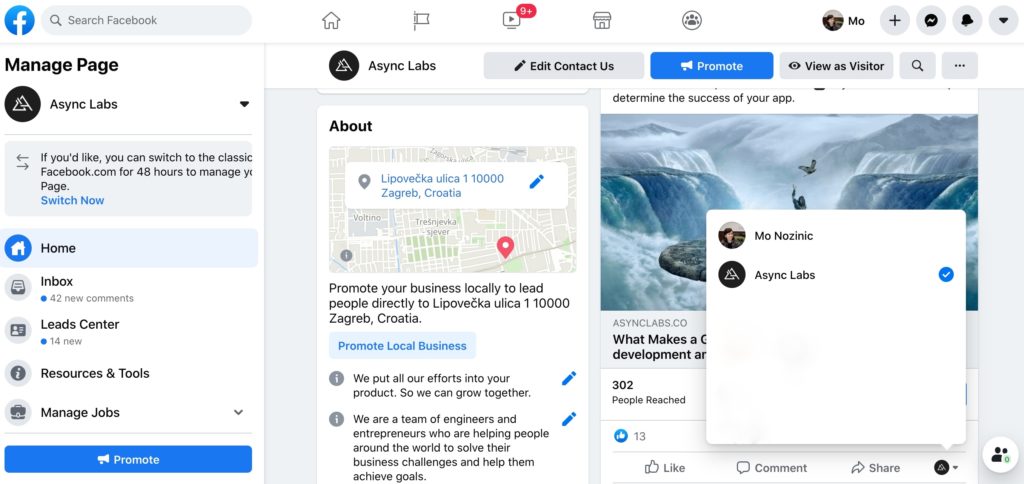 It's simple and requires just a few steps and clicks.
Whether you are a business owner or community manager, Facebook makes it easy to use the business page in harmony with your own Facebook profile.
If you are an administrator, Facebook allows you to write posts under your name and your private profile, instead of the Page name. This way, you can switch back and forth between posting with your name and posting as the Page name.
Each post you publish has a small icon at the bottom right corner where you can immediately see which account you are using to comment. By clicking on the drop-down list, you can change accounts in seconds and choose how you want to comment on a particular post.
How to comment on a Facebook page from a desktop computer
To comment as yourself, you will need to follow these few steps.
First, log into Facebook and go to the page you administer.
Find a post you want to comment on.
As shown below, in the lower right corner, click on your profile icon with a little dropdown arrow next to the comment field.
Select the name of the profile you want to comment as and write your comment.
How to change who you are commenting as on Facebook mobile
Steps for Android
Suppose you are administering a Facebook page or business profile from your phone. If you are using Facebook for Android, you may have experienced the frustrating situation of not being able to answer people's comments on the page as "yourself" or you happen to like your own post as a Facebook page.
Unfortunately, Facebook has not made this easy to do on Android. Facebook app for Android doesn't have an option to easily switch accounts and write comments from your personal Facebook profile.
Still, there is a way to get around it.
If you are trying to post a comment as yourself from mobile (in this case from android) on a post made by a page you manage, just follow the steps below:
Go to the browser, search for m.facebook.com and log in with your username and password.
Click on the three lines in the right upper corner and go to the page you manage.
Find a post you would like to comment on.
In the lower right corner below the post or photo is a circle with an arrow. Click on the arrow and select your profile in the "Liking and commenting as" section.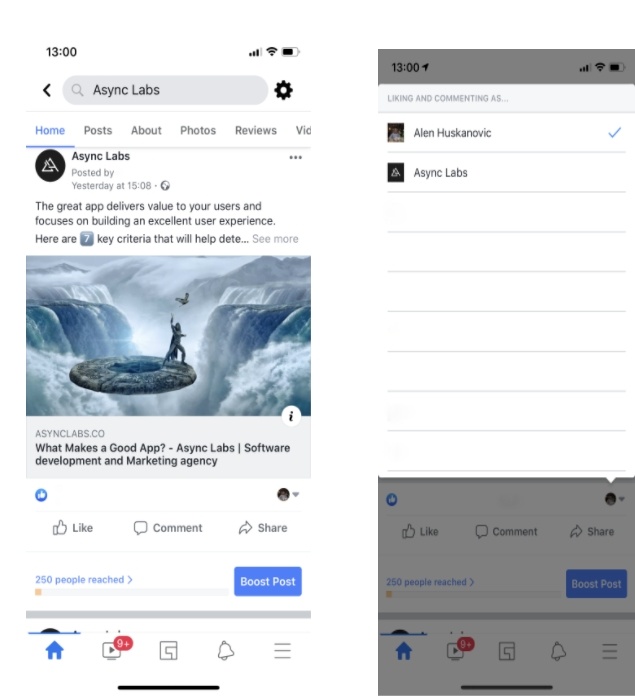 Steps for iPhone
If you have an iPhone, apply the same steps as for Android, i.e. m.facebook.com.
Go to the page you administer.
Find a post you want to like or comment as yourself.
Click on the arrow under the post/photo and choose your personal profile.
If you follow these steps and everything goes well, your new comment posted from your personal profile should appear on the post of the page you administer.
And that's it! If these tips & tricks were helpful, feel free to share them with the rest of the world!