You've spent months creating your new project, and now it's ready for a soft launch. Do you know what data to track and why? What is your soft launch strategy?
If you work on your business plan, you've probably already developed a strong brand and have a ready website. In this article, we explain the tactics and concept of a soft launch, which will help you get your business to the market.
The soft launch is the art of quietly introducing your brand to the market. Typically, a product soft launch involves rolling out your supporting marketing applications piece by piece. Essential parts of this process are discretion and subtlety. For example, your new app or website will quietly go live when it's ready, not on a specific launch date.
Your product soft launch plays a significant role in how people will understand or come to know your product, service, or offer before it gets into their hands.
What needs to happen before the soft launch, when are you ready to go live in selected markets, and how will you manage risks during the soft launch phase? Let's find out.
What is a marketing soft launch?
Have you ever been invited to gain special access to a product, service, or location before it is available to the masses? If you've ever got special access to a product or service and could test something before a complete launch, you've been a participant in a soft launch that releases a new service or product option to a small, select audience.
Soft launch or soft opening is when you release an MVP with core features and a unique value proposition to catch your first users and then roll out updates and new features as they're developed and tested.
The primary goals of a soft launch are to gain data on user behavior, find out the most effective ways to promote the product, improve a product, optimize launches, and more.
In a product soft launch, you're going to do a few things: invite your friends and family to come into your business instead of making it available to the public.
In simple vocabulary, a soft opening is something where you have limited business hours, and you are not marketing that you're open. Still, you have your doors open for people to come in as customers, and you will serve them and take care of them for a limited period.
What is the purpose of a soft launch?
A soft launch process requires a deep study of the market. It commits the team to be motivated and proactive to optimize the app in the best possible way and make the most profit from the launch.
Nowadays, more and more companies are choosing a soft launch strategy to launch their new products. Soft launching allows you to polish and improve your app and ensure you have everything you need to succeed with your target audience.
Soft launches can be used with websites to increase the website functionality. For example, Gmail was soft-launched in 2005 and fully launched one year later. Soft launches are also used for software, with a minor release directed towards a limited group of individuals for beta testing. Some software can be soft-launched on the Internet, allowing easy software updates.
The soft launch has a few main criteria:
Gathering data on user behavior
Defining success criteria
Finding out what effective types of promotion are
Improving and repeatedly optimizing every new launch
For example, if you launch the app or the game, it will be worldwide. That means that currently, there are a few biggest marketplaces like the USA, Canada, Europe, South Korea, and Japan, where you can monetize the game. If you decide to skip soft-launch and go to your main markets, like the USA, technical problems can occur, and you will use potential customers and users.
A soft launch is essential in understanding how to improve the app technically, usability-wise, and content-wise.
What is the difference between a soft launch and a hard launch?
Hard Launch vs. Soft Launch: Which approach is right for you?
A hard launch is where you set a specific date and then pile a lot of excitement or a lot of promo on that date, hold back the details of that event, and then launch very aggressively. Hard launches are effective in terms of building up excitement. 
For example, if you have a product or a service, which is a bit of a commodity, and you have to generate excitement over it and know there is a demand for it, it is a valid point to launch a hard launch.
When it comes to a soft launch, it is one that you gradually start to roll out and get going. You can spend a lot of time learning about customers, methods to attract them, and the price points, and you can fine-tune it all.
Famous soft launch examples
The 2016 hit game Pokémon GO initially pursued a soft launch strategy, which proved significant. The app was first released in Australia and New Zealand, following other countries like Germany, the UK, and the Mediterranean. Since the popularity of this game was vast, it was forced to launch fully within days.
Because of a tremendous load on the servers, the game was unplayable. While the success of Pokémon GO is legendary, it is a sign that releasing an app too quickly and without building the supporting infrastructure can sometimes go the wrong direction.
Another successful example is Revuto, a project our Async Labs team has been working on. Revuto is a blockchain-based solution for all subscriptions. The app allows you to manage, track, maintain, and cancel any subscription and prevents unwanted subscription charges.
The app was launched last week, and in just seven days, it was installed 10,000 times, and it already has 500 reviews on Google Play. Revuto is the first project funded through an Initial Coin Offering (ICO) on the Cardano platform, where it raised $10 million in the first-ever Token sale.
Benefits of a soft launch
Early feedback
Releasing an early version of the software lets you see which features to prioritize, modify or refine, add or delete. It helps you change the parts of the product according to feedback.
Cost-effective
Instead of paying for the whole app, you invest your money gradually and monitor the performance.
Keep users interested
You can keep your users interested in the product by releasing new features.
An additional level of testing
Catching bugs is challenging, and soft-launching a product can help with that. Since you're releasing a product to a limited number of users, early adopters can point out anything that's going wrong, which minimizes your reputational risks.
How to soft launch a product?
When you go to any market, finding ways to validate technical, content, or usability issues is essential to leverage and minimize the risks. Before starting the soft launch, you must understand what you need to have ready.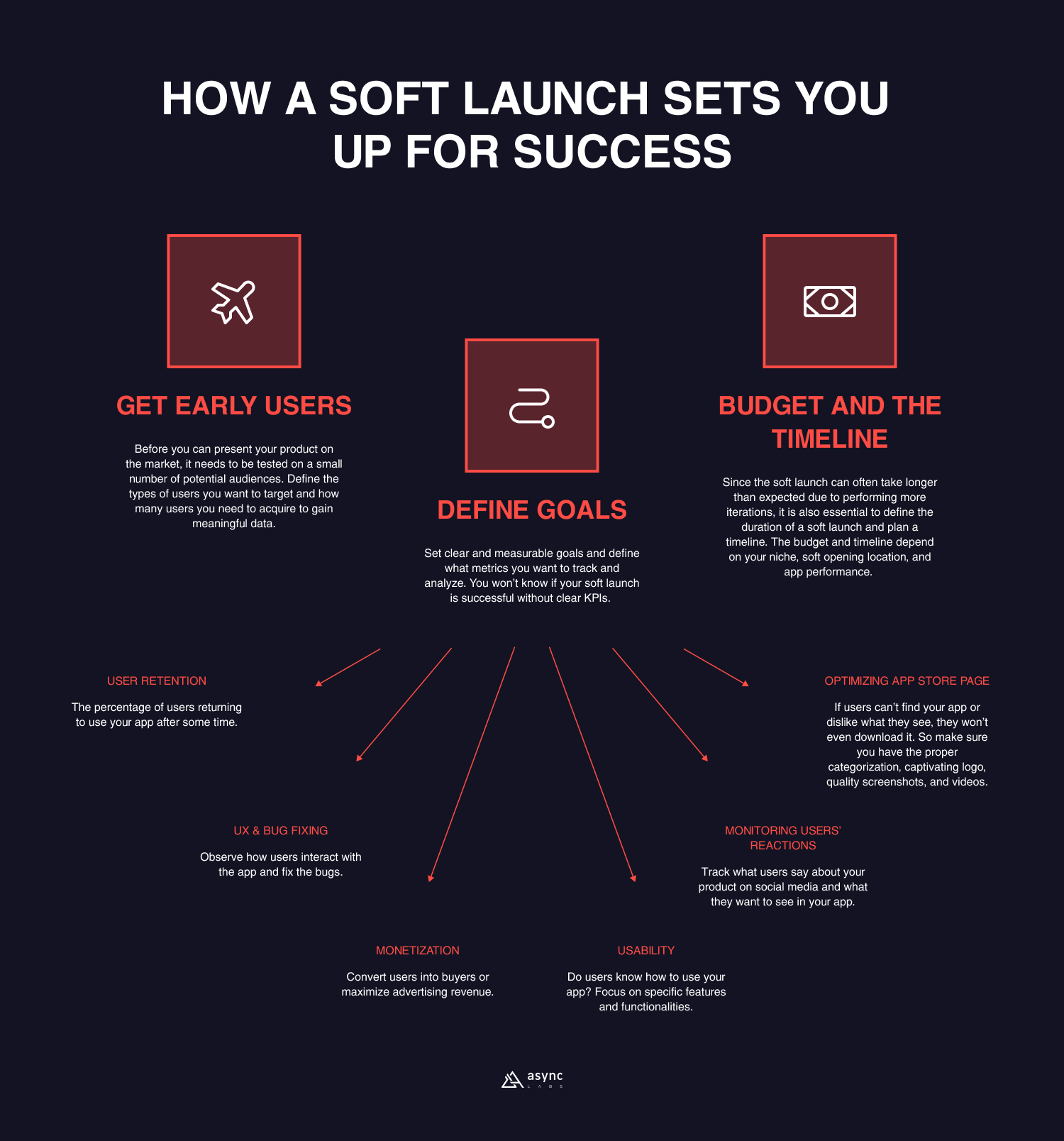 Before starting a soft launch, you have to be well prepared and do certain activities, and define a few essential things:
Get early users
The types of users you want to target
How many users do you need to acquire to gain meaningful data
The length of time you expect a soft launch to last
Your budget per launch
Create a functional prototype to show your potential app to the users and get their feedback. Before you can present your product on the market, you have to test it on a small number of potential audiences. And testing is the primary goal of the soft launch.
Bonus advice: Avoid the best geographic locations that generate the most revenue (USA, Germany, France). Skip introducing your product to this type of audience until you have an advanced version of the app. For example, before launching in the US, Canada, Australia, and the UK, try to test in Brazil, Argentina, or other smaller countries.
Depending on the app, markets outside the US can be more lucrative if you do good localization because there is less competition, and ads are cheaper.
Define goals
Set clear and measurable goals and define what metrics you want to track and analyze. You won't know if your soft launch is successful without clear KPIs. KPIs (Measurable Key Performance Indicators) allow you to estimate whether your product is performing as expected.
Pay special attention to these elements:
User retention: User retention is one of the significant reasons to run a soft launch. It is the percentage of users that come back to use your app after some time (one or two days, a week, etc.). It is essential to monitor user retention regularly. If you see that retention is low, it means that something is wrong with the app. But with a soft launch, you still have time to fix it.
UX & bug fixing: The aim is to observe how users interact with the app and fix the bugs as soon as possible. Improve your product by monitoring all bug reports and comments from your first users.
Monetization: Depending on the app's business model, converting users into buyers or maximizing advertising revenue will be essential.
Usability: Do users know how to use your app? You have to do user testing, focusing on specific features and functionalities.
Monitoring users' reactions: This practice involves following users' comments in the app store. Users often share their thoughts and activities on social media, which is excellent for getting publicity, gaining new users, and getting feedback. Tracking content written about your product on social media will help you improve your user experience, find and correct software bugs and see what people want to see in your app.
Optimizing app store page: If users can't find your app or dislike what they see, they won't even download it. So make sure you have the proper categorization, captivating logo, quality screenshots, and videos. The application's name should be memorable. The description should be as short, clear, and highlight the best sides of your product.
Budget and the timeline
The budget is essential for recruiting users. Collecting data for KPIs analysis depends on the number of users you need to recruit.
Since the soft launch can often take longer than expected due to performing more iterations, it is also essential to define the duration of a soft launch and plan a timeline. Some developers believe that two to three months is the optimal length of a soft launch. In reality, it can be shorter or longer, depending on your niche, soft opening location, and app performance.
How to prepare for a soft launch phase
You've probably heard the saying, "fail to plan, plan to fail." Well, that's especially true when you're launching a new product. There's a lot of work before you go live with your new product.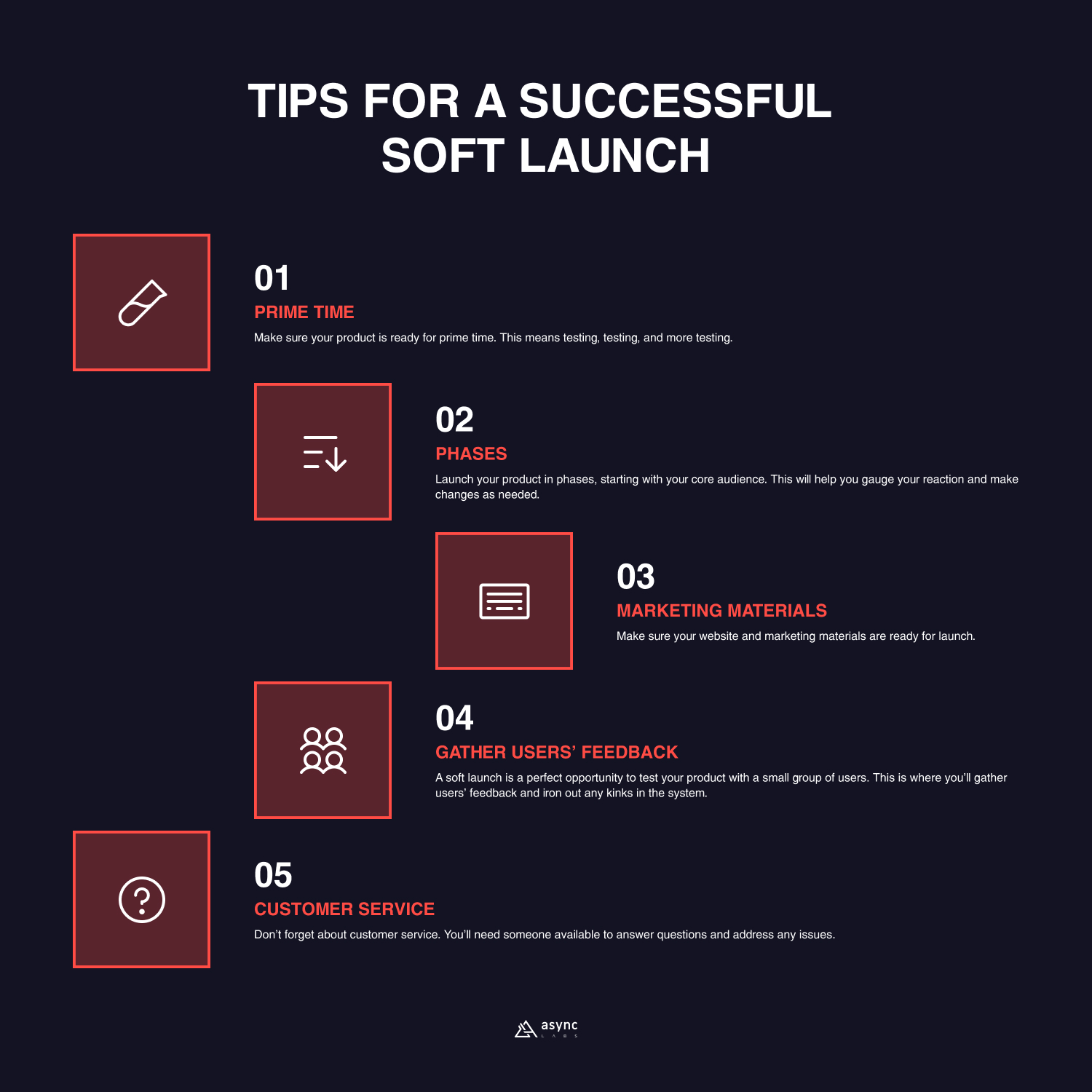 Here are a few tips for a successful soft launch. By following them, you'll be able to execute a successful soft launch and get your product off the ground.
Make sure your product is ready for prime time. This means testing, testing, and more testing.
Create a rollout plan and ensure you have enough resources to support the increase in traffic.
Launch your product in phases, starting with your core audience. This will help you gauge your reaction and make changes as needed.
Make sure your website and marketing materials are ready for launch.
Keep your eyes open for users' feedback, and be prepared to make changes based on it. A soft launch is a perfect opportunity to test your product with a small group of users. This is where you'll gather feedback and iron out any kinks in the system.
Don't forget about customer service. You'll need someone available to answer questions and address any issues.
A soft launch will help you validate your product or show that it isn't reasonably market-ready. If your app receives low engagement or interest, you can see what you can change and improve or abandon a project due to poor performance during soft launches and begin an entirely new project from the beginning.
Every situation and launch is different and unique. There are various options when it comes to launching a product. Make sure you know which is right for you before launching your product or service.
Have more questions? Drop us a line and get more insights from our expert team.