Do you wonder how to attract guests and fill the accommodation capacity of the hotel throughout the year? Want to take full advantage of trends in digital marketing for hotels? This article is for you!
If you are a hotel owner or a hotel manager, you are undoubtedly aware of marketing's importance these days. And if you want to be successful in marketing, it means that email communication is necessary.
The hospitality industry is one of the most competitive businesses. To stand out in the sea of ​​offers and successfully run a hotel, you need an effective marketing strategy. In the competitive hotel industry, email marketing for hotels is critical for building 1:1 relationships with guests.
Email‌ ‌is‌ nowadays ‌the‌ ‌most‌ ‌cost-effective‌ ‌channel‌ ‌for‌ ‌reaching‌ ‌your‌ ‌customers‌ ‌with‌ ‌personalized‌ ‌content‌.‌ According to statistics, the number of email users in 2020 reached the 4 billion mark, which means that over 50% of the world's population was using email.
Email marketing is an easy and inexpensive way to create loyalty with guests and clients and develop better visibility of your hotel. It allows you to keep subscribers regularly informed about offers and news related to accommodation and destination.
To get the most value out of your marketing budget, we will help you master the essential facets of a successful hotel email marketing campaign.
What is email marketing and how does it work?
Email marketing is the act of using email as a channel to develop relationships with potential customers and promote your products or services. It helps a business develop and maintain a customer relationship over time, resulting in increased sales and loyal customer numbers.
Email is one of the segments of Internet marketing. The customer journey in email marketing for hotels has three main phases: before, during, and after their stay. In these phases, you'll find your pre-arrival emails, post-stay emails, and newsletter-style communications.
The most popular form of email marketing is sending an email newsletter. The newsletter includes an address with contact information, link to your website or Facebook page. The content you send should be short, informative, and accompanied by images.
Although email marketing today is still underrated, it is the best way to communicate our business. With the help of email marketing, you can connect with guests by sending them pre-arrival emails and help you stay in touch with them after leaving your hotel.
In addition to personal contact, other uses of this method of advertising are:
Sending e-mails is a cost-effective way of promotion
E-mail can be sent at any time of the day and from anywhere
It provides a direct connection with customers and guests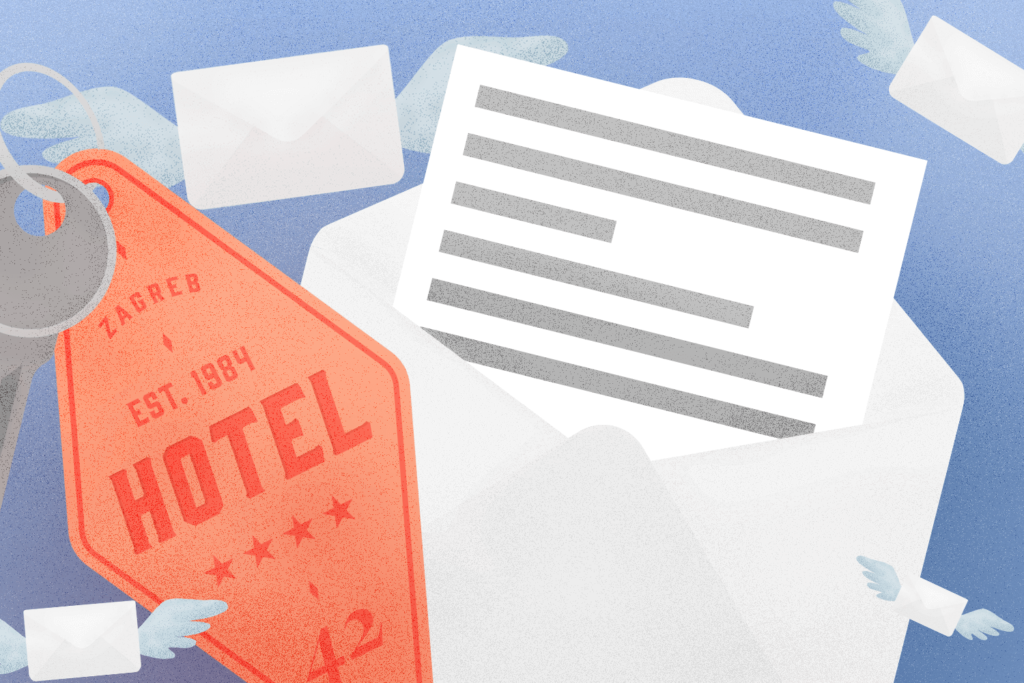 How is email and internet beneficial to hotel?
Email marketing includes many elements which lead to desired results. According to Hubspot research, email campaigns generate $38 for every $1 spent, making email marketing one of the most powerful ways to reach customers.
Build and maintain your hotel's presence online in just a few steps, increase visibility, create a loyal customer base for your business, and get more bookings.
Step by step guide for creating successful ‌email‌ campaigns‌ for your hotel
Start with your mailing list
Optimize your send lists first and ensure you have a sizable pool of prospects. The only way to get started with email marketing is to create a database with the email addresses of clients. Before‌ ‌you‌ ‌create ‌email‌ ‌marketing‌ ‌campaigns,‌ ‌you‌ ‌need a list‌ ‌of subscribers‌ ‌who‌ ‌have‌ ‌opted‌ ‌‌‌to‌ ‌receive‌ ‌your‌ ‌emails.‌ How to do that?
Check‌ ‌your‌ ‌booking‌ ‌records,‌ ‌or‌ ‌guest‌ ‌book‌ and import‌ ‌email‌ ‌addresses‌ ‌from‌ ‌your‌ ‌existing‌ ‌data.‌ ‌‌
Be aware of ‌GDPR‌ and‌ ‌other‌ ‌consumer‌ ‌privacy‌ ‌laws‌ ‌in‌ ‌your‌ ‌‌state and send‌ ‌emails‌ only ‌to‌ ‌people‌ ‌who‌ ‌have‌‌ ‌agreed‌ ‌to‌ ‌receive‌ ‌emails‌ ‌from‌ ‌your‌ ‌hotel.‌
Give‌ ‌your visitors an‌ ‌incentive‌ to ‌sign ‌up.‌ This ‌includes‌ ‌early‌ ‌check-in,‌ ‌exclusive‌ ‌deals‌ ‌, and‌ ‌discounts,‌ ‌hotel‌ ‌upgrades,‌ ‌or‌ ‌a‌ ‌chance‌ ‌to‌ ‌win‌ ‌a‌ ‌hotel‌ ‌voucher.‌
Choose an email marketing tool
There are few applications on the Internet to help you create and send newsletters for free. Email marketing tools are the best way to send emails to many people at once.
These tools are easy to use and beneficial for scheduling your emails and helping in effectively segmenting your list. One of the most popular tools used today is Mailchimp. Mailchimp is an all-in-one marketing platform that helps you manage and talk to your clients, customers, and other interested parties.
How to write emails your guest want to read?
Email is one of the best ways to stay connected to guests before, during, and after their stay in your hotel. What are the basic things an email you send to guests needs to be timely, helpful, and relevant?
Keep your newsletter simple and provide value. If you're providing value and sending relevant messages to your subscribers, they will grow to trust you and look forward to hearing from you.
When sending a promotional newsletter with a more sales-driven message, make sure the offer is time-sensitive. Keep in mind that travelers are very receptive to wellness and local/experiential offers. When sending "inspirational" newsletters with a general note, be sure to inform or entertain subscribers with exciting content.
Choose how often you want to send the newsletter – weekly, biweekly, or monthly, but remember that consistency is the key. Communicate with your customers regularly, even if you don't have anything to sell them. Send them news about your facility, local offers and events, offer discounts and vouchers, create special offers, tell what celebrities have stayed in your hotel, etc.
Example of short copy and straight forward call-to-action (CTA) in a hotel newsletter: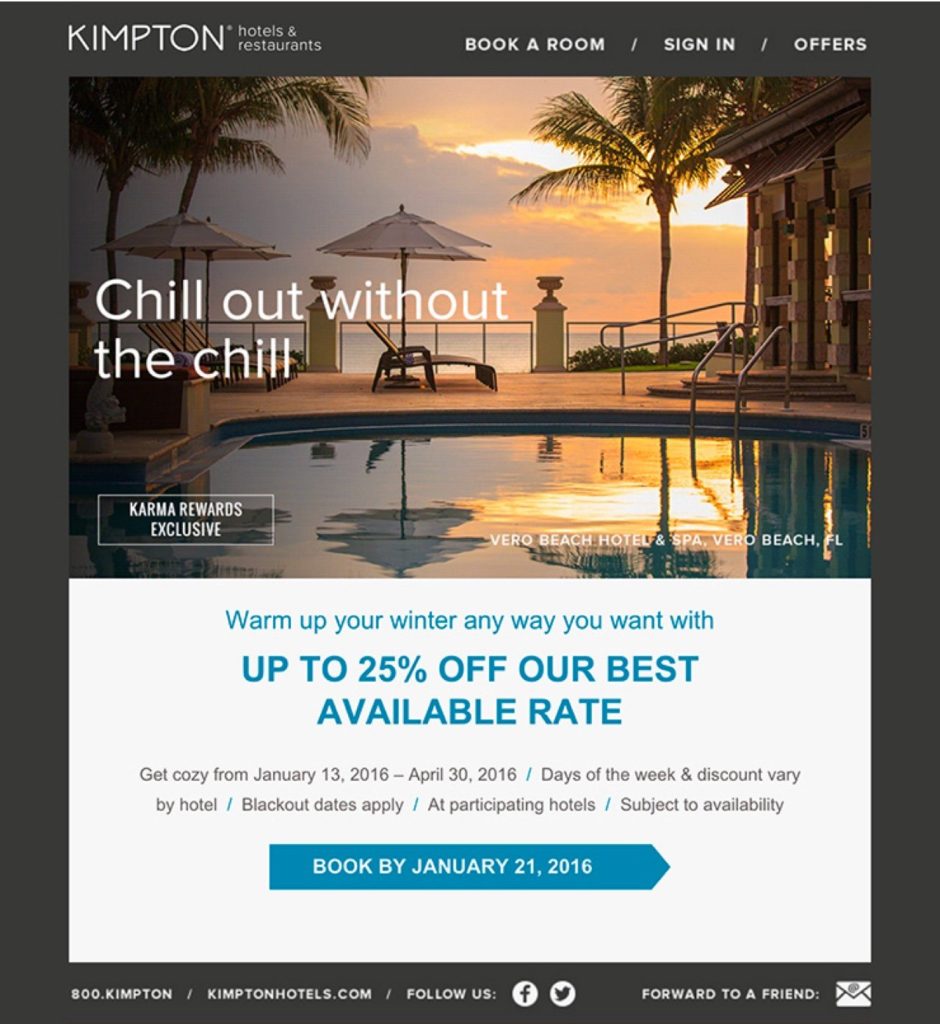 02. The confirmation mail
Making initial contact with your guest is essential because it builds trust. The "confirmation email" is the first email that we all expect to receive after booking a hotel. It is like a hotel introduction email.
Important information you want to include in your confirmation email:
The date of arrival
Your hotel's check-in and check-out times
Room type reserved
Number of nights booked
Price of the stay, including taxes, resort fees, etc.
Directions to the hotel
Restaurant hours
03. Preference email
Sending the preference email to your guests shows that you care about their experience and that you are interested in their interests before they even come to your hotel. You can provide additional services, such as airport transfers, spa treatments, champagne bottles on arrival, local tour experiences, or even room upgrades.
Use this email as an opportunity to find out more about the guest. Ask them about personal preferences, specific needs, and requirements your hotel can do to exceed their expectations. Communicating about their preferences is a great way to show hotel guests that you care about making their experience unforgettable.
04. Pre-arrival email
Build trust and get upsells with pre-arrival emails.
Send your guest a reminder 1-2 days before arriving at your hotel. Although it is a formality, sending a pre-arrival reminder email is something your guests expect and should be a part of the email marketing strategy.
This way you can confirm all the preferences your guests have given you and let them know what to expect. For example, you can write to them that their room is ready and that you are looking forward to their arrival.
05. Post-stay email
After checking out of the hotel, the guest receives a bill and pays for their stay. Be sure to include a more personal message in this email. This is an excellent opportunity to thank guests for their stay and ask them for feedback and review. You can make a unique template for this kind of email, but always give some extra personal touch to it.
Pro-tip: It is best to ask the hotel guest for feedback 24 hours after the guest checks out.
06. Personalization is the key
Did you know that personalization increases email opening rates by 26%? By submitting personalized, relevant content, you increase the likelihood that customers will connect with your business and see your email addresses as a trusted source they want to read.
07. Include images and write a compelling copy
Make sure your emails are engaging. Write exciting and compelling copy, but also include beautiful images. The average person remembers 80% of what they see and only 20% of what they read. Send your guests images of your hotel, landscapes, and content to make your marketing more attractive.
Encourage customers to open your email and find out what's inside. Write clear benefits and send your guests relevant messages with short and direct subject lines.
The first impression is the most important. It is essential to attract the reader's attention in the first few seconds. A short and creative copy that encourages action is one of the biggest trends in email marketing right now. Give your subscribers helpful information and encourage them to visit your website and make a reservation.
08. Use call-to-action (CTA)
A friendly CTA combined with a personalized message engages the reader and helps to encourage click-throughs and responses.
CTAs can be used as:
Personalized offers and rewards that encourage guests to "act now"
Requests for guest feedback in exchange for discounts
Invitations for booking directly on your website in exchange for vouchers
Referrals: Invite a friend and both get 20% discount
By sending emails, you build a relationship with your customers. Let email marketing become an essential part of your hotel's marketing strategy. Invest your time in sending personalized and relevant content. Your guests will feel valued and want to book with you. Make their customer journey unforgettable!
Are you ready to create your most successful campaign yet?
Like traditional marketing, email marketing has the same goals. It attracts new customers, develops brand awareness, maintains contact with existing customers, and collects valuable information about user habits.
Email marketing helps in creating a closer relationship with your customers. In this way, you can inform customers about special offers, menu changes, wine tasting, and many other events that might interest them and which they will not know about if they do not visit your website directly.
Your only task is to maintain the quality and high level of service for your customers. Leave the marketing strategy to professionals. With our creative and analytical mindset and numerous successful marketing campaigns behind us, we can help you deliver the best results for your business.
For any further information on email marketing for hotels, our marketing team is at your service. Feel free to contact us.