Did you know that well-written, quality content increases the number of conversions of your products and services?
Good website copy plays an essential role in attracting readers to your site. It has the potential to persuade, engage, inform and entertain your audience.
Are you in the process of launching a new website? Besides appealing design and functionality, the success of a website depends mainly on the content. It is not enough to create a website. You also need a quality copy.
How to start building a good website? The primary step in creating a functional and quality website is always the combination of design and content. Content is one of the most critical factors for SEO. It attracts people to the site, informs, sells, and entertains.
An excellent copy can skyrocket engagement and sales. In this article, we'll be focusing on the copy you create for your website and share our knowledge and experience on website copywriting to help you improve the effectiveness of your content.
What is Web Copywriting?
Writing copy for websites or web copywriting is the process of writing digital content for product pages, landing pages, ad copy, blog posts, and everything in between.
A compelling copy keeps your website visitors engaged and leads them to take actions meaningful to them and important to you.
Copywriting is used to generate results. And there are no results without SEO skills. If you understand SEO fundamentals, you can create website copy that drives traffic to your website and converts.
Why does a good copy matter?
We all know that the first impression is the most important. Content and design are the first steps through which users get to know you and your brand.
What is the first impression new customers get when they find your business online?
The goal of website copy is conversions. If you want to be successful online, you need to know how to write a web copy that intrigues, delights, and inspires your readers. This way, you will build the reputation that your brand deserves.
Changing only a few words or optimizing headlines can make drastic changes and significantly impact your business performance.
Good website organization means:
Understanding users and their expectations
Intuitiveness and a simple process of finding information
Understanding the purpose and goal of the website
How do you write a good website copy?
If you want to write a good, valuable and readable website copy that will convert, ask who are you writing for?
Compelling website copy should do the following:
Guide visitors through your website
Solve a reader's problem
Answer your audience's questions
Here are the steps on how to achieve it: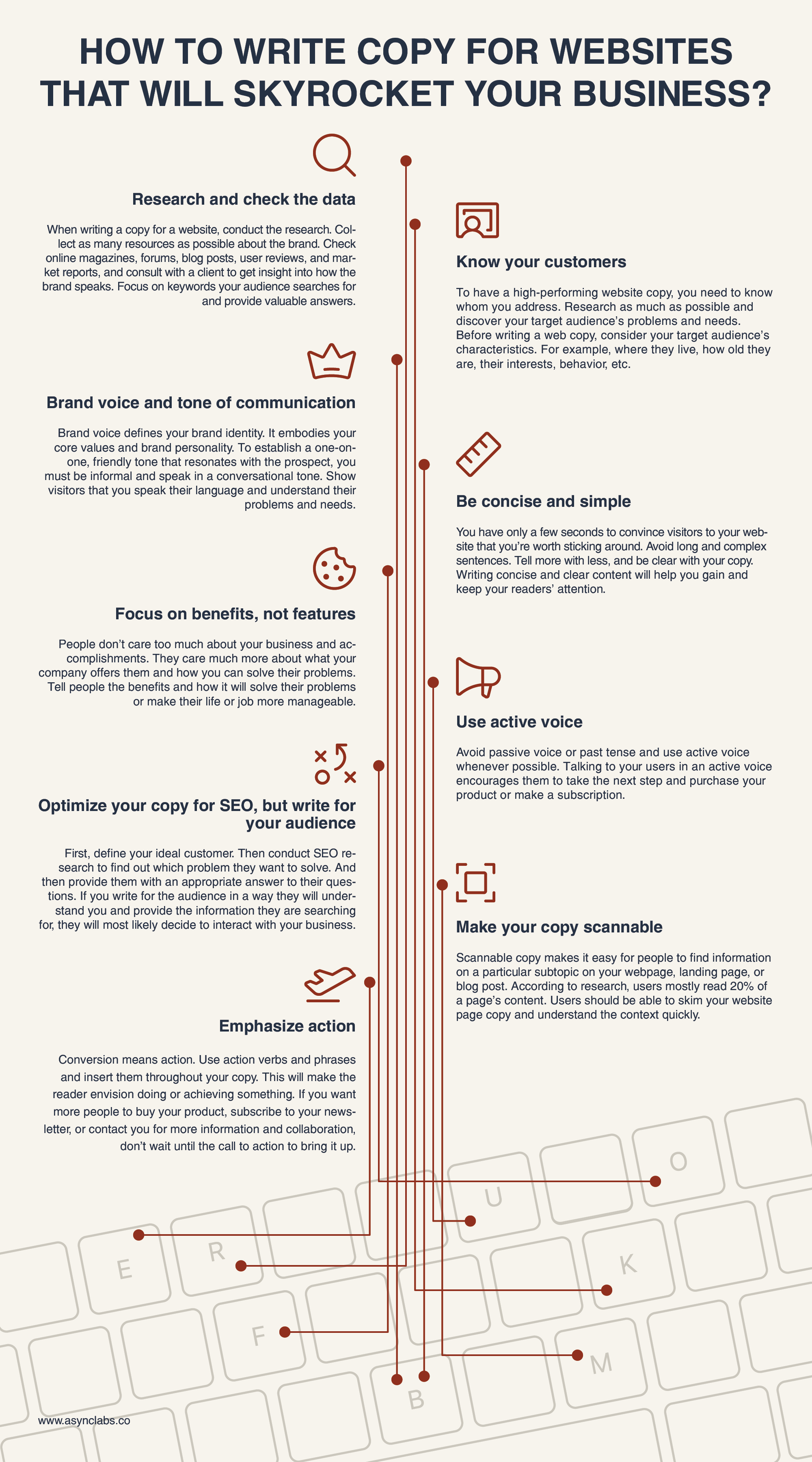 01.

The overall goal of your website
While your website should look presentable and appealing to a specific audience, it also has to accomplish a goal – convince visitors to take the desired action. Every sentence, every piece of text you write should point, quote, or draw attention to what you want to achieve.
02.

Brand/industry research
When writing a copy for a website, it's imperative to become an expert in a specific niche or an industry. It is essential to conduct the research and collect as many resources as possible about the brand. This can be done by checking forums, online magazines, blog posts, user reviews, market reports, and other material to get insight into how the brand speaks. It is also essential to consult with the client from a specific industry. The client has more knowledge about the industry and knows the exact target audience and their needs.
03. Know your customers
The best way to write a compelling copy is to research before you start. If you want to have a high-performing website copy, you need to know whom you address. Research as much as you can, and discover your target audience, their problems and needs. Consultation with the client is the key. Initial consultations with the client will provide valuable data and information about the audience, which is an integral part of delivering a high quality of service in the end.
Before writing a web copy, think about the characteristics that define your target audience. For example, where do they live, how old they are, their interests, etc.
04.

Brand voice and tone of communication
Brand voice defines your brand identity. It embodies your core values and brand personality. The tone of communication is the emotional inflection applied to your voice. To establish intimacy and a one-on-one tone that resonates with the prospect, you have to be informal and speak in a conversational tone. Address your potential clients informally and friendly. Never use jargon and hyperbolic language for your web copy, and keep away from being cheesy or inauthentic.
How does the tone of communication improve your website copy? By showing visitors that you speak their language and understand their problems and needs.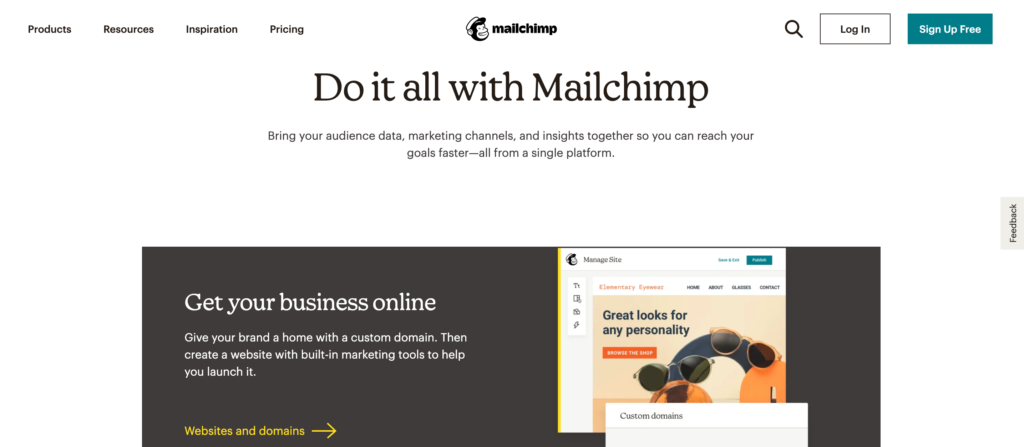 A great example of a positive tone of voice is Mailchimp: "Do it all with Mailchimp. Bring your audience data, marketing channels, and insights together so you can reach your goals faster – all from a single platform." Mailchimp informally speaks to its customers but is never overbearing and inappropriate.
05.

Be concise and simple
You have only a few seconds to convince visitors on your website that you're worth sticking around. Avoid long and complex sentences. Tell more with less and be clear with your copy.
Writing concise and clear content will help you gain and keep your readers' attention.
Generic headlines will mostly make your copy go unnoticed. Here is a bad example: "We've got a great deal for you!" This copy says nothing about the offer and benefits for the reader.
You want a copy that explains the real deal, just like this one: "Save up to $100 a month on life insurance!"
06. Focus on benefits, not features
Tell people the benefits and how it's going to solve their problems or make their life or job more manageable. People don't care too much about your business, accomplishments, distinctions, and aspects of your organization that make it great. People care much more about what your company offers them and how you can solve their problems.
07.

Use active voice
Avoid passive voice or past tense and use active voice whenever possible. Talking to your users in active voice encourages them to take the next step and purchase your product or make a subscription.
For example, instead of saying, "Our company delivered a data-driven strategy which led to significant results", say "We deliver data-driven strategies which generate significant results."
08.

Check the data
Always focus on keywords that your audience is searching for on your website. Then answer the questions your page visitors are looking for.
09.

Optimize your copy for SEO, but write for your audience
Always write for your audience.
How writing for an audience improves your website copy? Giving your visitors the information they are searching for increases their satisfaction and encourages them to stick around.
If you write for the audience in the way they understand you, they will most likely decide to interact with your business. Of course, SEO is important, but never forget that there are real people you want to engage with your content. First, define your ideal customer. Then conduct SEO research to find out which problem they want to solve. And then provide them with an appropriate answer to their questions.
10.

Make your copy scannable
Scannable copy makes it easy for people to find information on a particular subtopic on your webpage, landing page, or blog post. According to research, users mostly read 20% of a page's content. Users should be able to skim your website page copy and understand the context quickly. For example, you can create a scannable copy by utilizing formatting techniques such as:
Headlines
Sub-headlines
Buttons
Bullet points
Image captions
Bold, Italicized, and Underlined Copy
11.

Emphasize action
Conversion means action. And how to achieve action? With lively and active copywriting that will touch people and inspire them to take that action. If you want more people to buy your product, subscribe to your newsletter, or contact you for more information and collaboration, don't wait until the call to action to bring it up. Use action verbs (launch, drive, grow, create, request, explore, innovate) and phrases and insert them throughout your copy. This will make the reader envision doing or achieving something.
Example:
Don't just describe the product or service: "This is the fastest gadget on the market." Instead, paint a picture of product use and its impacts: "With our speedy gadget, you will perform 30% more than the average company."
12.

Use clear CTA
There is no good website without a good Call To Action. Just like your web copy in general, CTA has to be direct, helpful, and actionable.
Examples of common CTAs include:
Fill out the contact form below to reach us.
Subscribe today for exclusive content.
Call us today to get started.
Try it / Sign up for free.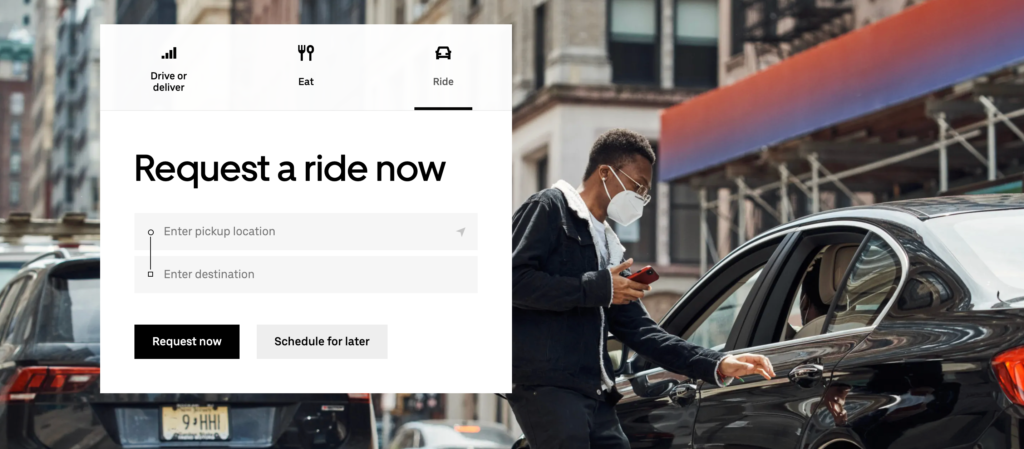 Uber example: It doesn't get much more straightforward than "Request a ride now." A short, simple, and effective CTA will make you request a ride even if you don't have to go anywhere.
Pro-tip: Be sure to read your copy from a website visitor's perspective and ask yourself these questions:
Does this copy solve a problem?
Can I write a better copy?
Does this copy evoke emotions?
Should I edit or shorten my copy?
Better Copy, Better Results
Writing a compelling web copy is much harder than it seems. But with just a few tips and new approaches to creating a web copy, you can make a difference and provide your audience with a much more helpful, relevant, and ultimately practical experience.
To create compelling content on your website, you will need a content writer and a copywriter. Consider who is going to make the copy for your website.
You have two options:
Create the copy in-house
Hire a copywriting service
Looking for a website copy that converts and increases your website's traffic? You've come to the right place. Book a call with us to see how we can help you get a custom copy for your website.