The Manifest listed Async Labs as the most reviewed digital marketing agency in Croatia.
Async Labs is a fast-growing software development agency based in Zagreb, providing high-level IT solutions (web and mobile applications), digital marketing, and blockchain consulting services.
As a full-service provider of digital solutions, we're grateful for the opportunity to connect with businesses and have an impact on their growth. For years, we've been a trusted partner to many companies in their mission to achieve digital transformation.
The most reviewed Croatian digital marketing agency
Today, we're excited to share with you that we've received an award as the most reviewed Croatian digital marketing agency.
The Manifest is a business insights platform offering rankings and data-driven articles. As a sister website of Clutch, a B2B ratings and reviews platform, Manifest features companies that have a profile on Clutch and client reviews. 
The company rankings make it easier for buyers to browse descriptions, feedback, and awards to find and identify the services that best suit their company's needs.
To celebrate this exciting news, let's revisit the past leading to this amazing moment:
2016: The year that changed everything
The story of Async Labs started back in 2016 when the company was founded. We officially started as a small startup company. Through the leadership of our founders, Alen Huskanović (CEO), and Luka Klancir (COO), Async Labs was established and quickly became a reliable solutions provider to many of its clients.
In 2019, the business is expanding, and the team started to grow. The number of employees at Async Labs today has risen to 25. Although we are overgrowing as a company, our goal is gradual, quality growth, emphasizing positive energy, an enthusiastic team, and a proactive work ethic regardless of employee numbers.
Since the beginning, we've always channeled our passion for digital marketing, which was the driving force behind many of our customers' success.
Kudos to our clients
Thanks to positive reviews and customer ratings, Async Labs has been announced as one of the most reviewed vendors in Croatia.
One of our clients, Hubbig, entrusted us with its advertising and marketing efforts. The main objective of the project was to effectively market the client's product.
We wanted to achieve several goals: attract new users to the platform and visitors to our website, expand brand awareness, and raise Social channels to better engage with customers.

The Async Labs team made extraordinary results and helped Hubbig become more visible and recognizable in the freight forwarding world. The most impressive thing is how they treat me as a client. They understand the brand and deliver the best solutions.

Dragana Lipovac, CEO/Founder at HUBBIG
We're happy to report that the client was satisfied with the overall results, earning us our 5-star review on the Manifest's platform. You can find more details about what we did and how it boosted Hubbig's visibility and growth in a case study we wrote. Check our work.
We are thankful to all clients for believing in our work and taking their time to help us grow!
Continuously growing in 2021
The Manifest releases its list of the most reviewed digital marketing agencies in Croatia, featuring Async Labs.
To be awarded 5th place among other successful companies in this industry is a real badge of honor for us.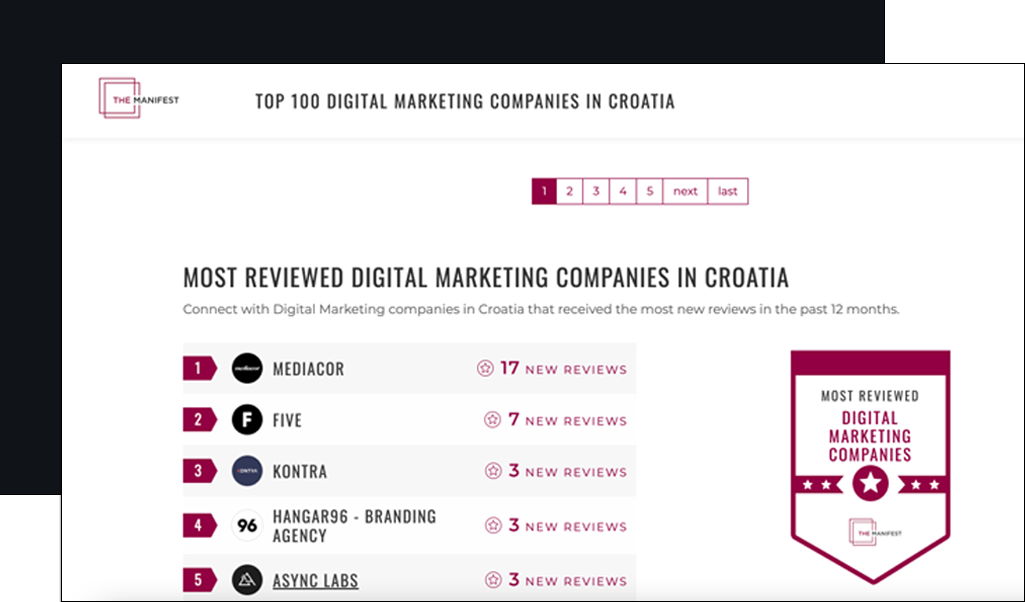 We're excited to be recognized for our commitment to providing top-notch digital services. Most importantly, we're grateful for the kind words and remarkable feedback from our clients, which are an integral part of our success.
This recognition is a great reminder of all our efforts, an excellent recommendation for future collaborations, and further motivation to constantly review and improve processes to ensure we continue to provide the best possible service to our clients.
As our motto says, We put all our efforts into your product. So we can grow together.
Connect with us and find out how we can drive sales to your business through strategic digital marketing.