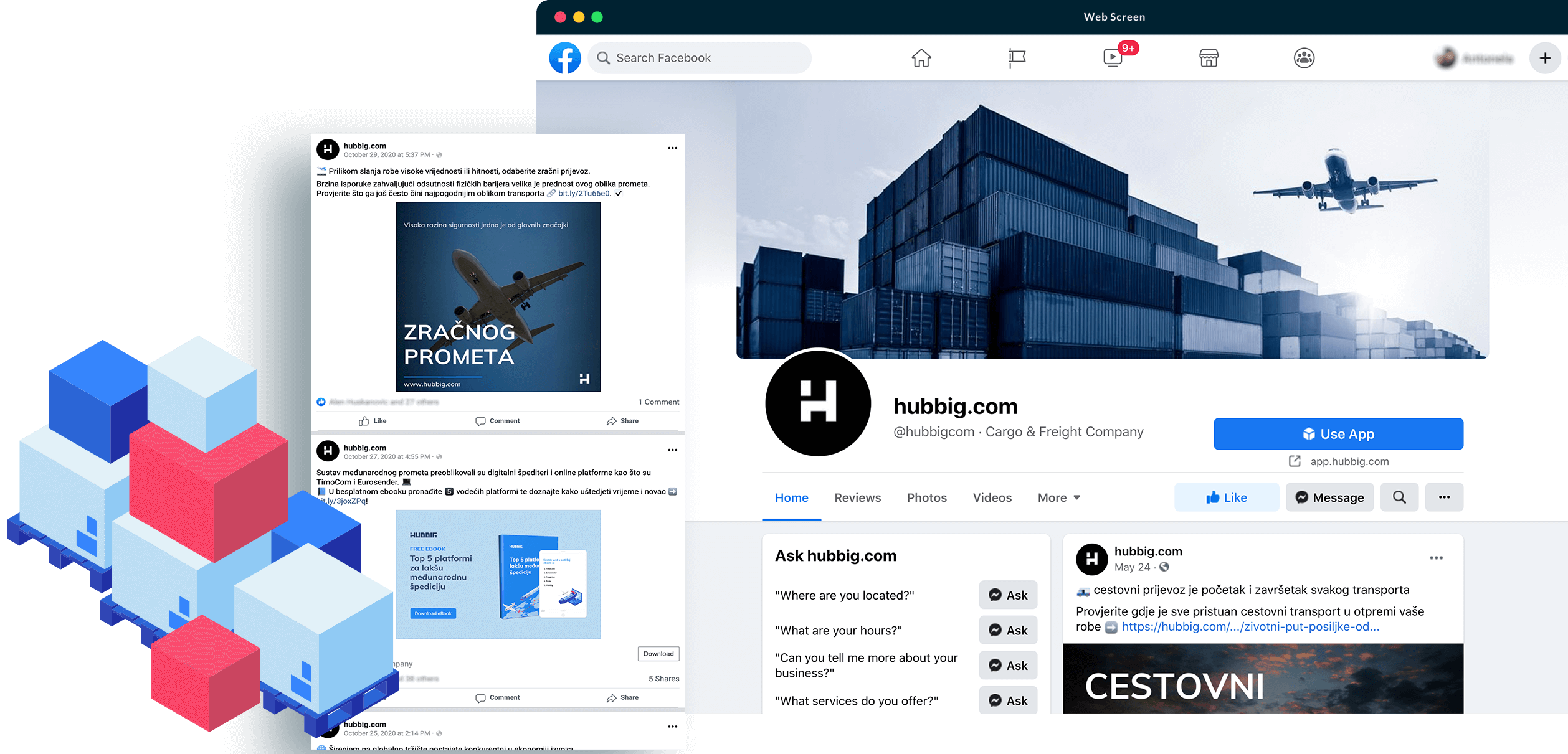 About
Hubbig is an innovative digital platform that connects ship operators, airlines, road haulers, freight forwarders, and NVOCC agents with importers and exporters. The platform has two main participants: Users, i.e., companies that need logistics in some aspect of their business, and Suppliers, the companies offering logistic services.
Platform Hubbig has a Marketplace where demand and supply for logistic service can match. From one side, Users post a query that they have cargo to transport. Then Suppliers give an offer with the price, and they match.
The most important thing about Hubbig is that they cover the whole process in logistics, including payment, so that all invoices can be issued on the platform.
Challenge
Hubbig was founded in 2017 as a startup, the first investment they got in 2019, and continuously works on developing and upgrading the platform. While we started working with them, they had a functional platform, low brand awareness, and no users.
The biggest challenge for our agency here was to start working on brand awareness and generate users on the platform.
Our goal was to reach the people and companies that need export or import in some aspect of the business. Also, we required companies that could handle these queries. To both of them, we need to show the available solution – digital freight forwarder Hubbig.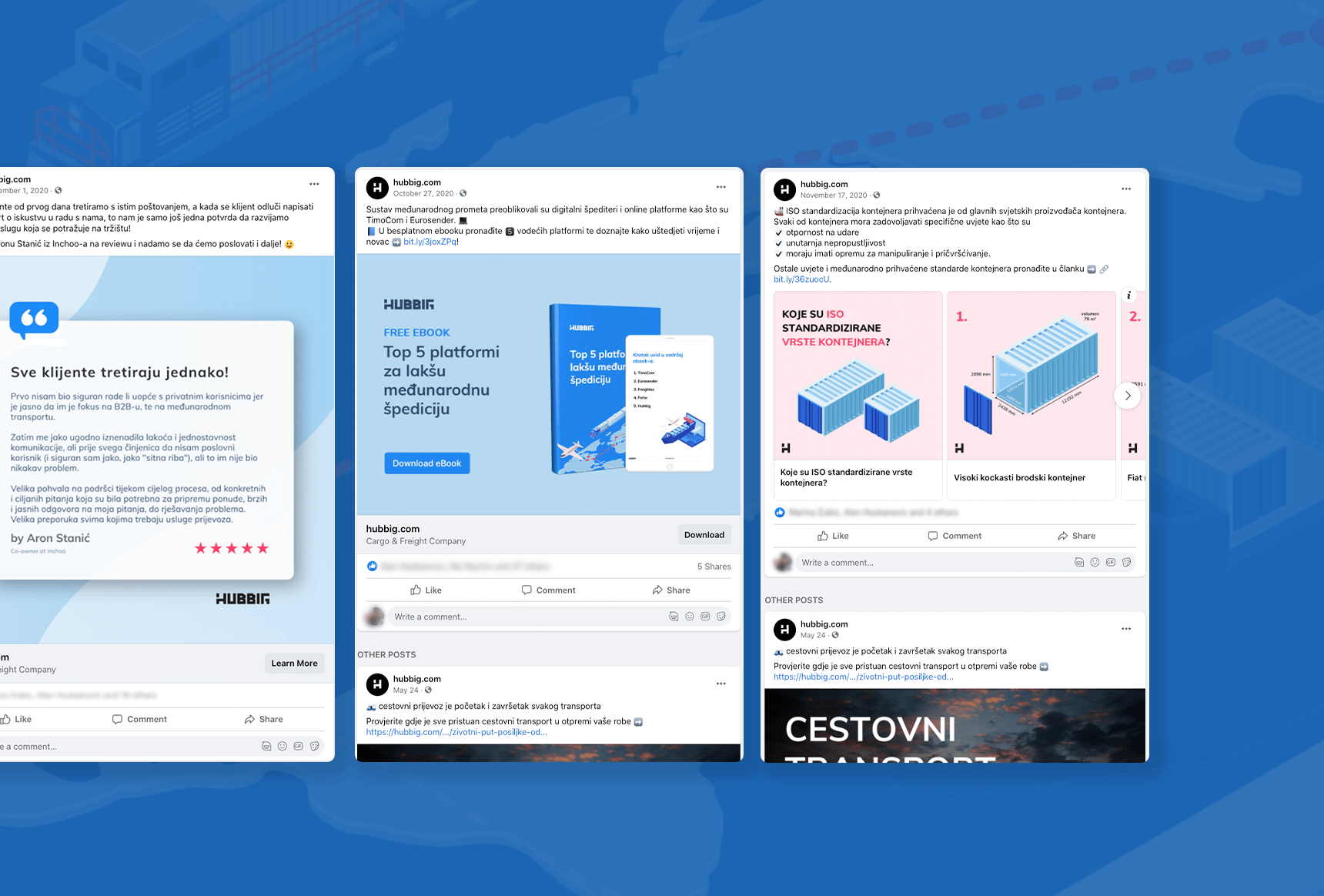 WHAT WE DID
Solution
First, we needed to create a complete journey for new users and the ways they will land on Hubbig's website. It was essential to divide our two primary target audiences and create campaigns for each of them separately. We also had a strategic roadmap for social media and content marketing strategy. At the same time, paid advertising campaigns were active on Google Ads, Linkedin, Facebook, and Instagram.
There are different ways to increase the number of users, but it all comes to the point that they need to get something from a new brand to attract the audience. In this case, they got free and educational content from the logistics industry in their native language as this kind of content doesn't exist on the market. Plus after registration on the platform, they also get free access to the Hubbig platform to find transport for their cargo or post that they need transportation.
We have set up Google Analytics Tools (Goals, Events, Tag Manager, etc.), arranged Facebook Business Account and Linkedin Business Account, installed Facebook Pixel and Linkedin Insight Tag. We also prepared a base to measure users' flow through the website and the success of campaigns.
WHAT WE HAVE
Marketing Strategy for Gaining Traffic and Leads
The key ingredient for getting results is a strategy and goal. We focused on three goals:
1. Increase brand awareness via Social channels
2. Drive traffic to client website via Blog posts, Social Channels and Google Ads
3. Generate new leads on the platform
After defining our primary target audience precisely, we decide to approach them via a written blog post articles. In determining keywords and topics for the articles, we used Ahrefs, SEMrush, Ubersuggest, and Google Keyword Planner.
As we can not speak directly with numbers to respect our client's discretion, we can show you that from the total number of All Users who landed on the website, we got 28% of them from Social media. For posts on Facebook and Linkedin was created a social media strategy in which we posted two times per week in peak hours. The content was varied, from pain points in the logistic market to quizzes, videos, and ebooks. We created different content with whom the audience interacted via likes, shares, comments, and most importantly, Hubbig has started building a community that trusts them.
Big boost that we are working in the right direction were also messages from new users who more than once wrote to Hubbig and told them that they have seen their posts on social channels and decided to try the platform.
Google Ads were first used to attract new visitors to the website and later for remarketing campaigns. We created campaigns in Google Ads and tested different keywords, phrases, and campaigns. In the end, the average CPC was 0.21$.
Paid Advertising:
Which channel was the best? Google Ads vs. Linkedin Ads vs. Facebook Ads
To increase the reach to our audience, paid advertising was active on Google, Linkedin, and Facebook. We cannot speak about the amount we spent and budgets, but different ad combinations and testing show that the best channel to drive leads on the platform was Google. Facebook and Linkedin were (and still are) main channels that additionally improve brand awareness about Hubbig.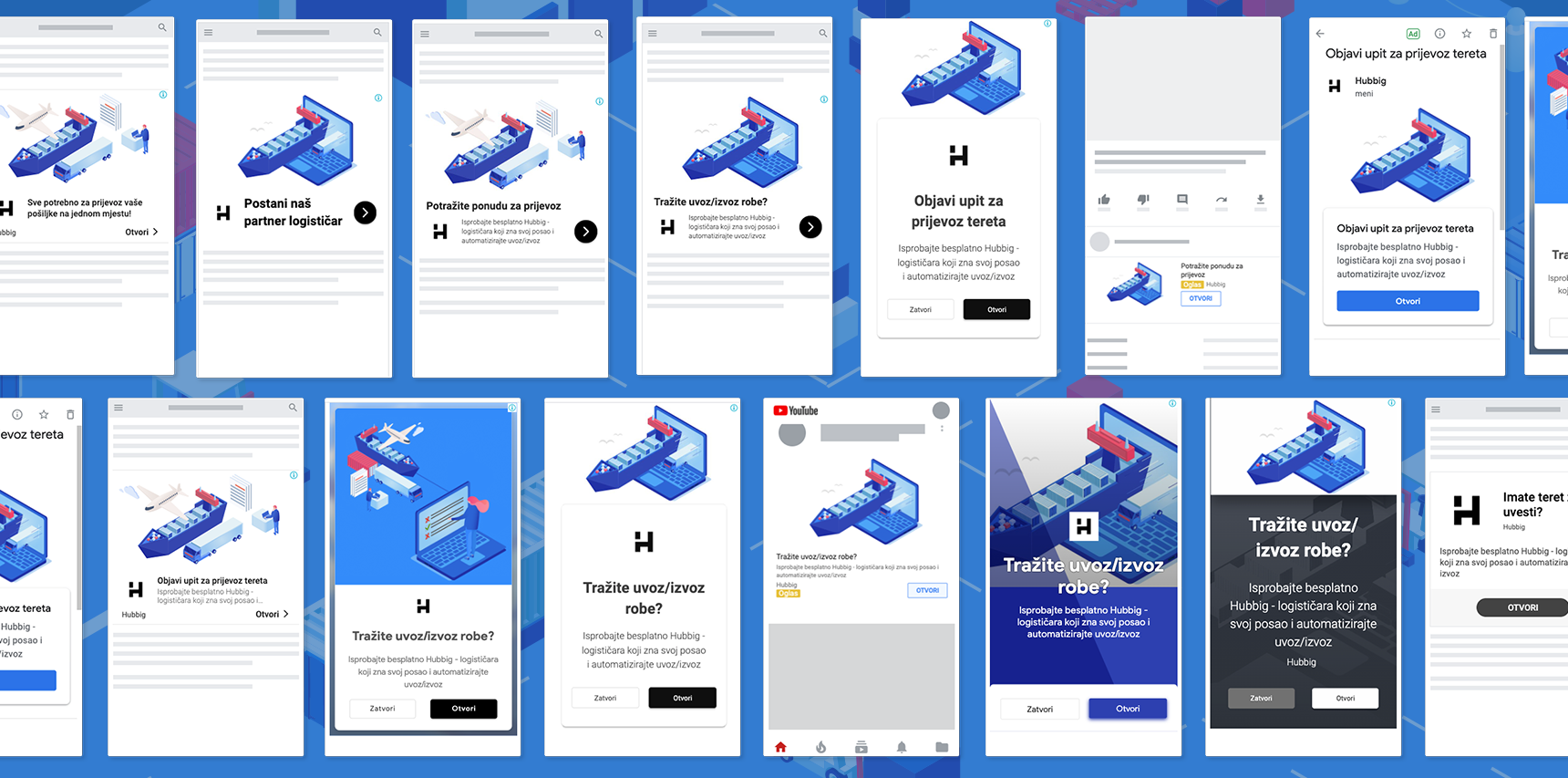 450+ Leads Generated
As Hubbig was a new solution on the market, they didn't have any users in their Database (at least not the one with GDPR consensus). We were working on lead generation campaigns, and Hubbig started receiving registrations and users on the platform.
They have received more than 450 new users on their platform, divided into Users (companies that need import or export service) and Suppliers (carriers and freight forwarders), mostly coming from Croatia.
With the registrations, they had an option to subscribe to the Newsletter. If they sign up, they have received regular Newsletters in which we shared the most important news about Hubbig development and shared them trending articles from the logistic market.
Summary
The overall traffic on Hubbig's website in one year gained from 0 to 160 000 Page Views. An important note here is that all campaigns and content were focused only on one country - Croatia.
In one year of our work, we have managed to attract 450+ Leads who tried Hubbig. Some of them started using Hubbig as a primary logistic platform to find transport for their cargo or offer their transport services. We are sure that many more new users are yet to come as the quality and simplicity of this platform stand out from all possible solutions on the market.
Testimonials
" The most impressive thing is how they treat me as a client, they understand the brand, and deliver the best solutions. "
Dragana Lipovac
CEO, Hubbig