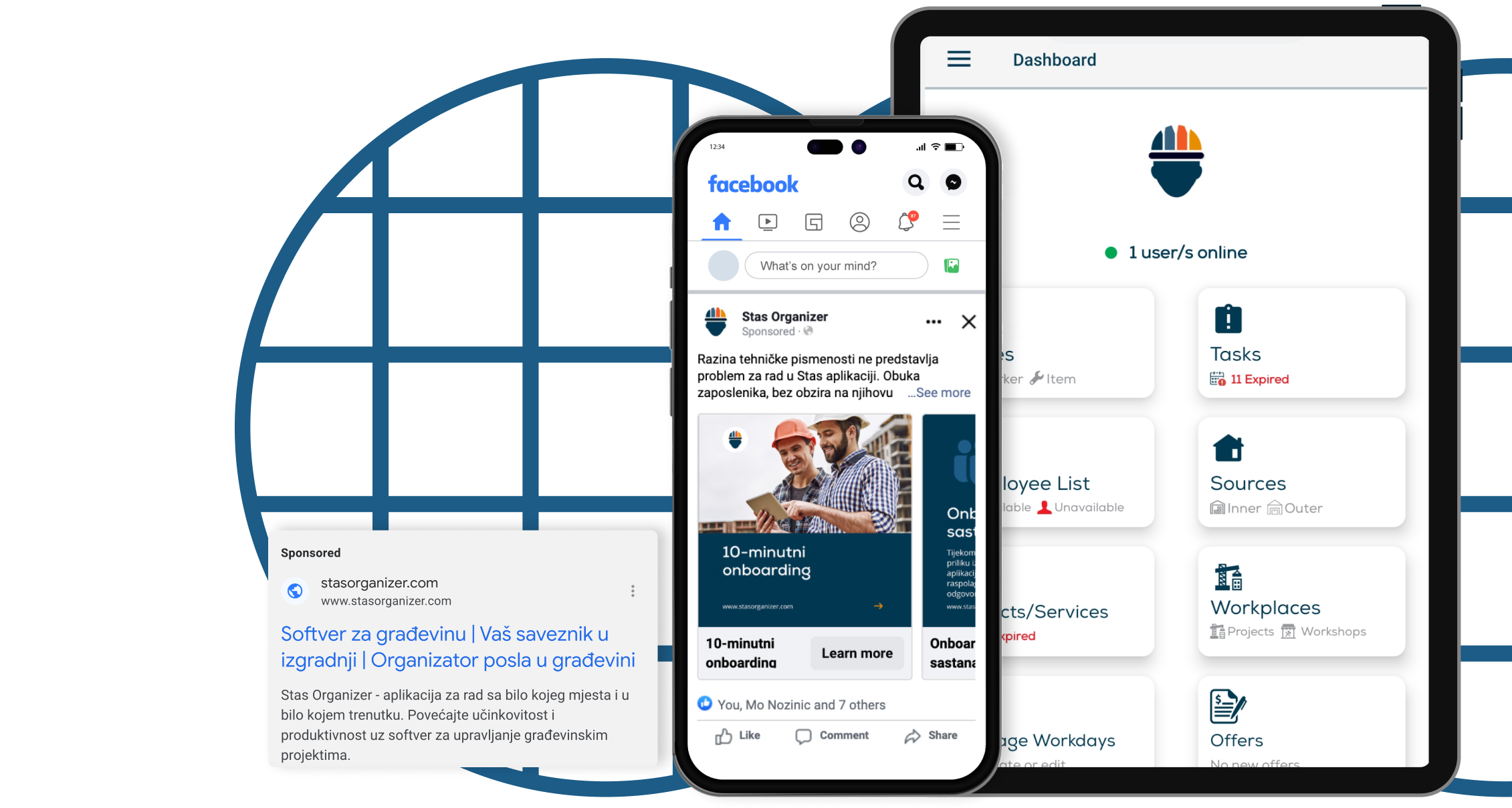 About
Stas Organizer is a software solution that helps manage your business so you can have all the important information about your employees, projects, materials, machines, tools, and vehicles in the palm of your hand.
Construction company Stas developed the software for internal use, but after getting users through word-of-mouth marketing, they decided to put it on the market.
The central vision of the software is to provide "synchronized real-time data for construction companies". With the number of currently satisfied and active user companies, one can say they are successfully going in that direction.
Challenge
The main challenge we are trying to solve is for Stas Organizer to become a recognizable and trusted software among construction companies in the target market.
When they reached out to us, Stas Organizer had an in-house team of developers who passionately worked on developing the app. Still, they needed the right partner to expand their capabilities with marketing efforts.

After a few workshop meetings where our team got an insight into a better understanding of the brand, we decided to go with Brand Awareness & Lead Generation through ongoing SEO, pay-per-click campaigns, and strategical digital advertising through Linkedin and Facebook.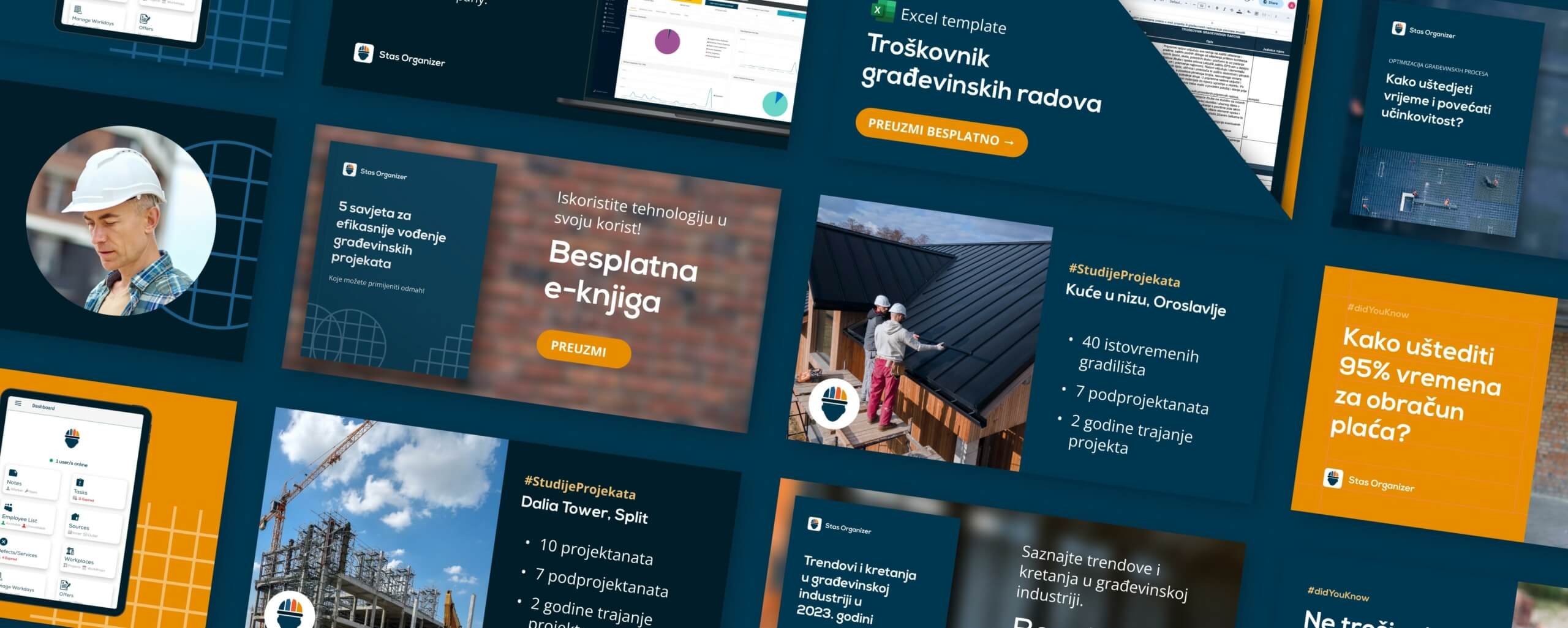 WHAT WE DID
Brand Strategy & Figma Templates
When it comes to marketing new clients, the first step is creating a Brand strategy. Here we define the strengths and weaknesses through a SWOT analysis of the brand and research the market and competitors. We also define user personas, the target market and brand voice, relevant keywords and pain points in the industry, and finally, the marketing strategy for accomplishing the goals.
To be synchronized on all fronts, design team has created Social media templates in Figma. They have defined fonts, color palettes, primary and secondary colors, elements, and directions on how and when to use them.
WHAT WE DID
Analytics Setup, PR activities & PPC traffic
As our client didn't have accurate analytics, the second step for us was to define metrics and goals to track and then set up Google Analytics with the Google Search Console tool and Google Data Studio.
During the 6 months, with all active campaigns from PR activities, PPC traffic, Organic traffic, Linkedin & Facebook Ads, we gained over 8100 distinct users who visited the Stas Organizer website.
One of the goals was to track how many times users click on the button in order to try out the Stas Organizer software. The button was clicked over 2100 times which lead us to a 26% CTR.
With PR activities, for starters, we decided to collaborate with local niche platforms, which turned out even better than expected. 38% of new users who visited the website came through PR campaigns.
The challenge with the PPC campaigns was that the target audience market was small, so the search volume was low. We approached this with different types of campaigns and targeted industry pain points.
WHAT WE DID
Social Media Management & Advertising
In agreement with the client, for starters, we decided to activate two social media platforms, Facebook and Linkedin. Here we made a Social media strategy to increase Brand Awareness. At the same time, we were aware that multiple touch points are necessary before a user is ready to click on a button to try out the software or fill out a contact form.
Advertising was active on both platforms, along with re-marketing campaigns where ads were targeted at visitors who have already visited the website.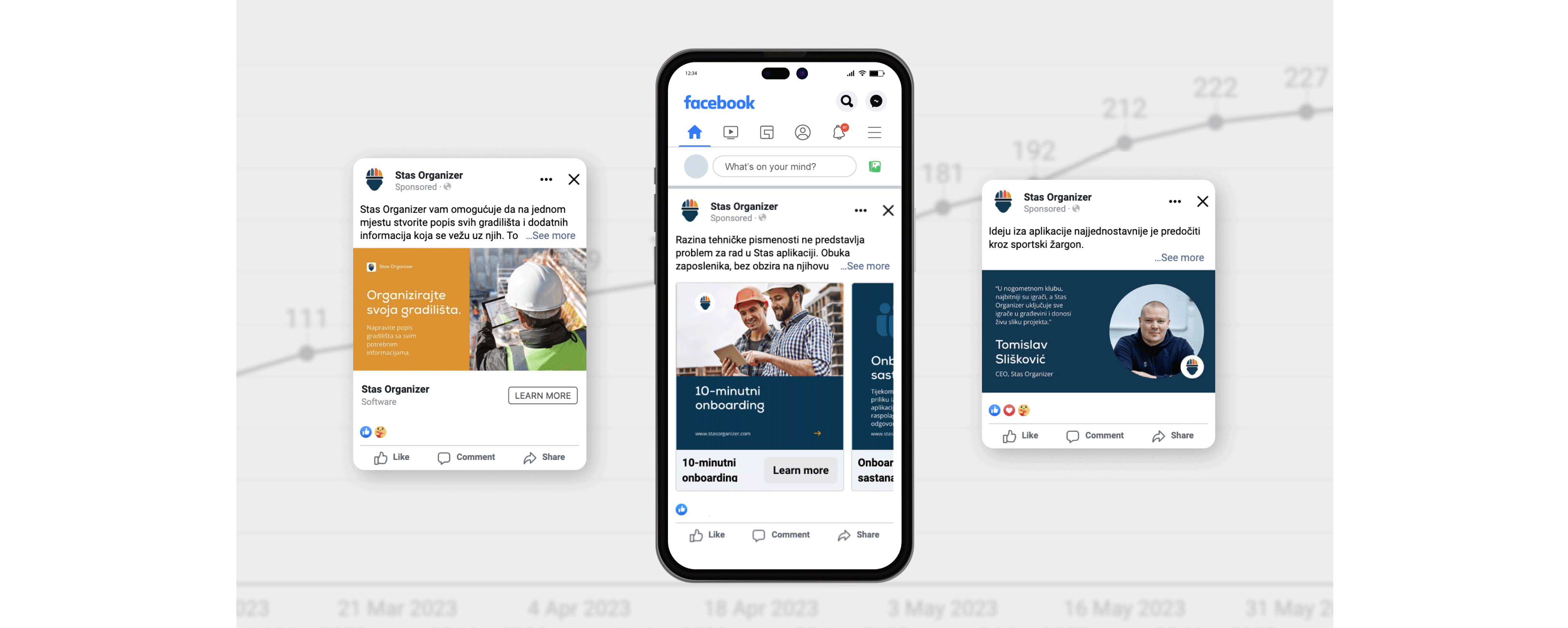 WHAT WE DID
Working on SEO
The SEO strategy consists of an ongoing content marketing strategy that defines relevant keywords, pain points, and topics from the industry. These keywords, for example, include website page ranking for topics in Croatian, such as "softver za upravljanje građevinskim projektima", "dokumentacija na gradilištu", "troškovnik građevinskih radova", and more.
As the client was launching a new website at the beginning of March, we started working on SEO afterwards.
We know this is a short period to see results in improving organic growth, but during the 3 months, the SEO strategy gained over 11000 Sessions to the Stas Organizer website. Also, the website gained over 10100 Impressions on Google.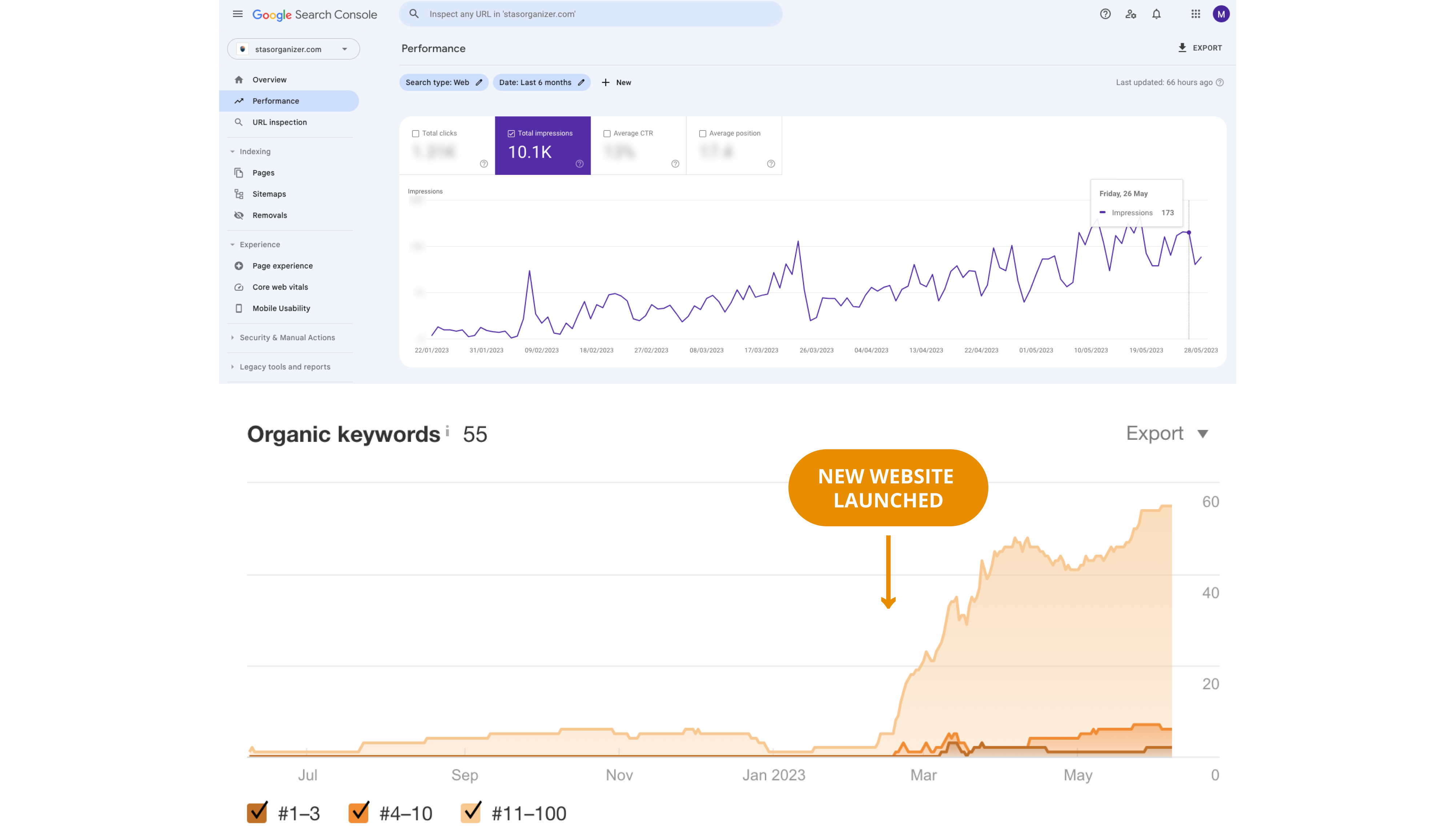 WHAT WE DID
Lead Generation
To familiarize the target audience with the Stas Organizer better, we decided to go with the lead generation campaigns. For that purpose, we have created custom landing pages, relevant content from industry domains like ebooks and templates, and automated user flow journeys. After setting this up, we created Facebook, Linkedin, and Google Ads campaigns.
As a result, we got over 400 leads in 6 months period.
After following up all the leads, offering them a free consultation and an option to try out the software for free, we put them on an email list and sent periodic personalized newsletters with topics of their interest, software updates, etc.
WHAT WE HAVE
Results
With active campaigns, the brand's website was visited by over 8100 Visitors in 6 months. The brand appeared on Google over 10100 times in the target market, and the client got over 400+ quality leads from this market niche, with registered 120+ companies as final results.
Testimonials
" Their prompt and helpful communication and personalized approach makes me feel like a valued customer. "
Tomislav Slišković
Co-Founder, STAS d.o.o.