According to statistics around 70% of the people who tend to leave your article halfway do not return back to your site again. Therefore, it is extremely important that you write your articles as interesting as possible. We live in a world of short attention and that's why we really have to work hard in order to grab the attention of our readers and also give them content that will keep them engaged for long. Articles or blog these days serve as an effective tool for product and business promotion. Therefore, it is important that you can keep your visitors engaged as long as possible unless you get them to be one of your customers.
One of the main purposes of writing blogs and articles is to influence the purchasing choice of the people. If the reader finds your article or blog to be trusted and influencing then there are high chances that he/she will become your customer. But the problem with most businesses and their articles is that they can't grab the complete attention of their readers and thus, fail to turn them into customers. Now there may be several reasons for that. To help you out we have listed some of the best ways to keep your visitor's attention on the article for long.
How to grab the attention of the readers to read your article?
No matter what the article is about you need to make sure that it is interesting enough so that your readers stay engaged in it for long. Also, they should come back to your website to read more of your articles. This should be your main objective and here is what you can do about it: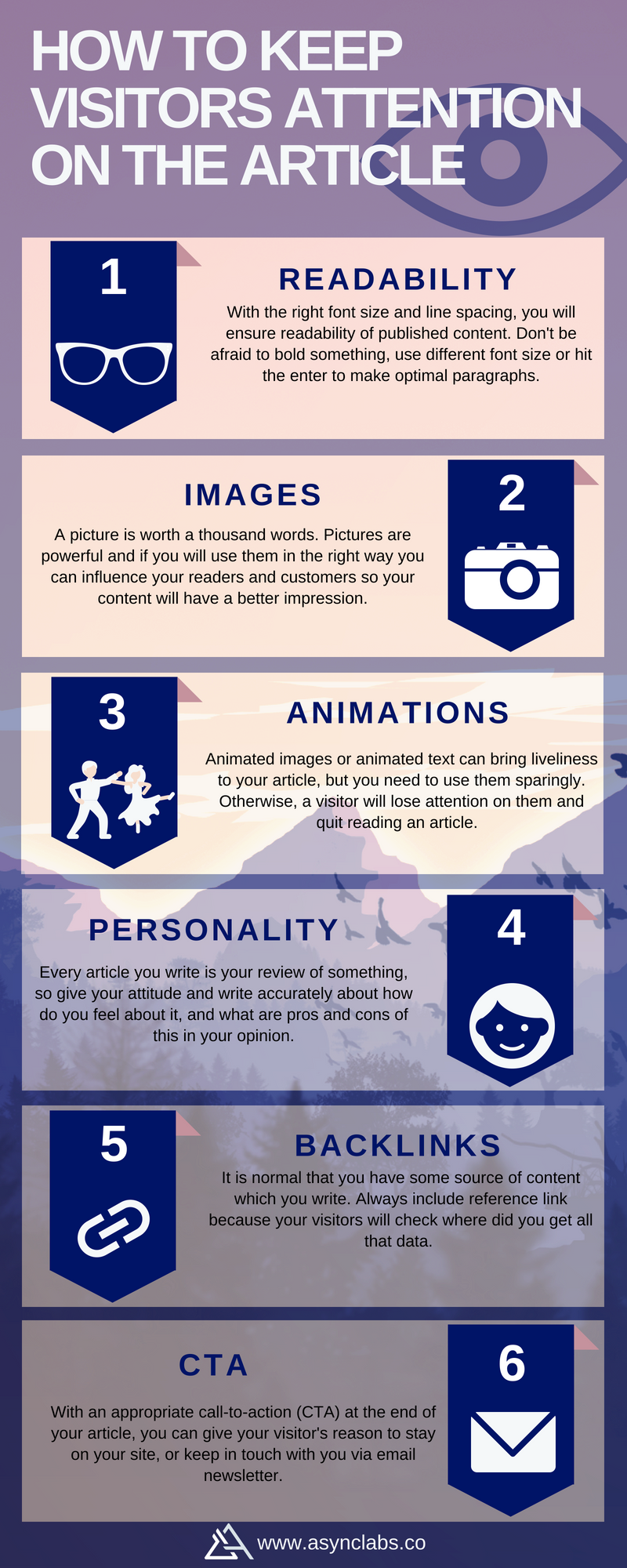 Readability
Readability of your article is one of the major factors that influence the extent of engagement of a reader with your article. You need to make sure that your content is readable if you want to attract more visitors to your site. This will not only help you to attract visitors but will also help you to keep them engaged with your site. In order to make your content more readable to your visitors you need to follow certain techniques such as diving your content into several small paragraphs, use of sub-headings to break down your content, proper fonts and use of colors and bold or italicize phrases and keywords. In short, you need to keep your content interesting and engaging so that more people read it and come back for more.
Animations
You may find that many of the websites rely heavily on the use of animated images and texts. The reason behind it is obvious. It adds liveliness to your blog or article. However, the right way of using such animated elements is to use them sparingly. Or else your visitor may lose attention on them and ignore reading your article. Therefore, you will have to keep every minute details registered in your mind before you put up an article on your website. If needed check examples from other websites in order to get a clear idea of how to use animated elements in articles.
Images
Images is yet another important element of an article that can grab the attention of the visitors. More than textual content images are known to be powerful and also more expressing. If you can use them in the right way then you can benefit yourself greatly. With the help of images, you can put on a better impression on your readers. However, the images that you are going to use should be relevant to your article. It should make some sense when you put it up along with your article or else there is no point.
Personality
When you are writing an article or a blog especially for a business it is obvious that you are writing a review about some product or service. Therefore, it is required that you give your attitude and express exactly what you feel about that very product or service. In fact, you should also mention the pros and cons of the product or the service that you are writing about. When you mention both the positive and the negative aspects of the product your readers will tend to trust it more and thus, they will read your article or blog and will also trust your website. This will ensure that your readers will come back for more information as well.
Backlinks
Including backlinks is also important when you are writing an article. That's because your reader will obviously want to know that from where did you get all the data from. This will help them understand the authenticity of your article. Therefore, you should not neglect the need for inserting backlinks in your article.
CTA
It is important that every page of your website should have a call-to-action button on it. This is what will lead to revenue generation. Like for example, along with your article, there should be links to other pieces of relevant content about a product or service that is on your website. If your reader is interested to purchase the particular product or service but not completely sure of it then providing them with additional information is what it takes them to convert during that visit. It has been found that many of the websites ignore the need for a CTA button which is a big mistake. After knowing the importance of it, one should definitely incorporate it into their website. However, you need to position the CTA button at the right place like at the end of your article. With the help of this button, you can keep in touch with your visitor via email newsletters.
Now that you have gazed through the different points, you know how to engage your visitors with the help of articles. With the points that are mentioned above, you can write engaging articles that will be helpful to your business.