Do you have your own list of prospects? And why not?
Prospects are people who have never reached you or had minimal contact with your company. Did you know that at least 50% of your prospects are not a good fit for what you sell?
Once you realize that most of your prospects will not be a good fit, it will change how you approach prospecting. When you determine a prospect isn't a good fit, don't waste your time and move on.
Creating a prospect list is essential for establishing a strong customer base of your potential customers.
But how to identify your best customers, quickly build an effective list of prospects, and focus your efforts on the valuable customers? Let's dive deeper and find it out!
Who is a prospect?
In short, a prospect is a potential client or customer likely to purchase your product. These are qualified and interested individuals or businesses who are highly likely to buy your product or service.
What is a sales prospect list?
A sales list of prospects is a list of companies or a group of people that appear to be a good fit for your product. These people might be interested in your product offering or benefit from your product or service.
Sales prospecting is identifying, researching, and conducting the initial outreach to customers who are a good fit for your product or service.
The quality of your prospect list will ultimately determine how well your team performs in the prospecting stage. Even if you are the most talented and well-trained salesperson, no skills or sales training can help you sell a product to a bad fit.
As a result, your list of prospects should ideally be filled with qualified or interested leads who have a good chance of purchasing your product. Creating your list of prospects will allow your sales reps to focus their efforts on the most valuable customers.
Why does your business need a list of prospects?
There are a few reasons why a prospect list is helpful:
To reach the right people
To perfectly position your product/service
To be more aware of your prospects
To provide a list for your Sales or Marketing team to reach out to and sell your product
Prospecting requires planning, organization, and management to ensure that each lead has the potential to become a committed customer.
To implement a quality digital strategy, you must first understand your ideal customers, buyer personas, customer journey, and their behavior at various stages.
How to identify your best customers?
Before building your prospect list, you need to identify your best customers. These customers will likely buy your product or service instead of your competitor's solution.
Understand your buyer
Understanding the product/service and its role in the market is essential. At the same time, you must thoroughly understand your buyers, their needs, challenges, and other factors that influence them to purchase. This information will allow you to narrow your prospect pool further and make the target audience more precise.
Create your ideal customer profile (ICP)/buyer persona
Create an ideal customer profile (ICP)/buyer persona to narrow your prospect pool and target more accurately. Consider ICP as a tool to help you better understand your buyer.
Some search parameters can help you create your ideal customer profile:
Industry and company-size customers
Profiles of people involved at different stages in the buying process
How much revenue does the company generate annually? What is the minimum revenue of the company you want to target?
Once you answer these basic questions, refine your search by focusing on deeper issues like:
What problems and challenges does your customer have, and how can your product solve them?
What are the pain points, and how can your product help relieve them?
How valuable are your customers to you? How does the customers' value correspond with their industry and company size?
What types of customers are most likely to refer/have referral potential?
What factors affect a customer's probability of becoming a brand advocate?
How to easily build a list of prospects
There are two ways to build a prospect list:
How to build a list of prospects manually?
Find companies that fit your ICP
Find the company CEOs and their email address
Validate your email data
Find companies that fit your ICP
The first step in locating companies that match your ICP is finding the data source containing information on your target companies.
Look for websites that allow you to search for businesses based on essential characteristics such as the company's size, the industry in which they operate, etc.
Your data source will be determined by the types of businesses you sell to.
Use the Google search engine and Google Maps to find nearby businesses and potential clients.
For example: let's say you're selling to restaurants in Munich, then type in "munich restaurants" into the google search bar and begin building your list.
Another excellent example of a data source is Clutch.co. Clutch compiles over 62 000 agencies in over 500 categories, including software development, digital marketing, and web design. Check it out if you sell to a service-based business.
Find the company CEOs and their email address
Now you should create a list of ideal companies to target. Here are some simple ways to find the key contact (CEO) behind the targeted company.
LinkedIn is a great way to find accurate and up-to-date information on business contacts, especially if you have a LinkedIn Premium account, as this will give you access to more advanced search filters and options. Go to its "People Search" feature to find almost anyone associated with a business, create an ultra-targeted list of business contacts and reach out to high-quality potential leads.
You can also use Google search. Just type the company name and title, and you will get the result, i.e., a contact list.
Another way to find contacts is to check the About Us page. It will give you the job role associated with the employees and a short bio where you can find relevant information.
Here's an example of an About Us page of our digital agency: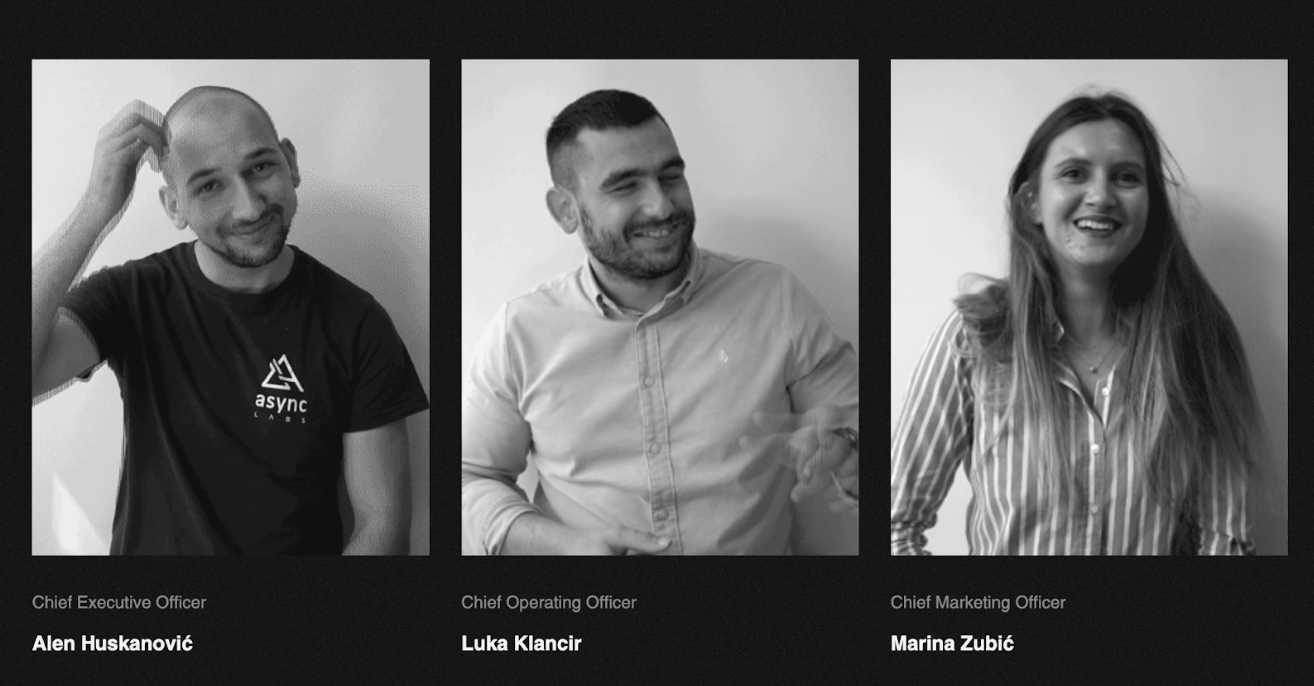 Now that you have a list of ideal companies and company CEOs to whom you want to reach, it's time to find their email addresses.
Most data sources on the internet don't provide email addresses. Still, you can use several free email finder tools to find key people's email addresses behind a company in just a few seconds.
Validate your email data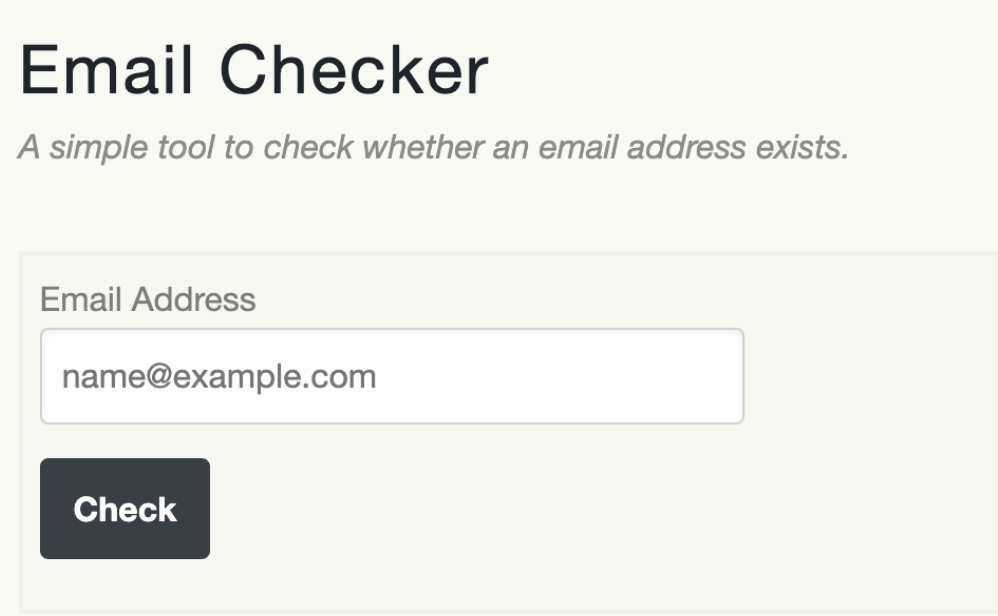 The next step is verifying whether the email addresses you found are valid.
The more your emails bounce and the fewer replies you get, your server reputation will worsen.
The success of your email outreach campaign depends on the quality of your prospect list. Removing a contact from your list would be better if you can't find a valid email address for that contact.
Use email tools like Zerobounce or Email Checker to verify all your email data.
How to find every CEO's email address?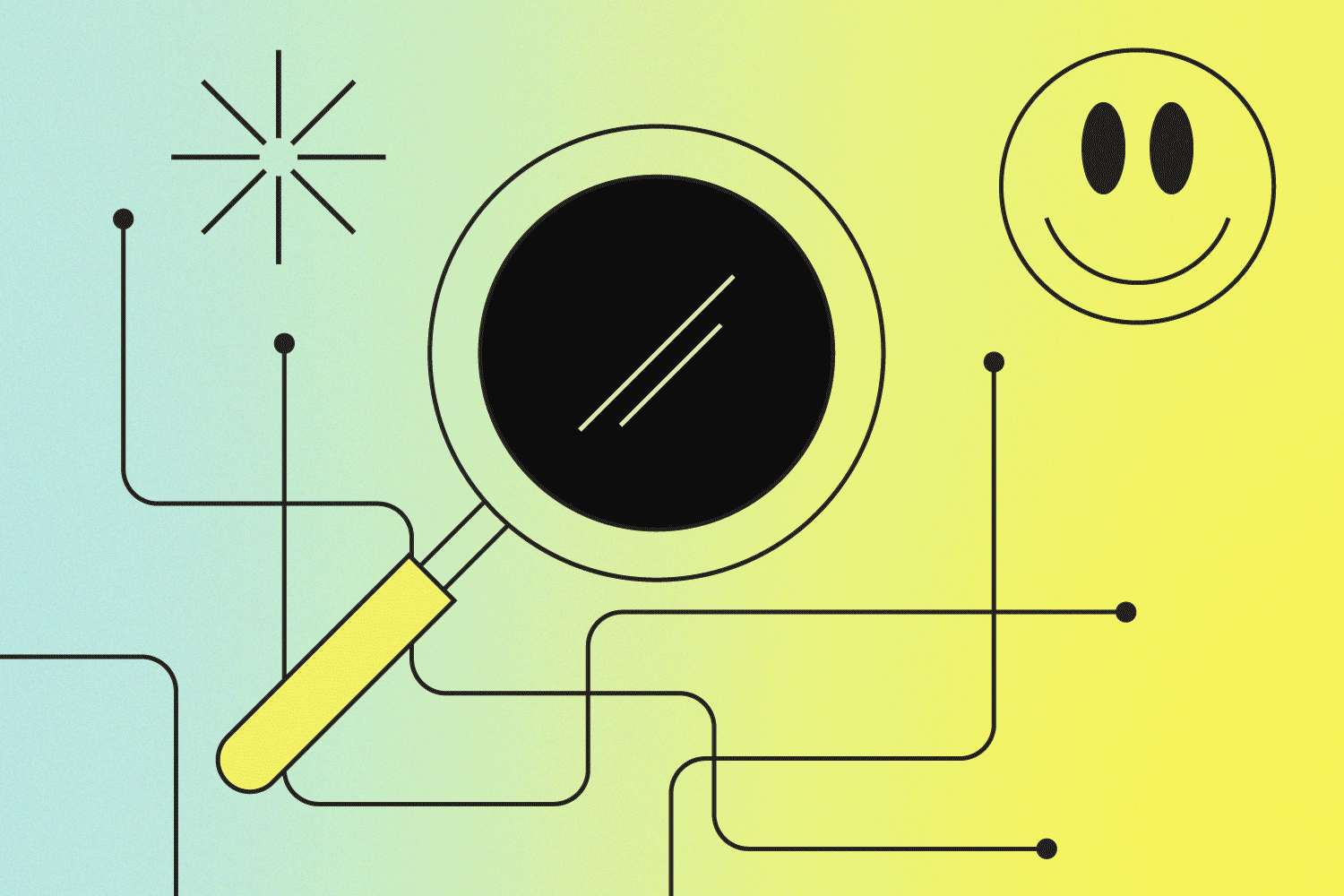 There is no easy way to find the CEO's email address. You can only find the Names and Company names of your prospects.
The major challenge B2B marketers face daily is finding the correct CEO email address.
You can find CEOs' email addresses on corporate websites, online directories, social & professional networking sites, blogs, forums, and association websites. However, you will have to be an expert in Internet research, visit these pages and then locate them manually. Or use a lead generation tool.
Cold emailing a CEO is the best way to reach a decision-maker. So why not give it a try?
Let's see the best ways and tools to find every CEO's email address:
Google it
One of the fastest and free ways to find the CEO's email is to Google it. And if you don't find what you're looking for in a second, you have to be more creative and try other ways.
Use advanced search techniques
Try a few other search variations if the name you are searching for is too common to give any results.
For example:
"John Smith" email
"John Smith" contact information
"John Smith" company name
You can also quickly search for a website using the word "site:" followed by the website and your keywords.
For example:
site:companysite.com "John Smith" email
Site: companysite.com "John Smith" contact
If a company CEO published an email online, the result would appeal in seconds.
Try the most common, generic email addresses
This trick will be useful if you target the CEOs of startups or small companies with less than 50 employees.
If you are looking for a hit-and-trial method to find CEO emails, try this:
ceo@company.com
info@company.com
sales@company.com
firstname@company.com
lastname@company.com.
support@company.com
careers@company.com
media@company.com
events@company.com
helpdesk@company.com
Even if the CEO does not handle the email id, the person in charge will most surely forward the mail to the CEO.
Check them on Twitter
Check the CEO's about page on Twitter. It could have their email address listed. If not, you can contact them via direct message (DM) on Twitter.
The worst thing is they can say "no" or never answer your message.
Use Twitter's advanced search
To access the Twitter advanced search features, go to Twitter Advanced search.
Then search for (at) and (dot), with the parentheses, in the "all of these words" box. Then, specify the CEO's Twitter handle in the "from these accounts" box.
Twitter Advanced Search will show you if the CEO has tweeted their email address.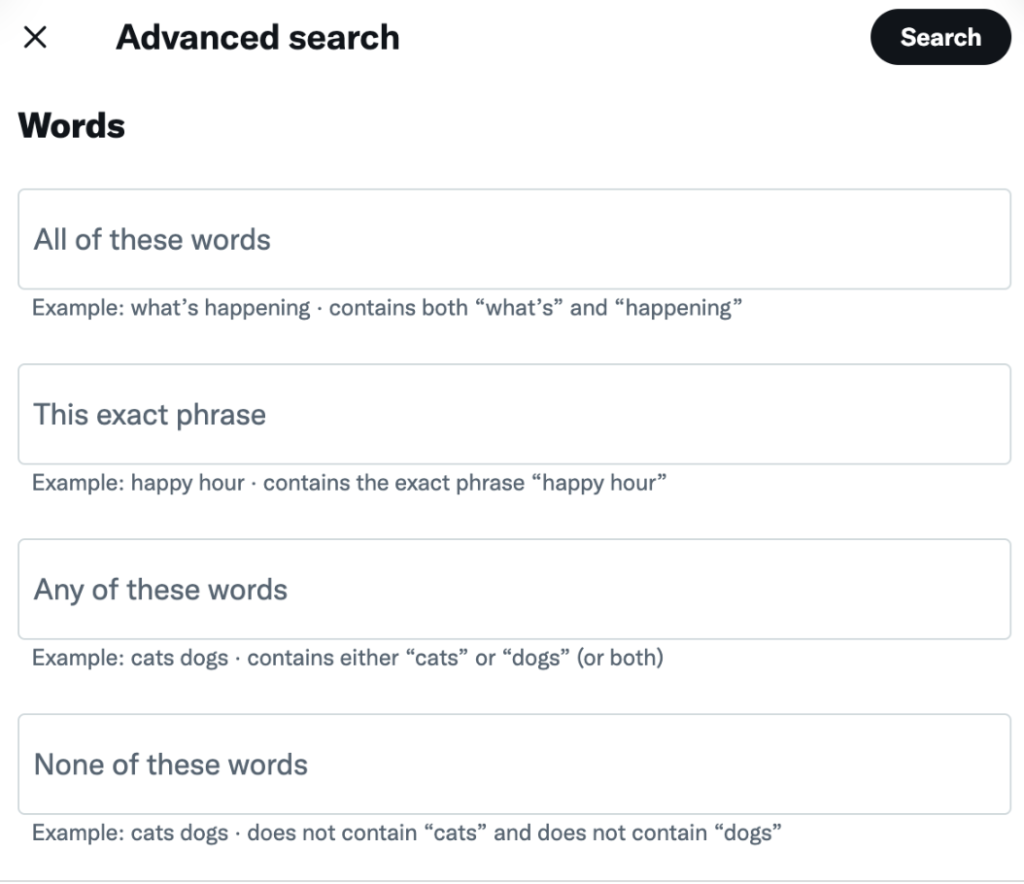 Check CEOs on LinkedIn
LinkedIn could be a good source of information. It is one of the best places to find CEOs and other C-level executives. You might find their email address on their profile info if you're lucky enough.
You can reach CEOs of smaller companies through the company newsletter.
Most companies send newsletters from their actual email address.
You have to subscribe to the newsletter, receive their mail, reply to them and ask for the CEO's email address. If you're lucky enough, you'll get a reply within a few hours.
Remember that it might not work if the newsletter is sent from a no-reply address.
Use lead generation tools
Finding CEOs' email addresses manually is tiresome and time-consuming.
The lead generation tools have exciting AI-driven features like an email finder, email verifier, and analytical features. These tools will help you find any CEO, management, and top executives' emails within a minute.
CEO Email finder tool
How to find the email address of CEOs in less than 60 seconds?
Hunter.io lets you find professional email addresses in seconds and connect with the people that matter to your business.
Go to hunter.io. Enter a domain name to launch the search. For example, asynclabs.co. This CEO Email finder software instantly finds and displays the CEOs' verified company email addresses.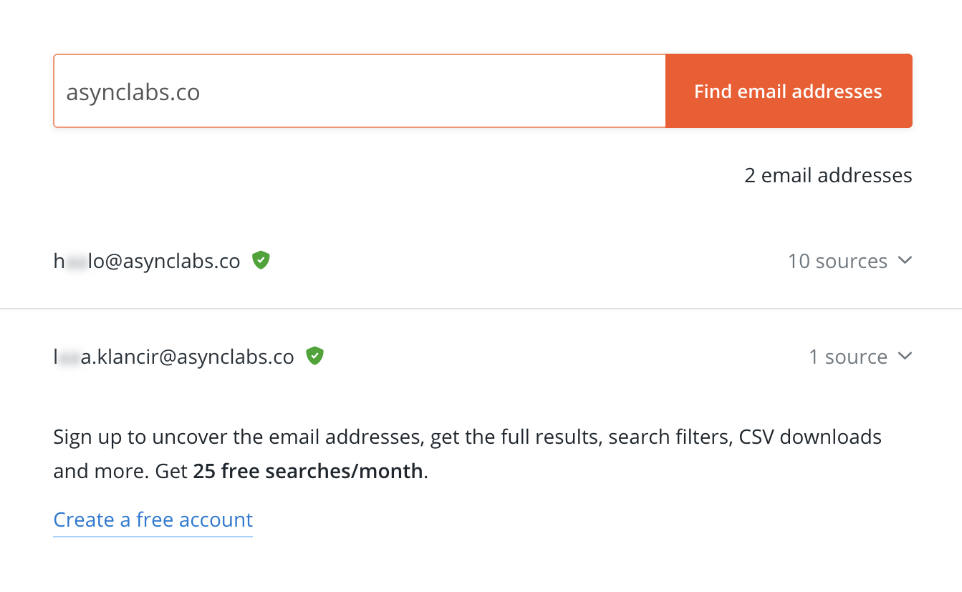 Voilà, you've discovered everything there is to know about tracking down the CEO's email address.
Pro tip: Keep your message short and well-written once you have a CEO's email address. It must be scannable and easy to read, providing the best reasons for receiving a reply. Ensure your email has a descriptive and, most importantly, clickable subject line.
Take your B2B sales to the next level
Building a highly effective and targeted list of prospects is crucial for the success of any business. Following the steps outlined in this blog post, you can create a list tailored to your specific industry, audience, and goals.
Remember to focus on quality over quantity, and always prioritize building relationships with your prospects.
Now that you have the tools and knowledge to create a powerful prospecting list, it's time to get started. Start implementing these strategies today and watch your business grow. Happy prospecting!
Start building strong customer relationships and boost your sales with our email marketing expertise. Contact us to get started.