\\ .-- --- //- -///./\ -\.. /\-. /\/\-/\. -. /. ../ //./ .-\\/\.\\
About
Zero Molecule consists of a team that creates innovative business solutions through custom software development and building native mobile apps.
They are working with clients from Croatia but also with international clients. They have been on the market since 2018, have seven employees, and are working on various challenges that help businesses to digitize their ideas.
Challenge
There are many development agencies in today's world, so it is essential to show who builds projects inside the agency. It is also essential to know what is behind the scene, processes, tools, technologies, and the most important, people who work on developing projects.
The biggest challenge here was to increase the credibility and brand awareness of Zero Molecule on LinkedIn and Facebook through organic traffic, as the client didn't have the budget for paid advertising.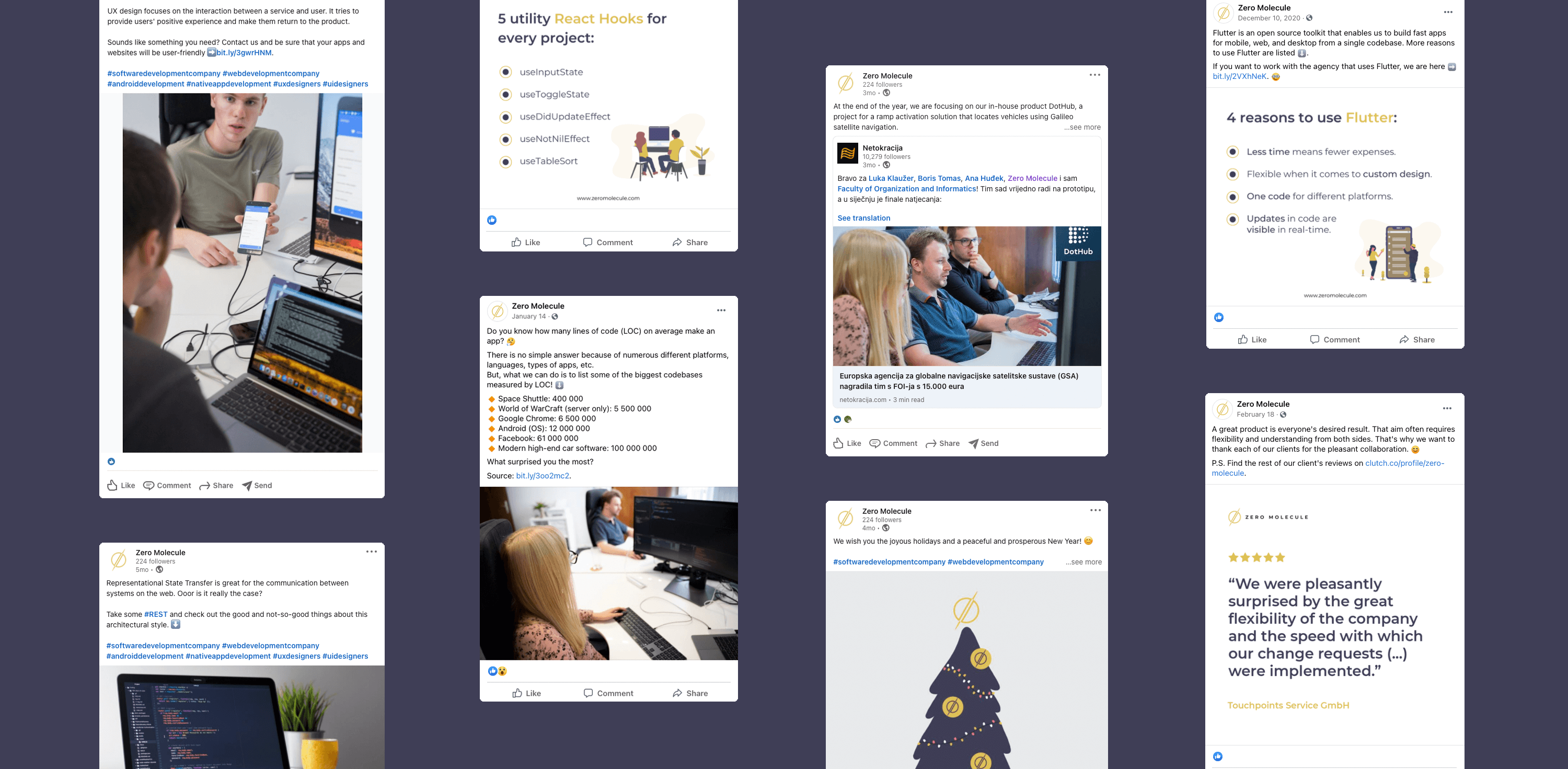 what we did
Solution
We were in charge of increasing the social media presence of Zero Molecule on Linkedin and Facebook. First, we needed to do Google Analytics Tools Setup (Goals, Events, etc.) to measure the flow of users on the website.
After that, we have arranged Facebook Business Account and Linkedin Business Account, installed Facebook Pixel and Linkedin Insight Tag, and prepared a base on Social Accounts for marketing campaigns.
Before taking over social accounts, the next step was defining social media strategy, creating social media templates, and determining the voice of tone in communication with the target audience.
Our team's photographs are used on Social Accounts to show the office's team culture and positive atmosphere. They communicate with the young team of professionals who enjoy their work and passionately resolve their daily tasks.
The client was delighted with these photographs' emotions and decided to use some of them on the website.
Social media content strategy and creation
Building brand recognition and brand awareness
Increasing engagement & impressions
Consulting
what we have
Facebook Strategy: Monthly Organic Reach Increased 6 Times
As Zero Molecule wanted to increase the credibility of its Social Media presence, we have created a Weekly Plan of Posts for Linkedin and Facebook. In the six months, we have gained the following results.
Facebook page had an increase of 44% in Facebook Likes with our maintenance.
Since we started working on the page, Monthly Organic Reach on Facebook was around 100, which brings that, with our continuous work, Organic Reach on Facebook increased 6 times.
600 People Organic Reached on Facebook Every Month
44% Organic increase in Facebook Likes
what we have
Interaction on Linkedin: Organic Impressions Increased 2,574%
On the Linkedin network, Zero Molecule gained new followers on their business page, but more importantly, was a spike in Impressions on Linkedin. The graph below shows that organic Impressions increased 2,574% if we compare the month when we weren't working.
43% Organic increase in Linkedin Followers
3000 Organic Linkedin Impressions Every Month
what we have
Summary
To sum results and statistics, with the social media strategy, where updates about the company are coming on Facebook and Linkedin regularly through posts to the target audience, Engagement on both platforms has increased significantly.
Successful social media content strategy depends on delivering the right messages, to the right people, at the right time and it needs to convince the target audience that you are the best fit for them.
Testimonials
" They know exactly how to handle this kind of social media management because they have direct experience in it. "
David Macan
CEO, Zero Molecule