To stay relevant and unique in a constantly changing & competitive market, companies are working to modernize their processes and to improve their online platforms and digital strategies. However, when upgrading their online identities, there are many obstacles that companies will inevitably face, sooner or later. With that on our mind, we are always on the lookout for improvements to our processes and presentation techniques as you will see in the article ahead.
Async Labs has several years of constant growth, success, and commitment to our customers. Our software engineers and design experts produce high-quality web and mobile apps that exceed client expectations, which is the reason we're so excited to share some well-deserved recognition of our team!

A few months ago we found out about Clutch and decided to give it a try. Clutch is a rating and review platform based in Washington, DC. They are known for their authentic and third-party reviews of B2B companies.
How did we set up our Clutch site?
Like everything else, the first step was to create our agency profile on the platform. It's a very straightforward onboarding process. Once you are in, you have to write your company description (probably you already have that, so you just have to use copy/paste method), add services that your company can offer and add at least a few projects that you were working on.
It seems like you can do it in a few minutes but it's not like that. Give it time and spend at least a few hours to write down everything with a question on your mind; "What benefits can I show to my potential client to get excited and consider working with us?"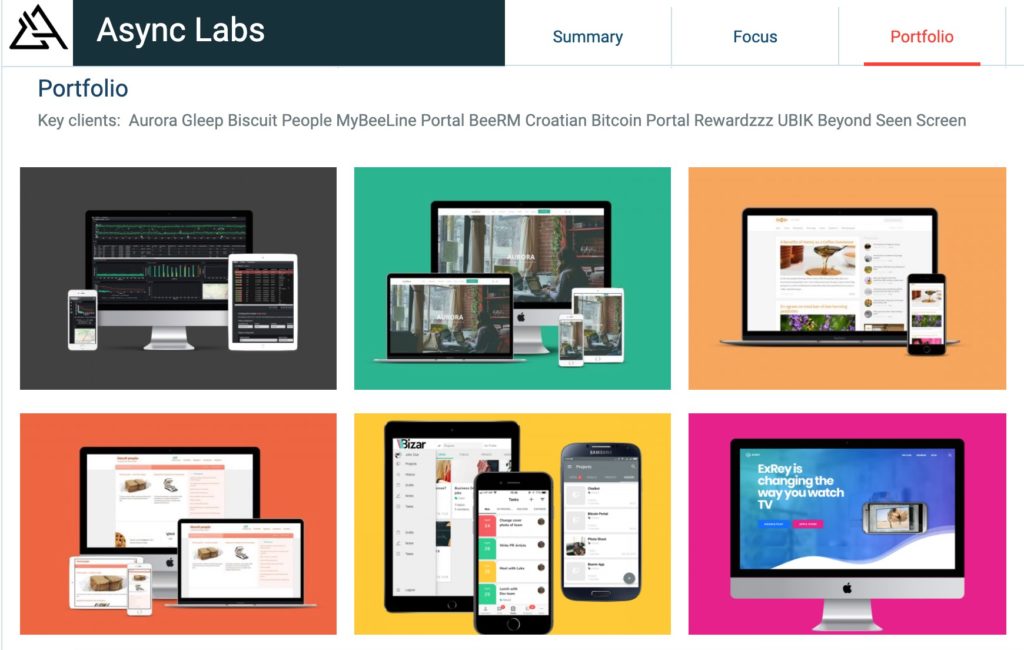 On the image above, you can check how Clutch visitors see our portfolio. At the moment we have 11 projects added there, but we have several more on our website.
We strongly recommend you take your time and create custom images and descriptions for any project there. It's one of the critical things that will decide if someone will contact you for your service or continue looking for another agency. Don't skip lines here!
What about reviews on Clutch?
Whether you have reviewed or not, it's important to let your clients know about your Clutch profile. If they are really satisfied with your delivery they will be happy to help you out and write an honest review of the platform.
And the good thing here is that not everyone can write a review of your work. In fact, the Clutch team goes as far as to contact previous clients of the company to hear how satisfied they actually are with your agency.
Async Labs listed among top Software development companies in Croatia?
Yes, you read that right! However, any company can claim to be the best… As proof that your team offers the best services for your clients, Clutch will list you on top based on your work portfolio and reviews. For example, we are now listed among the top 15 Software development companies in Croatia, and for visitors of our profile, it's a proof that our team offers one of the best custom software and web development services in Croatia.

What helped us to get there? We invested a lot of work into the editing of our portfolio and started to collect reviews from our current and former clients.

Sites like Clutch give you additional insight into a company's ability to perform and quality of the things they deliver. We have always been a team that goes above and beyond for our clients, and it is especially affirming to know that it is because of the client-first approach that we are regarded highly among our partners and the development community.
Why would someone hire an agency?
Many businesses are limited by the size of their team and will struggle to execute and maintain existing projects or new ideas. That is where we come in. We partner with companies who are seeking to expand their online presence and we give them the IT support they need to meet their goals. Whenever you are in need of development resources, expertise or consultation, feel free to send a message.