The year is coming to an end, and we have some exciting news to share with you.
We are proud and happy to have concluded this challenging but successful year with another recognition. Async Labs is recognized by Deloitte and featured on the Technology Fast 50 Central Europe list, landing at #33.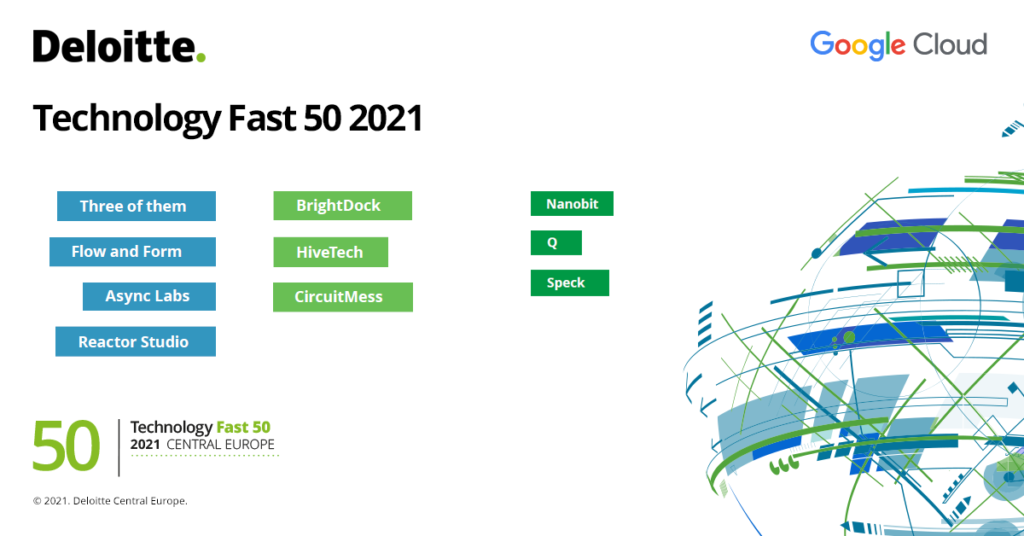 Leading innovators in technology
Award winners for 2021 are determined based on the revenue growth over four years (2017 to 2020). Async Labs made it to this list with a growth rate of 725%!
The companies ranked on the 2021 Deloitte Technology Fast 50 continue to set the bar for their industry higher each year. We are pleased to be recognized and honored by Deloitte for the first time as one of the fastest-growing companies in Central Europe.
"We put all our effort into your product, so we can grow together" is not just our slogan but also the business philosophy that was leading us to our business success and the recognition we have globally.
It took passion, effort, commitment, and innovation to join this elite group of the fastest-growing technology companies and visionary leaders in the industry.
To be awarded by Deloitte is an additional recognition for our work and an incentive to strive for further movement in the same direction.
"When you work a lot, it's sometimes hard to stop, look behind you, and see how far you've come. This award recognizes that the effort we have invested in the development of Async Labs in recent years has paid off and that we have come a long way. Definitely, for the whole team and me, this motivates and inspires us to work even harder and better to stay side by side with the fastest-growing companies in Central Europe." — our CEO, Alen Huskanović
About Deloitte
Deloitte Touche Tohmatsu Limited, commonly referred to as Deloitte, is a multinational professional services network with offices in over 150 countries and territories worldwide.
The Deloitte Technology Fast 50 in Central Europe is part of Deloitte's global Fast 500 program. This prestigious annual award is a program that recognizes and profiles fast-growing technology companies in the region while celebrating innovation and entrepreneurship.
The program is now in its 22nd year and ranks the 50 fastest growing public or private technology companies for its rapid revenue growth, bold innovation, and entrepreneurial spirit.
​​Technical innovations, combined with unique products and our incredible and dedicated team of 25 enthusiasts, have put Async Labs at the forefront of a new era of customer experience with tremendous growth.
Many thanks to all our clients and partners who are a big part of creating our success story.
We are entering 2022 even more motivated and looking forward to continuing momentum in the next year and beyond!