Is your business on the first page of Google?
You probably noticed that every company you look up on Google has their business information in the right corner. Have you been wondering how business information is displayed on the first page of Google and how a location, map, and contact are listed just when you're searching for a company name? The answer is – Google My Business.
Is it time for you to verify your business? Get yourself Google My Business and check this article to find out why you need so.
What is Google My Business?
Google My Business (GMB) is a tool that lets you manage information about your business that appears on Google, Google Maps, or Google +. This tool allows you to create a profile of your business on Google that will be visible to the right of Google results on your desktop. Business "profile" contains information about the location (address and map), phone number, website link, call button, opening hours, customer reviews, photos, etc.
By creating a Google My Business listing, your business information can show up in Maps, Search, and other Google properties by creating GMB listing. Moreover, your business will be cool, and you will appear in the "right corner".
In addition to displaying information about your business, the Google My Business tool can increase revenue and deliver valuable information about your customers if appropriately used.
What are the benefits for your company with Google My Business?
With GMB, your business will look professional, you will get bigger exposure, and in just a few clicks, people will find a lot of information in one place:
What are your working hours – it is

essential

to update them whenever they change

Contact information – email and phone number on which they can get you

Directions on Google Maps to help customers find you

Info about what are you doing, just in a few sentences

Photos of your business and team which is behind a company
To get a better idea of why you need Google My Business, check some extra benefits of using it:
It is free – yes, this

marketing tool

is

entirely

free and can grow your potential business, so why not try it?

Quickly updating existing information on all Google channels

Effective SEO

tool

Reviews – we all read them (even if sometimes we don't admit it). More reviews, negative or positive ratings, mean more interactions, and it will probably improve a business's local ranking
It is hard for companies to watch their business with the eyes of publicity and their customers. They are not objective, and it is hard to be. We, as a company, are in that circle and we know the processes and how things are going, so it's hard for us to see the business from the perspective of our customers. With Google My Business, we put the visitor's primary information upfront, which is the whole point.
To remember: GMB is a local marketing tool that requires constant action and updates to maximize its benefits.
How do you get started with Google Business account?
We will split setting your profile on the Google Business account into two phases. In the first phase, you need to verify your business. Go to the following link:
After that, you will get a few questions about your business. Check the screenshots below.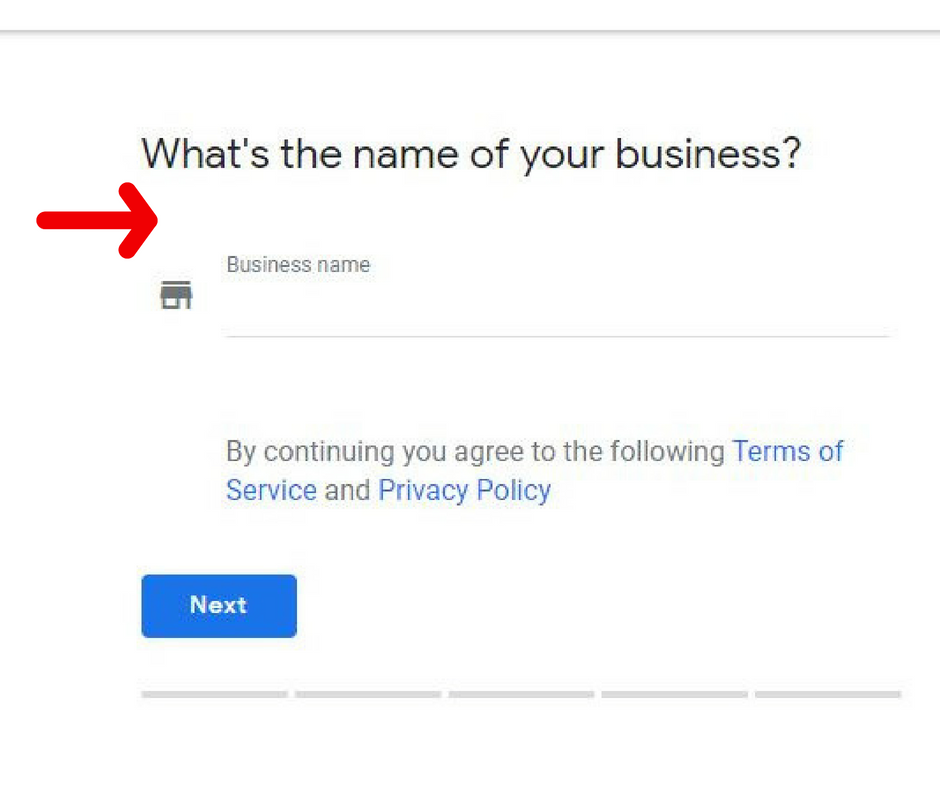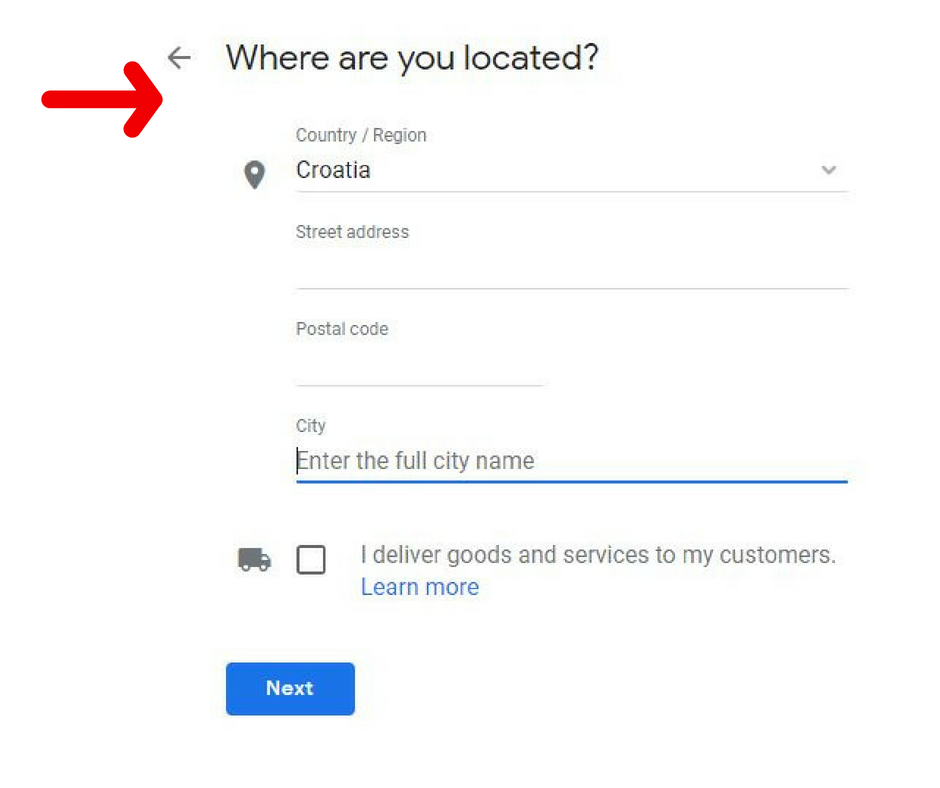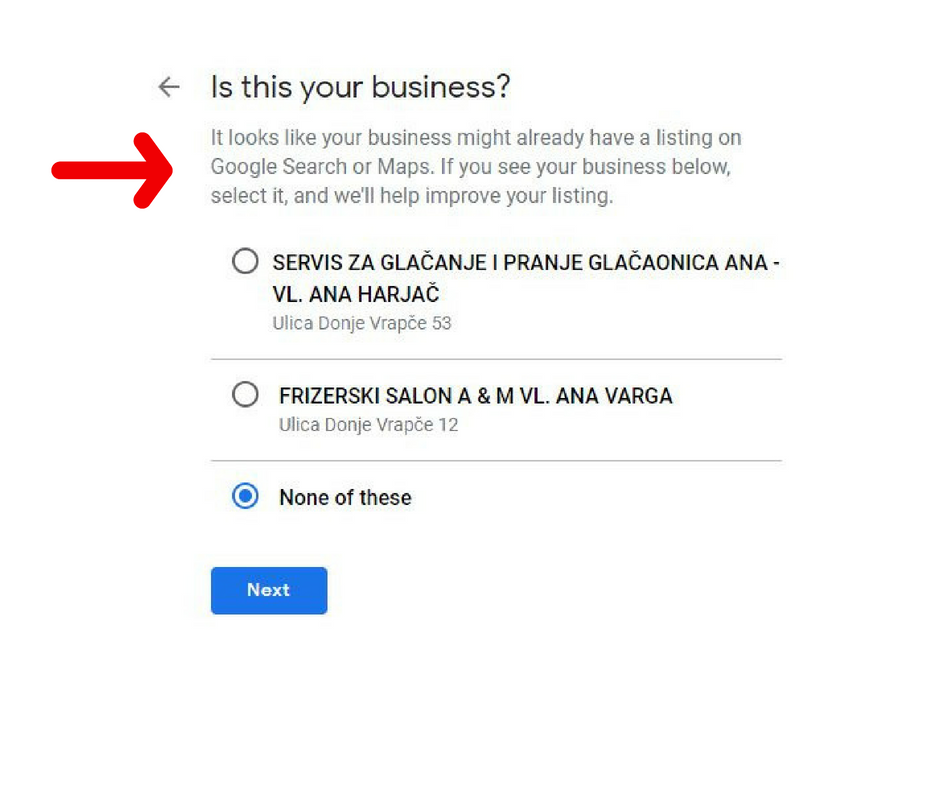 At the end of this phase, you will get a box where you need to choose a way to verify your business. There are a few options to do that, and we decided to select a postcard. The post should arrive at your address within 14 days. Be aware that your verification code expires after 30 days, so you need to do that in this period. Otherwise, you will need to request a new verification code.

After that, you have three simple steps in front of you:
Visit google.com/verifymybusiness

Sign in to your Google account

Enter your verification code which you received in the postcard
With this, the first phase of your Google Business account has finished. It wasn't so hard, right?
In the second phase, you need to edit information about your business. You can do that before you get the verification code in the postcard, but your business will show up in Google search after you finish the verification phase.
In Google My Business, we have two main fields essential for how your business will look like in the "right corner" – Info and Photos.
Click on Info and start to fill in information about your business from address, working hours, to website URL.
After that, click on Photos and be aware that the Cover photo you choose will represent your business, and Google will know that you prefer to display this photo. However, that doesn't guarantee that Google will populate it as the first image for your business. Remember, you don't control your GMB images; Google does it.
Personalization is the key
Google likes to personalize every company. So this is a place to put a photo from the office or a picture of your team. Don't put your logo here because Google, according to their research, knows consumers would rather see what your business actually looks like – rather than a map or your logo. Also, the click-through rate on Google is 35% higher when a business has some personal photos here, for example, an image of a company interior.
If you need to edit some information on your account, go to that field, click Edit and update your info. Be sure to click Done editing at the bottom after you make an update. Most edits take between 24 and 48 hours to appear on Google.
How should it look like in the end?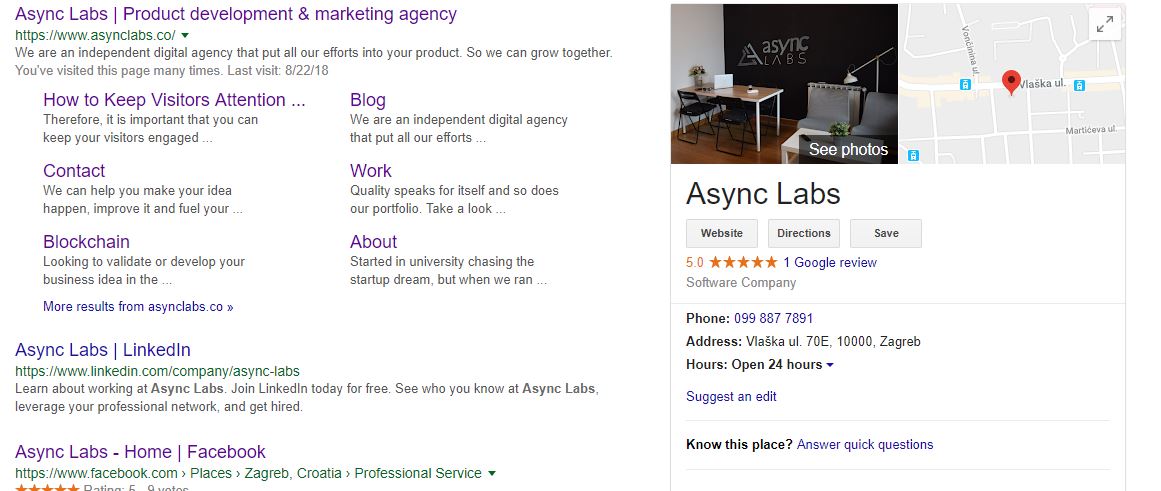 What do we do? We are a digital agency.
How can you contact us? Email and phone number.
Where are we? Zagreb, the capital of Croatia.
The scope of our work? Marketing, blockchain, development.
Photos? We decided to show the interior of our office as we brainstormed a lot of ideas in our "creativity" space.
Wisely use all the benefits of this marketing tool. When creating GMB Strategy, focus on providing the highest quality, most reliable information about your business. Present your business profile as accurately and thoroughly as possible, and then do your best to maintain and update it regularly for better results.
Like Facebook or Instagram, the GMB profile also needs to be 'filled' with exciting content, photos, and offers. In this way, Google will recognize you as active users who share interesting and valuable content and encourage potential customers to contact you.
Finally, show what you consider significant and critical for your business to reach your customers and improve your SEO. Get your free business listing on Google My Business and become visible to your customers!
If you have any questions or need help creating a GMB account, we'll be happy to help you. Feel free to contact us.