To be honest, I wasn't a big fan of Instagram. I had my private profile and used it for fun, but never saw any potential business benefit in it. That changed, I started using it for business and saw its potential. In April 2017 Instagram surpassed 700 million monthly active users, that is insane. There is so much potential that you just have to use it.
The Instagram growth rate is speeding up because users are more and more engaged in their mobile phones; everyone is checking images while waiting, traveling or relaxing. It took them six months to go from 500 million active users to 600 million, but it only took them four months to grow from 600 million to 700 million active users. In September, at an event in NYC, they said that they added 100 million new active users just one month after last announcement (April 2017).
They launched the platform on October 6, 2010, so let's check how long it took Instagram to add every 100 million users:
February 26, 2013 – 100 million; 28 months
March 25, 2014 – 200 million; 13 months
December 10, 2014 – 300 million; 9 months
September 22, 2015 – 400 million; 9 months
June 21, 2016 – 500 million; 9 months
December 15, 2016 – 600 million; 6 months
April 26, 2017 – 700 million; 4 months
Following this trend, it will only get bigger and bigger. What about advertisers there? Instagram informed TechCrunch that they have 2 million advertisers on the platform, but only a few months earlier (March 2017) they had just 1 million. The growing potential is huge, and you better not miss this train.
Just start with it
Ok, Instagram is growing and we are also, what I want to do is to get on that train and if possible grow together. Because of that, I created an Instagram account for my business.
Of course, it's the same with any other platform. When you are starting you don't know what could affect the growth. You start posting some pictures, using some hashtags and your followers start growing, but it's so slow. So, after some testing and experiments I found out what works. In this article, I will try to give you some tips that helped me grow my accounts by getting several hundreds of followers every week.
I will call this 4 Instagram tricks that helped us grow our accounts organically, which means without any advertising budget and paid ads.
So our 4 tricks for growing Instagram organically are those ones:
Ask questions
Engage with your current followers
Follow active users in your niche
Explore relevant hashtags
Engagement is everything and everywhere
If you didn't notice, on this platform engagement is everything. Instagram updated its algorithm and posts are ranked depending on comments they receive. Likes were relevant before, but today they aren't relevant, comments are more valuable than likes. Not all comments, only comments longer than three words are considered a rank factor on Instagram. If someone only leaves you a comment of an emotion or something like "great photo", "love this" it's like there is no comment at all.
Maybe you ask yourself why ranking on Instagram is essential? If you have a big marketing budget then it's not (at least not as it is when you are shooting for organic grow), but if you don't have a big marketing budget then it's more important than you think. Instagram is feeding its users with posts on their news feed, and it tries to show only good posts. If you have a better engagement, it's more likely that your post will show up on users news feed. That's it! Logic is simple here, and it's essential.
How could you boost your engagement? Here you will find a few pieces of advice that you have to use to get the maximum from your profile. For best results, please don't forget anything listed below.
#1 Ask questions
Use a little bit of psychology here; people love to speak about themselves. Try to ask questions about their feelings, their thoughts, and so on. You will get a feel what kind of questions suit your audience the most. The goal here is to get a response from them. You will probably need to test a few types of questions before finding out which performs the best. Also, make sure that the question is related to the image and your niche.
How to ask the questions? You have two options here. The first one is to add a question to image caption/description, and the second option is to write the question on the image. I prefer to ask the question in the description below the image. Otherwise, it would not be a good quality photo since the question would be in focus.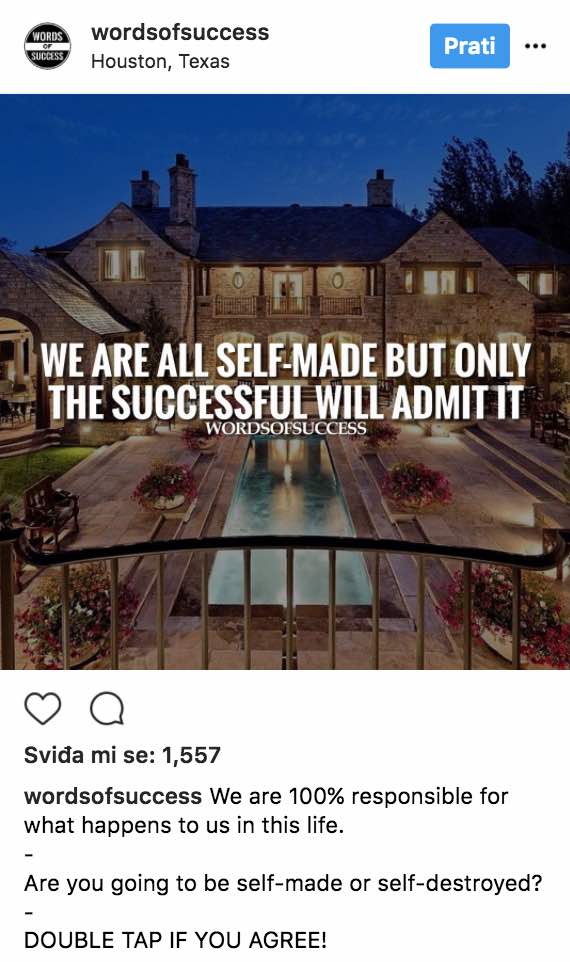 When you get your first responses, try to answer as soon as possible because Instagram will think your post is important due to activities it got and rank it better.
#2 Engage with your current followers
The most common beginner's mistake is to not give a f*** about users that already follow them. People are mostly only focused on getting new followers and growing their accounts; only a small percentage of tries to engage with current followers.
This is important because your post will not show up in user news feed if they don't interact with your brand regularly. That means that if you are putting all the effort in getting new followers and never interact with current ones, you're damage to your account and brand. Once in awhile comment and like the photos of your followers, that way your posts will show on their news feed and they will notice your brand more often.
One of the best ways to do this is to engage with your current followers before posting some content. If you interact with them a few hours before posting it is more likely they will engage with your post.
Now is time to grow your followers
Ok, now you know how to engage with your followers, next thing would be to grow your account and attract more followers.
3# Follow active users in your niche
I'm guessing that you are already looking for accounts similar to yours, so take the next step and randomly follow followers of those similar accounts. The best way to find only those who are active is to follow the people that engaged with some of the latest posts from those accounts. The chances are those people will be interested in your content, and will probably follow you back.
4# Explore relevant hashtags
In the beginning, you should schedule at least 30 minutes a day for exploring hashtags. How do you do that? Well, type in some hashtag that you use on your photos in the search bar and like/comment pictures that you find. That way people who are looking for that specific content will find you more easily and some of them will decide to follow you and engage with your content as well.